The Kindergarten as a Second Home
Interview Binke Lenhardt (co-founder, Crossboundaries) × Choi Eunhwa
Choi Eunhwa (Choi): How did you establish the Jiangsu Beisha Kindergarten?
Binke Lenhardt (Lenhardt): After years working with child psychology researchers to inform the design of our preschool facilities, we were invited by the Education Bureau of Fu'ning County, Jiangsu in 2014 to embark on this new project. After a twoday workshop, the Education Bureau was inspired by our progressive comments and suggestions, and decided to institute the pilot demo project with immediate effect. They commissioned two kindergarten projects for two different villages.
Choi: I would like to hear more about Beisha Village, the site of the kindergarten.
Lenhardt: There is no primary industry in the area, which would have suggested that there were many working parents returning home to their families after work. Instead, the village population consists primarily of the elderly, grandparents and great grandparents, and the very young, their grandchildren. Today, more than 250 children, who are also drawn from neighbouring villages, attend the kindergarten.
Choi: The kindergarten is surrounded by a loose group of houses and a rice paddy on three sides. I would like to know what you set out as your strategy when coping with this environment.
Lenhardt: The site was a plain field, almost completely open on three sides. Along one side runs the village road, from which you enter the grounds of the kindergarten. We intended the kindergarten to be perceived as a natural, integral part of the village. The Jiangsu Beisha Kindergarten functions as a smaller, slightly modified version of a village, something the children could directly relate to and at a scale that gives them a sense of familiarity and belonging.
Choi: What were your concerns when you divided the kindergarten into several volumes?
Lenhardt: The architectural cluster imitates the local village dwellings around it and at the same time claims a structural diversity in its deliberate grouping of simplified volumes. We broke the kindergarten down into smaller units, but at the same time we connected the buildings through a circulation ring; the roof forms an open outdoor platform on the second floor. The bigger volumes all have a second floor: three of them for classrooms and one for the teachers. One other big volume, located in the centre, houses a multipurpose room and can be shared by all kindergarten groups. All of the other smaller volumes house special classrooms, such as arts and crafts, sports, and so on, but can be also used as conventional teaching spaces. One space is canteen and kitchen.
Choi: What activities did you expect to take place in the backyard, courtyard, and platform on the second floor?
Lenhardt: The kindergarten offers a high number of diverse play areas, meeting and resting points, pathways and platforms with different views and outlooks from different levels, it is easy for different age groups to mingle and to engage in play. Outside the building cluster there is more free play possible, like hide and seek, and here, due to the free space around, the children's natural instincts are unleashed and they can more easily relate to the gardens, plants and wilderness. Ball playing and group play can happen in the centre and children standing on the upper platforms can observe their peers playing below.
Choi: You mentioned that you hoped the Jiangsu Beisha Kindergarten would provide children with their 'second home'.
Lenhardt: The wider village population consists primarily of older people and children, as the working generation is seeking work in big cities and only return home during the spring festival, once a year. With this issue in mind, we wanted the kindergarten to be a central point of social energy; children of different age groups can meet here, mingle and create positive memories. The kindergarten is a protected environment and a spatial arrangement creating a feeling of belonging. For those kids left behind by their migrating parents, modernized kindergarten offers something different to the all too familiar Disneyesque architecture of kindergarten buildings—here, local consideration will reinforce the selfidentity and self-confidence.
Choi: How do the children get along with each other in the kindergarten?
Lenhardt: Due to the rich contrast between the 'inner playscape' (courtyards, pathways and platforms) and the outer 'open landscape' (open plane, garden, field and playground areas) children can easily find their personal place or a corner they like and to which they can relate. The kindergarten is designed to encourage exploration.
Choi: I would like to ask for your honest opinion of the kindergarten?
Lenhardt: A good kindergarten should promote and expand the social and communicative abilities of children, enhance their enjoyment of playing with others and encourage them to express themselves. A multifunctional space, changeable and adjustable, can allow for diverse kinds of play and instruction. Any design should also account for the scale, as children are the main users and not adults. The spatial set up must allow children to identify themselves with the kindergarten and to feel a sense of belonging.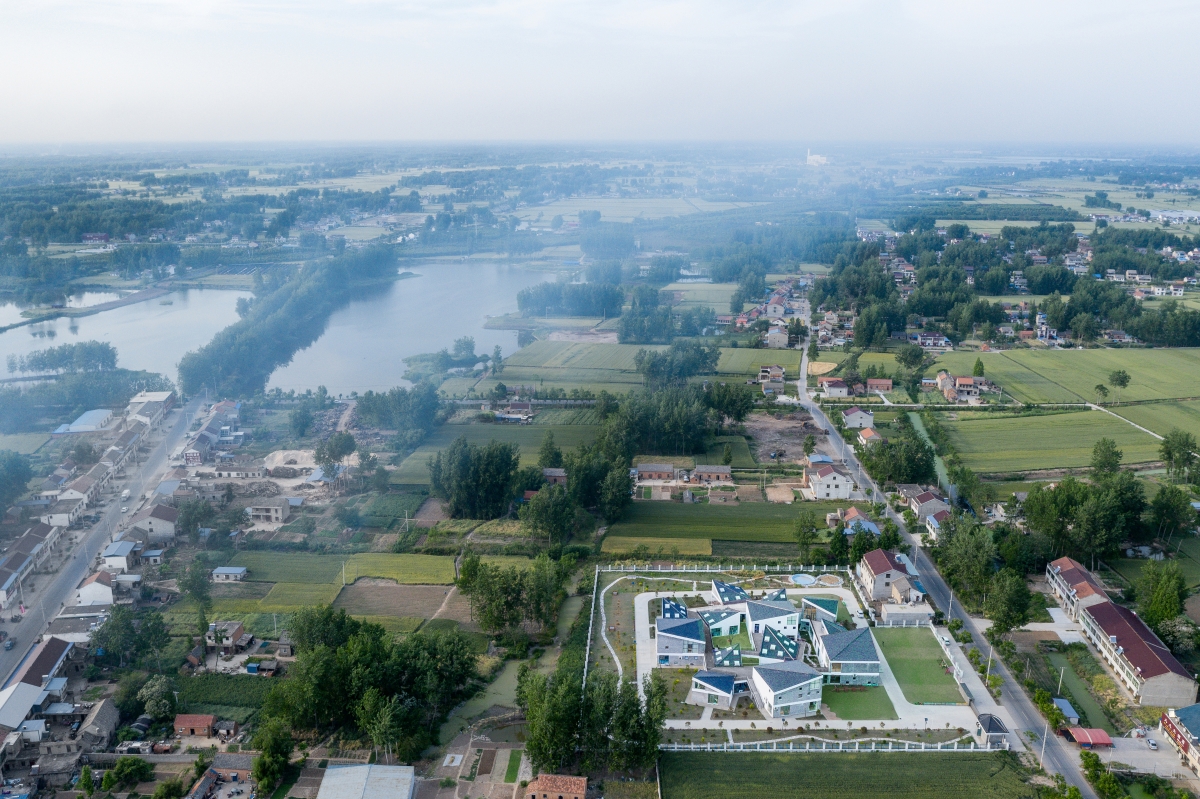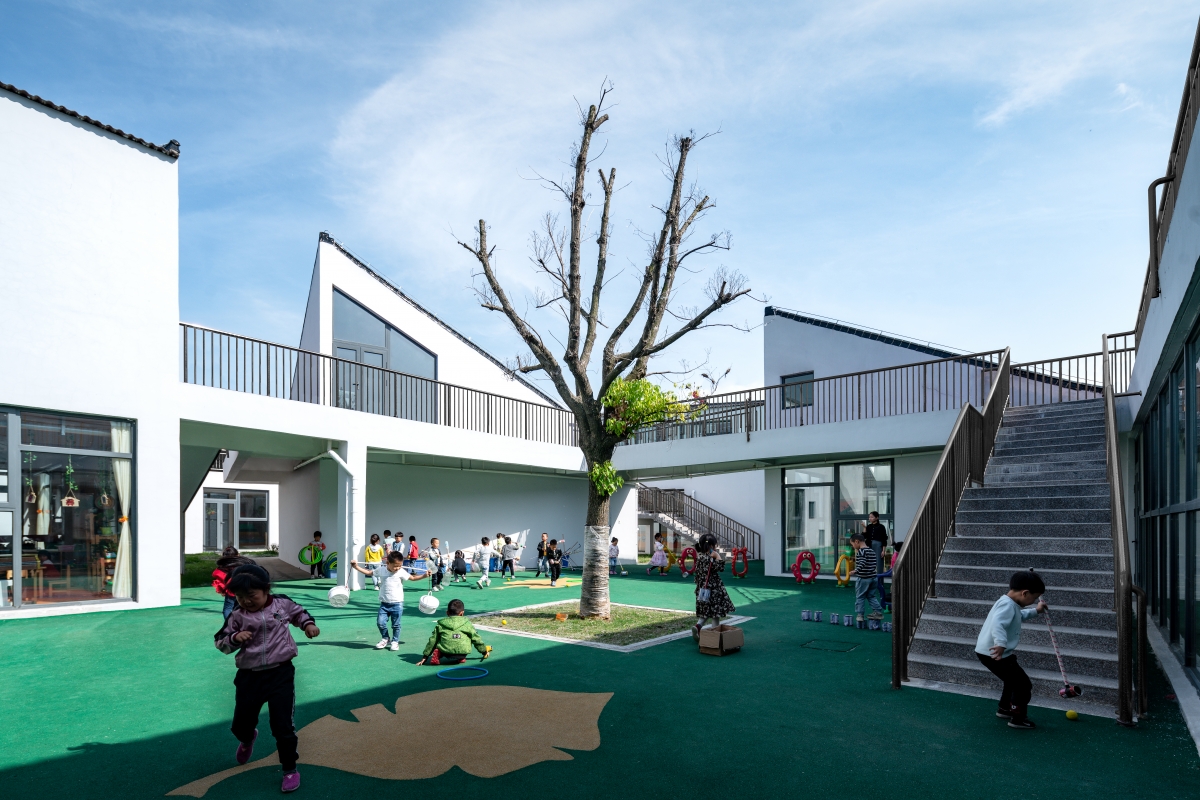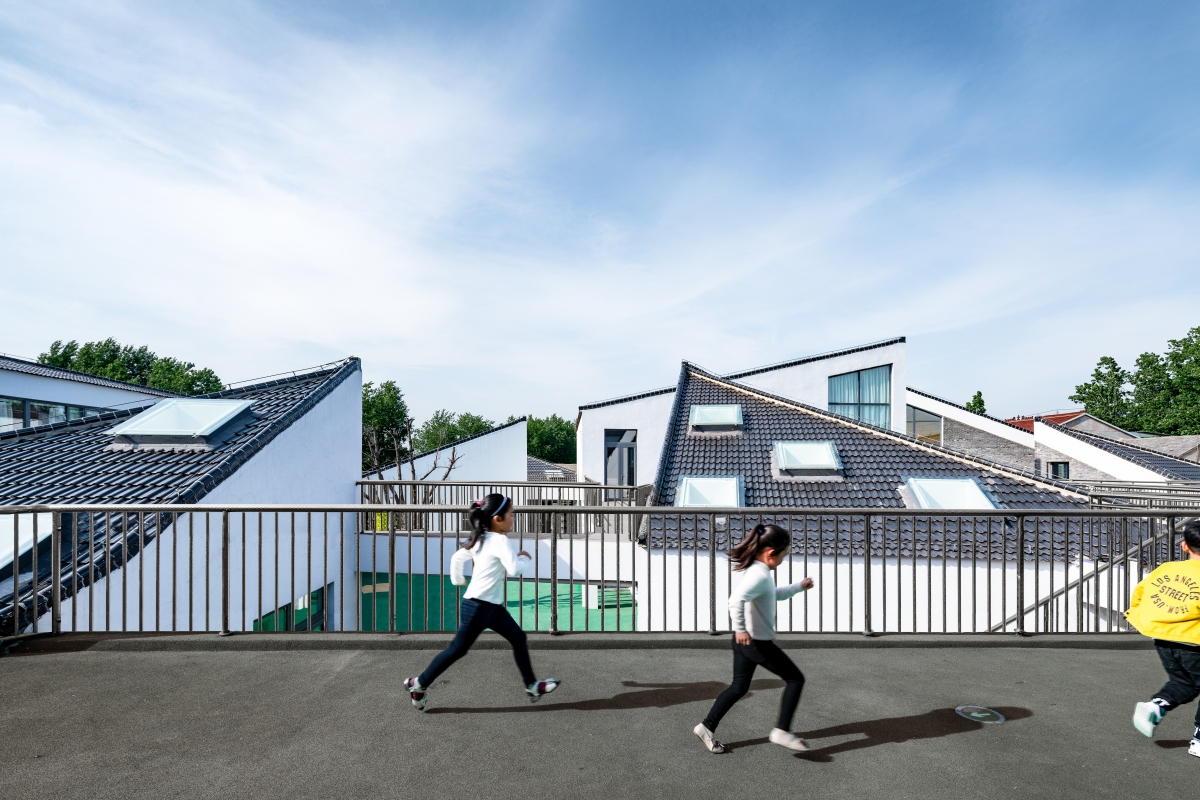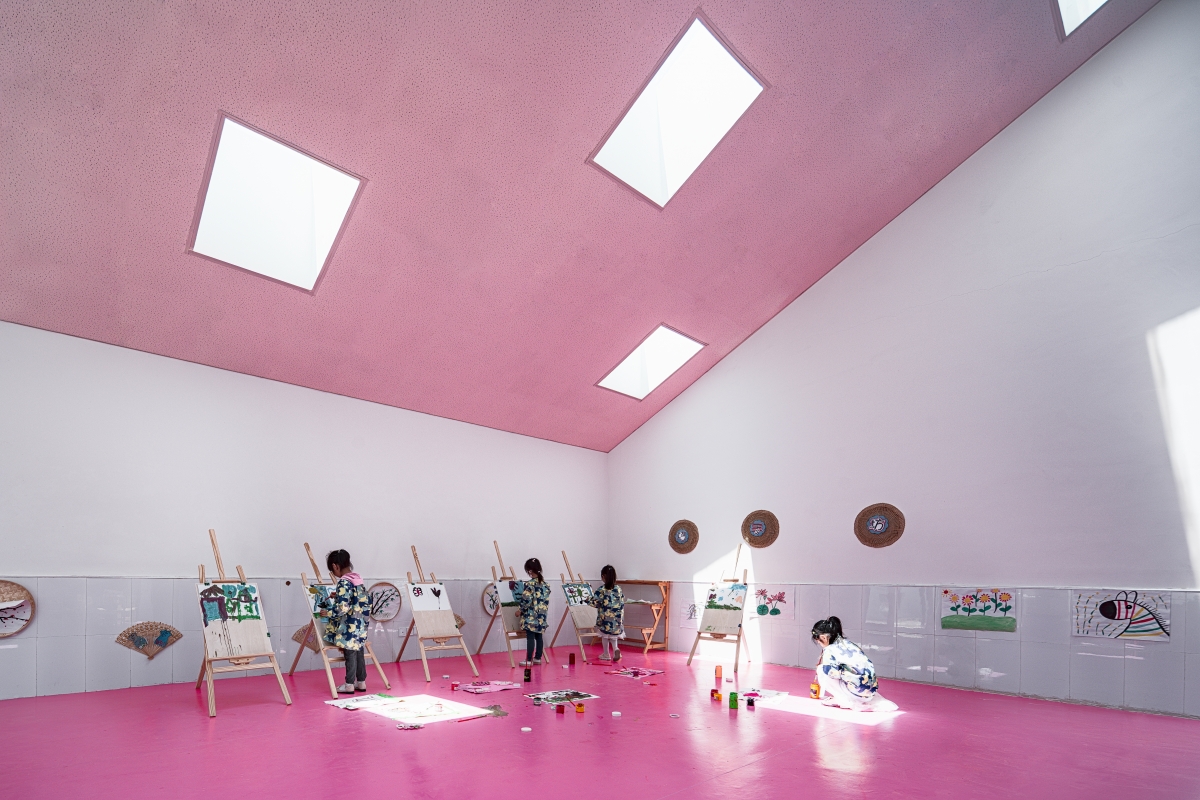 Architect
Crossboundaries (Binke Lenhardt, DONG Hao)
Design team
Tracey Loontjens, Alan Chou, Andra Ciocoiu, HAO Ho
Location
Beisha Village, Fu'ning County, Jiangsu, China
Building to land ratio
20.2%
Exterior finishing
white plaster, local bricks
Design period
Dec. 2015 – Sep. 2016
Construction period
Apr. 2017 – Aug. 2018
Client
Education Bureau of Fu'ning County, Jiangsu
---
Crossboundaries contributes to a vital built environment through architecture, environmental design and urban regeneration. Organised as an international partnership, Crossboundaries has staff originating from and trained in different parts of the world. Its first office was founded in 2005 in Beijing, China, by Binke Lenhardt and DONG Hao and later a partner office was established in
Frankfurt, Germany in 2012 by Binke and Antje Voigt. Crossboundaries provide unique spatial solutions deriving from local cultural knowledge and transnational expertise.