Nunmoe gareum Cooperative Housing is located on a north-facing hillside,with an elevation range of about 15m from the lowest to the highest point at which its entrance situated. The site is artificially created bearing some similarity to terraced fields—four horizontal wide steps are constructed, with a height difference of 2.4m respectively. The total 28 houses, divided and set atop these terraced plots, were properly staggered to have a view to the seascape and access to the sunlight, forming a certain stacked landscape though the repetition of housing units on a series of successively receding planes. The cooperative housing appears as a relatively densely-populated residential complex in a region mostly surrounded by farmlands.
At the entrance to the housing complex, a community facility is located, accommodating a communal kitchen with a multipurpose hall in the lobby and a space for children in the second floor. The bookshelf staircase to the second floor is also a dwelling space. Each floor of the community space is connected by a flow line that leads from the hall of the lobby to the decking on the second floor and to the roof. Its outside space is a playground for children and also an observatory post, permitting everyone to enjoy the seascape.
The cooperative housing union, composed of various generations from young families to old couples in their retirement, were asked at the initial design phase to answer a survey with regards to their lifestyles, in order to create the five prototypes which is approximately 30-pyeong-sized two-floor building. Each union member's features were reflected in the prototypes, through the process of participatory design, and 13 types of housing unit were finally conceived. The unit's materials were economical and used in a simple way with consideration for the costs and its functions. The unit volume, colour, roof inclinations were repeated in use, composing a collective landscape. Also, steel frame structure with a panelising prefabrication technique was applied to secure construction quality. ​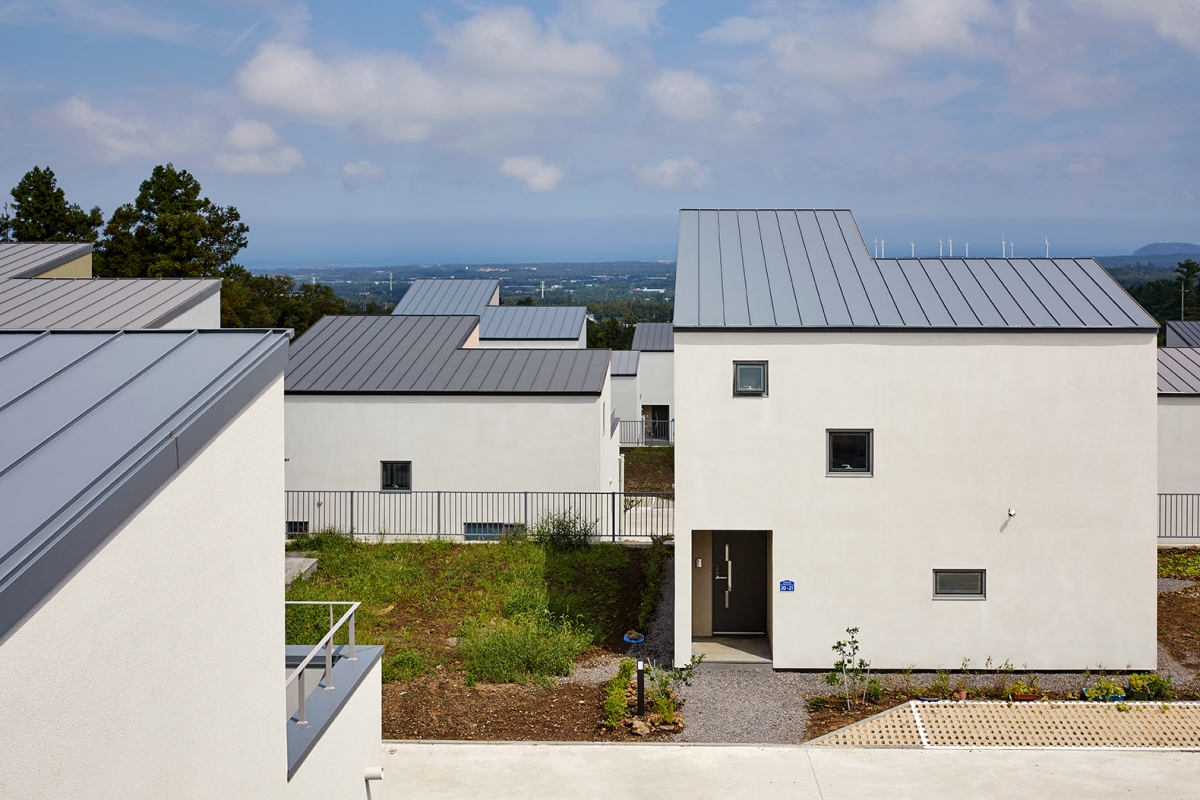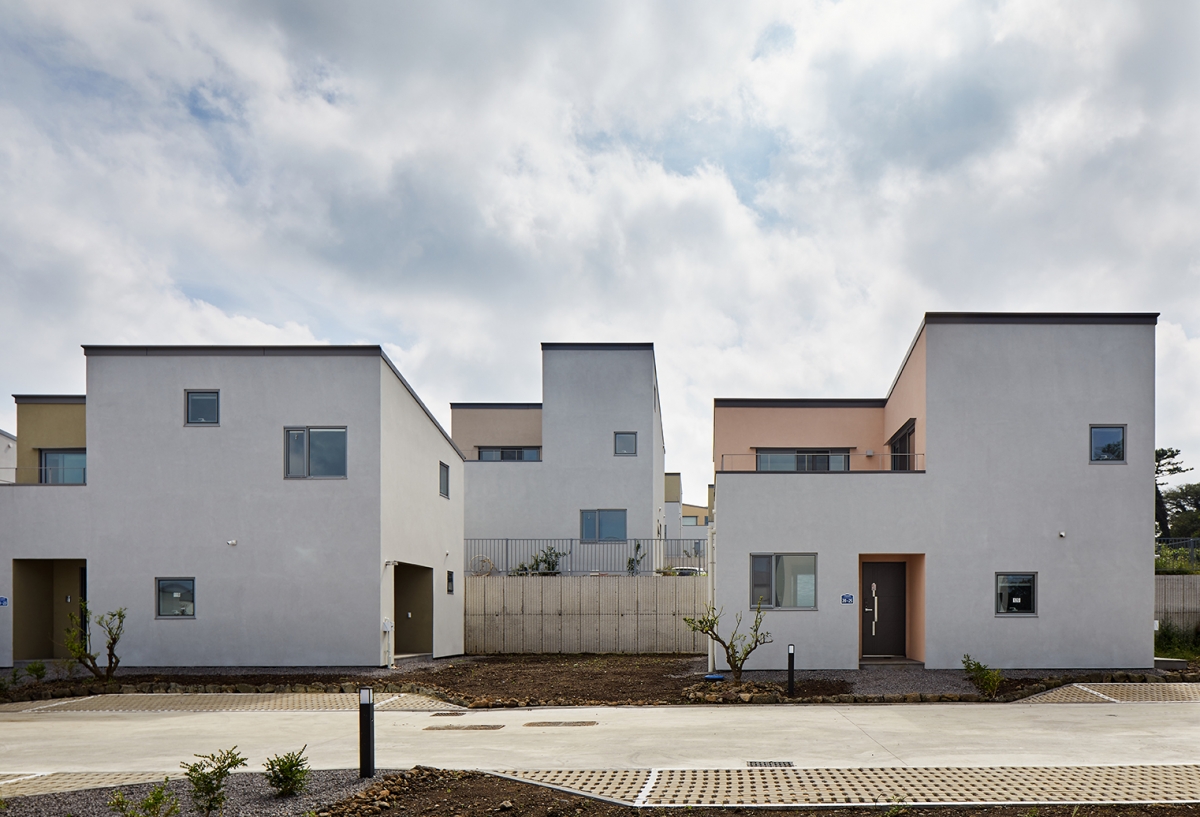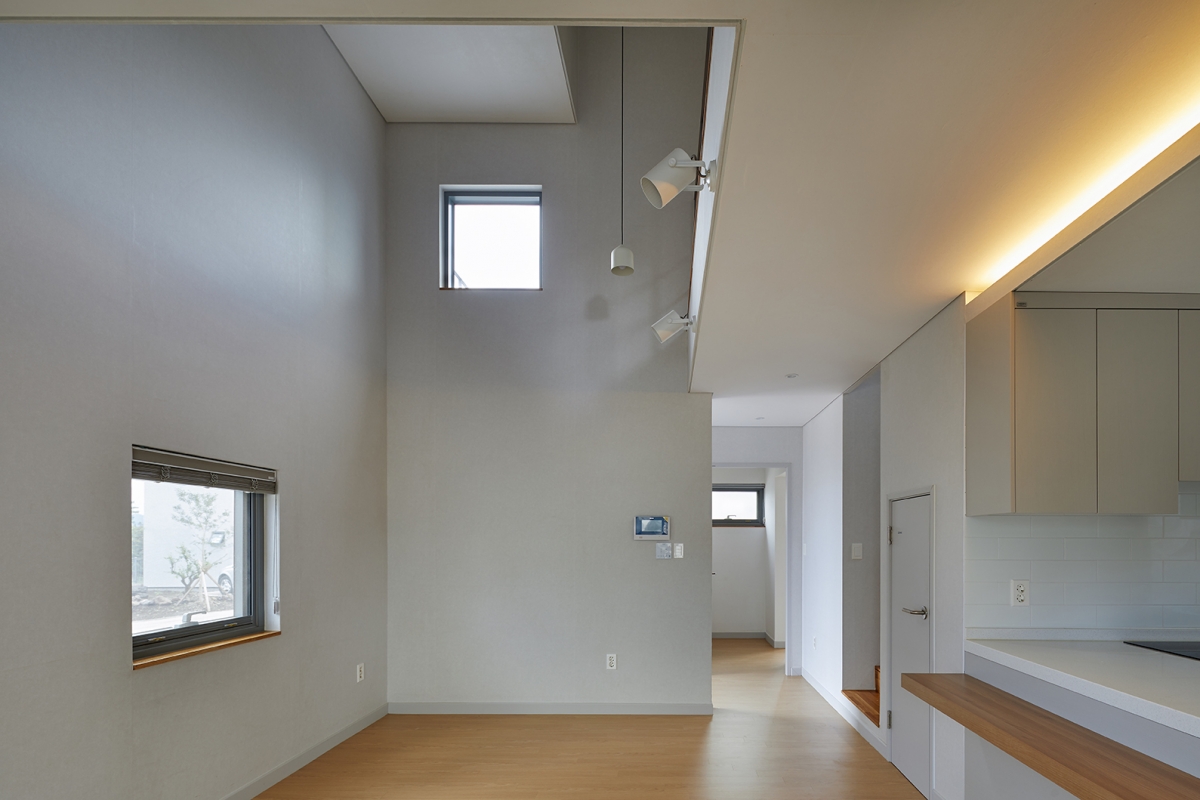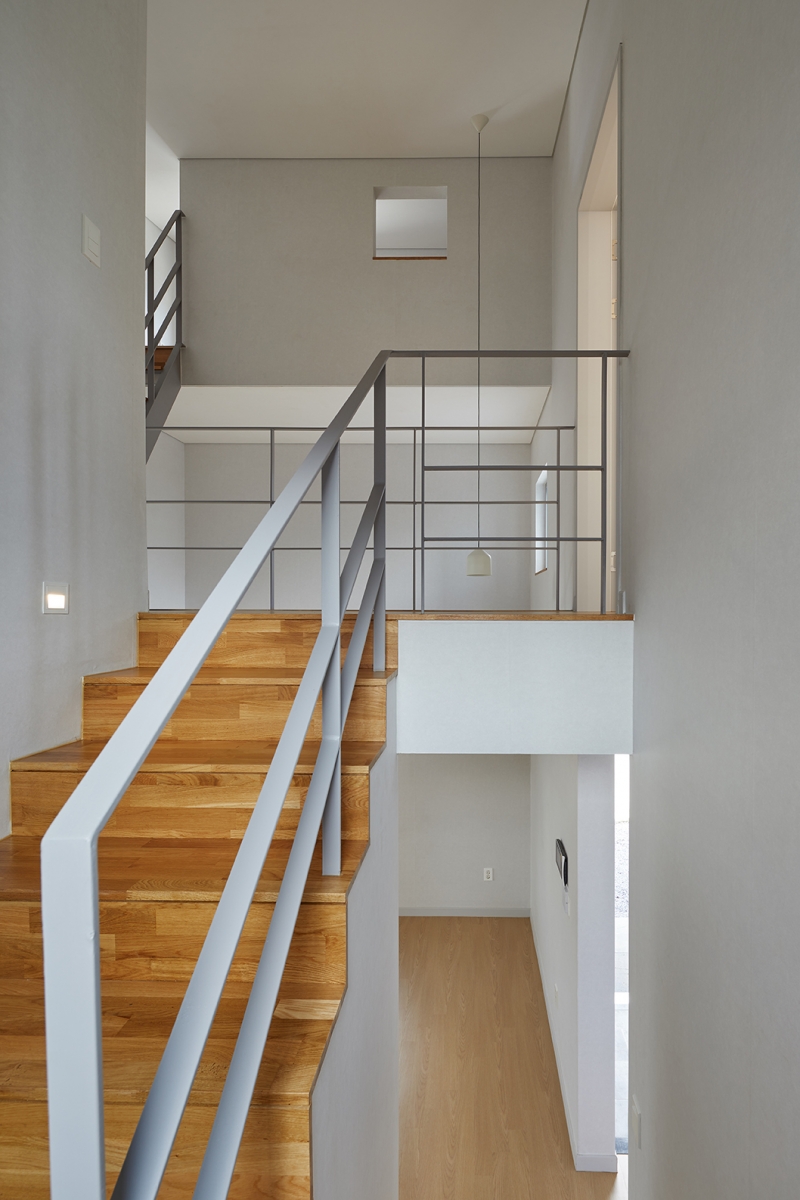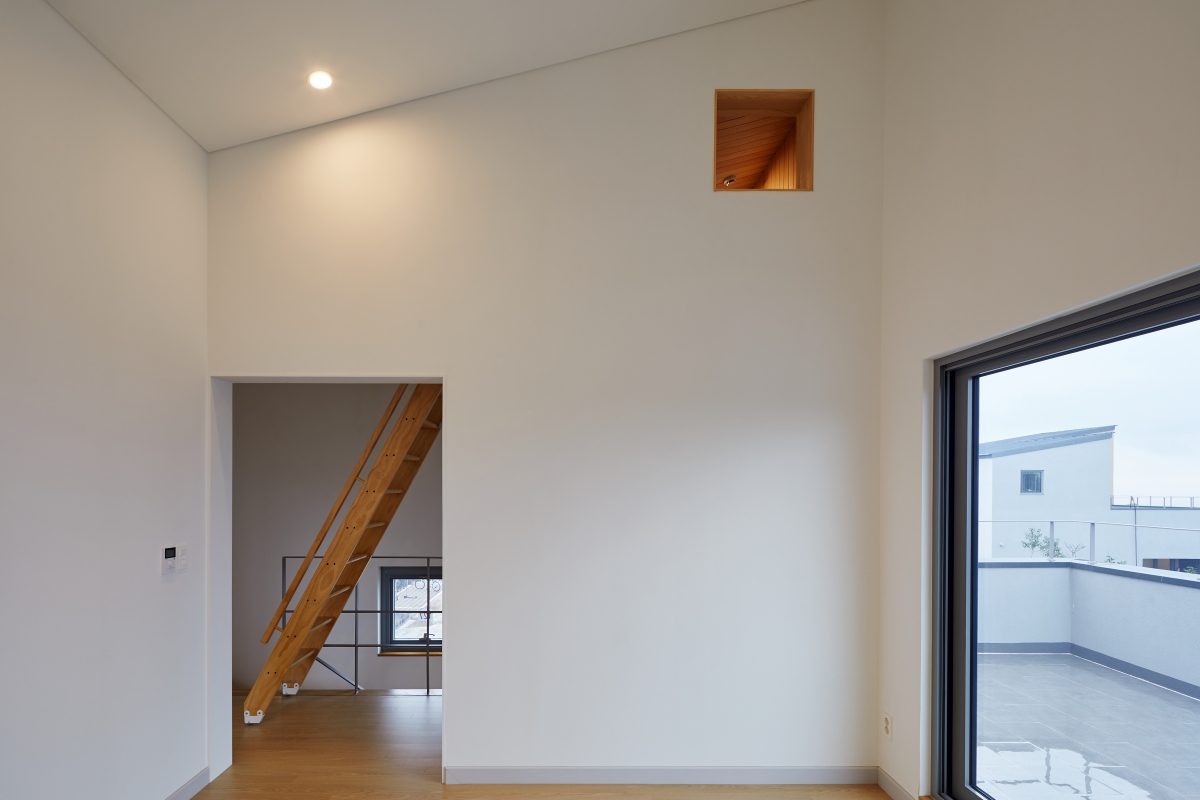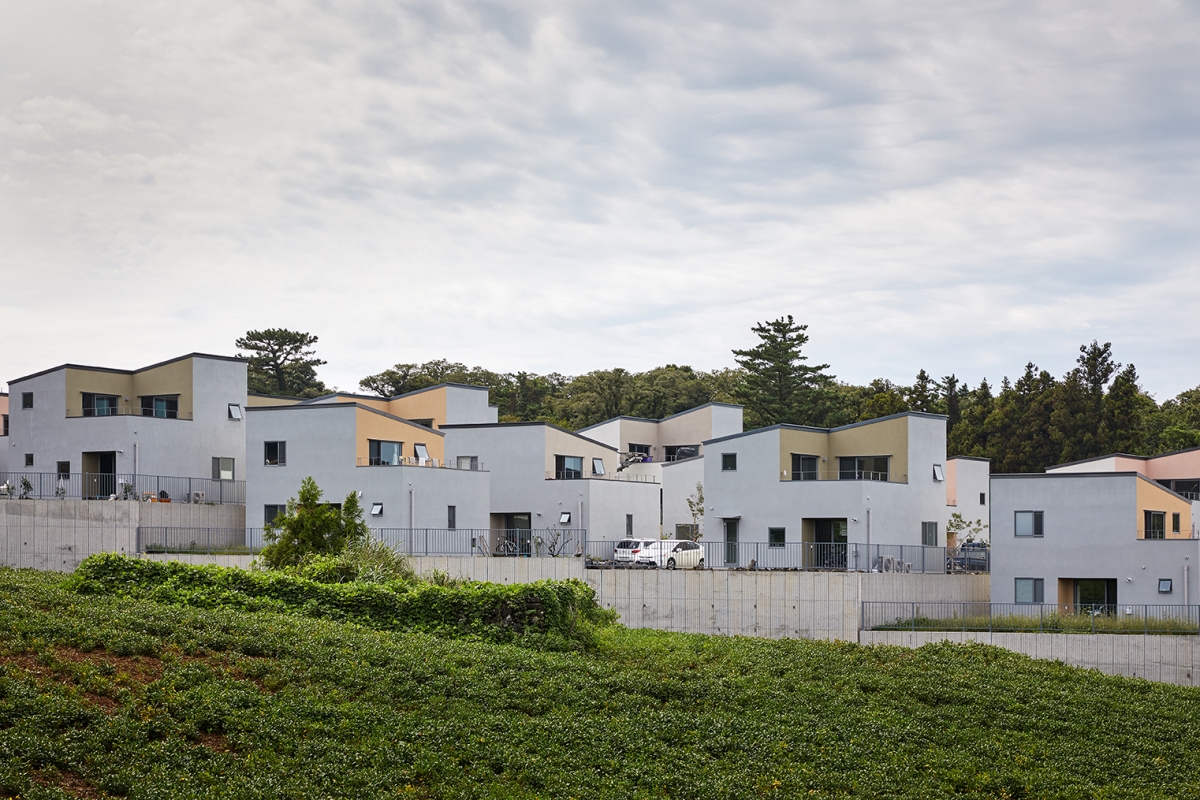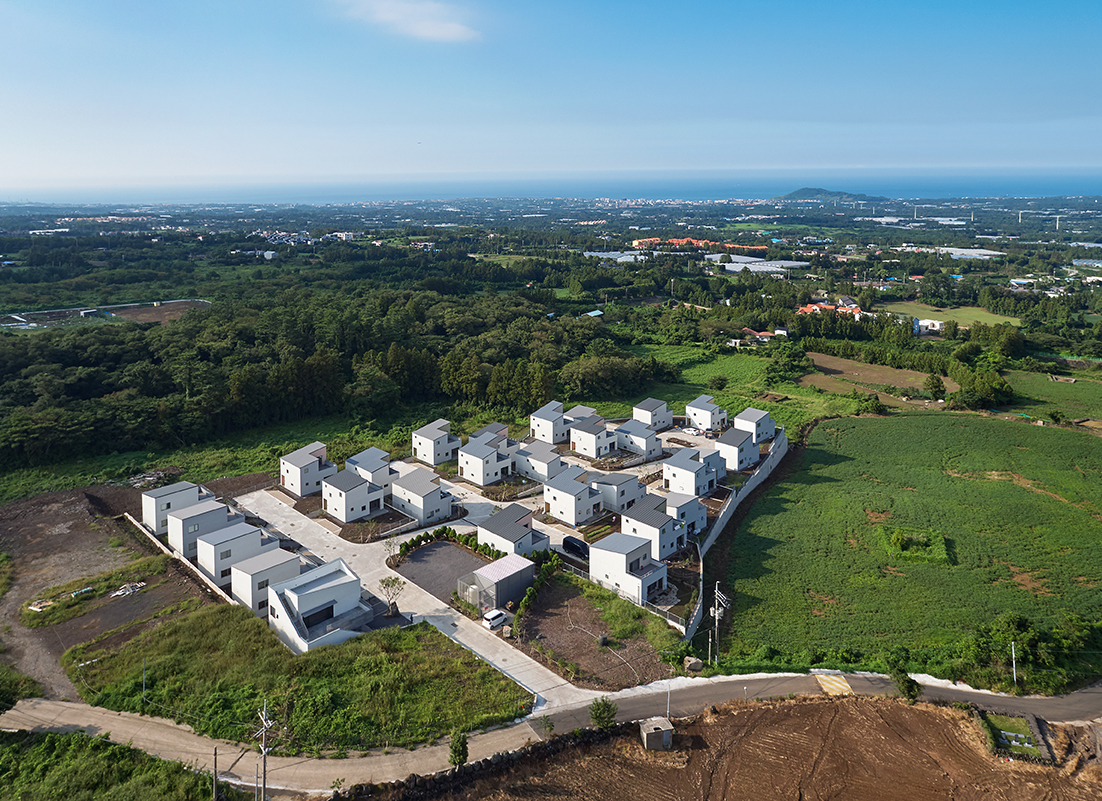 Architect
EMA Architects & Associates (Lee Eunkyung)
Design team
Her Jonghyun, Eo Hyelyung, Kim Haerim, Ryu Jaekyun
Location
Jocheon-eup, Jeju-si, Jeju-do, Korea
Programme
single-family house, neighborhood facility
Building to land ratio
19.04%
Exterior finishing
stucco, zinc, basalt
Interior finishing
water-based paint, wallpaper, wood flooring
Structural engineer
Gwanglim Structure E&G
Electrical engineer
Daegyeong Electric Planning Office
Construction
Atelier Construction
Design period
Apr. – Dec. 2017
Construction period
Aug. 2017 – Oct. 2018
Client
Atelier Construction
Mechanical engineer
Chunglim E&G Electrical engineer
---
Lee Eunkyung received her B.S. and Master degree in architecture from Seoul National University and gained her professional experience at Kiohun Architects & Associates. She also received her Master in architecture and urban design from the Berlage Institute. After practicing at Xaveer de Geyter Architects and Riken Yamamoto & FIELDSHOP, she founded EMA Architects & Associates in 2011.