Universality and Individuality in Urban Architecture
Manhattan's Urban Grid System
The urban planning of Manhattan, in New York City, was established under the 'Commissioner's Plan of 1811' in 1811. Now more than 200 years have passed, but this plan is still in effect and continues to fulfill its purpose by maintaining most of the original urban grid blocks and designated building types in each district. The building lot of the 57E130 NY Condominium is located in East Harlem, a residential district developed in the northeast of Manhattan under the 1811 plan. It's one of twenty lots created by subdividing one of the two thousand urban blocks.
Buildings in one block stand side by side, and only leave a seismic gap of 1in (2.54cm) between them. According to the city's building regulations, every façade must align with the lot line at the roadside, and therefore they are often perceived as part of a collective entity that combines buildings through an attached wall system to form a block, rather than retain their identities as individual buildings. Buildings that have remained in place for 200 years, and the
combination created when they come together, are important focal points that every architect in Manhattan must approach carefully.
The attached wall system, the façade design based on a grid pattern, the windows of a long vertical plane, and the brick cladding all work together with the urban grid system and contribute to the unique context of Manhattan. Universality arising from such an urban context, which is governed by these strict building regulations deriving from the urban planning, is the starting point of this project.
Expressing an Elegant Individuality Beyond Universality
To introduce an ordinary mass or façade design that respects its surrounding context and expresses an elegant individuality – one that will not flaunt itself in the face of universality – the decision was made to use brick, an ordinary material, to create a façade design with a depth of 12in (30.48cm). To emphasise its depth, 90-degree angled standard bricks with a width of 8in (20.32cm) and 124, 135, 146 and 158-degree angled custom-made ones were combined into five different types of brickwork.
A typical façade pattern, in which each floor has three-bay openings with four pilasters, has been upheld, so all of the façades across the six floors appear
identical. Each pilaster has a width of 24in (60.96cm), and each opening of the windows, 40in (101.6cm). As for the pilasters, the half of their width is flat, and the other half is chamfered at a 45-dgree angle. This accentuates the depth of the façade.
The direction of the 45-degree chamfered surfaces changes without disturbing the overall harmony of the building and gives life to the monotonous 3 × 6 gridded façade. For these chamfered surfaces, 135-degree angled brick has been applied. There are two spots where pilasters have been arranged to adopt different widths according to internal conditions. 124, 146 and 158-degree angled bricks are used for them. When shadows are cast, the depth of the façades becomes ever more apparent.
Moreover, the identical brick corner details on the exterior avoid establishing a dichotomous relationship with adjacent public spaces. It's not the façade that
marks the boundary between the street scenery and the building's interior space. People are guided by the chamfered corners to walk into the building via a
buffer zone. With the accessibility of the ground floor secured, the building's 6th floor and the rooftop's southeast corner are cladded with 135-degree angled
brick so that the building and the sky can seamlessly blend into each other.
Optimizing Habitability and Maximizing Profitability While Keeping to an Error Range of 1in
57E130 NY Condominium is a rental apartment with six floors above and one below ground. As the building lot has a width of 18 ft-3in (5.56m) which is rather
narrow compared to the average lot width in Manhattan, I had to attend even to a 1in space – smaller than a brick module – to come up with an the optimali residential unit design.
The front area of the 1st floor consists of a lobby and elevator hall, and the rear area and the 2nd floor, duplex-type 3-bed units. The 3rd to 5th floor is filled with twobed units, and the 6th floor, 1-bed units. Consequently, the building offers a total of five types of units.
Individual units stack up floor by floor. The attached wall system allows them to have windows only at the front and rear. The building owner wanted two bedrooms in the rear area of each floor to secure profitability. To get the required approval from the NYC Council, the room size has to be larger than 8×10ft, and the room must have an opening exposed to outside air. Meanwhile, the gap between outer walls of loadbearing walls on both sides is 18ft. The depth of each loadbearing wall is 1ft, therefore the total depth is 2ft, And the depth of the lightweight wall between bedrooms is 6in. On balance, only a space with a width of 15ft-6in is left for two bedrooms. It was impossible to have them side by side while complying with the minimum room size of 8×10ft set by the city's building code. However, this unfortunate situation could be resolved by placing the two rooms alternately.
In addition, spatial layouts and interior finishing materials were carefully chosen to comply with the minimum width of 3ft-6in for corridors and 5ft for toilets.​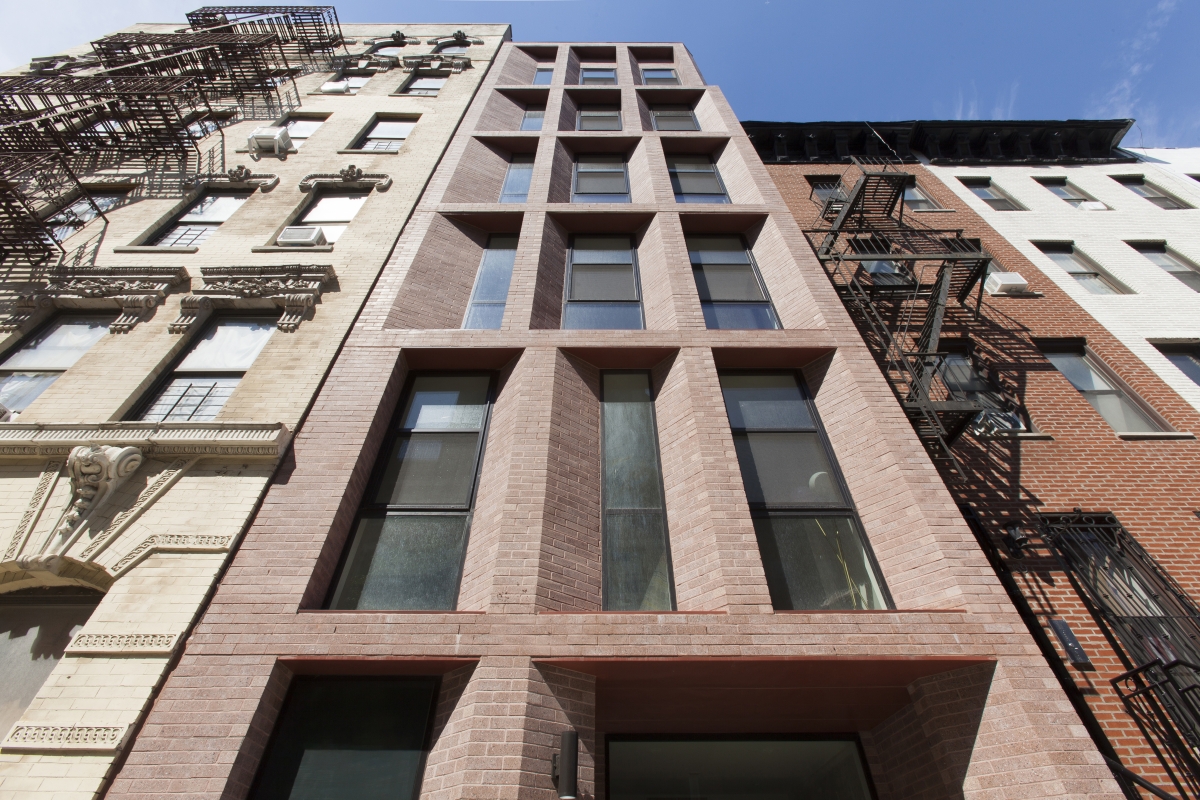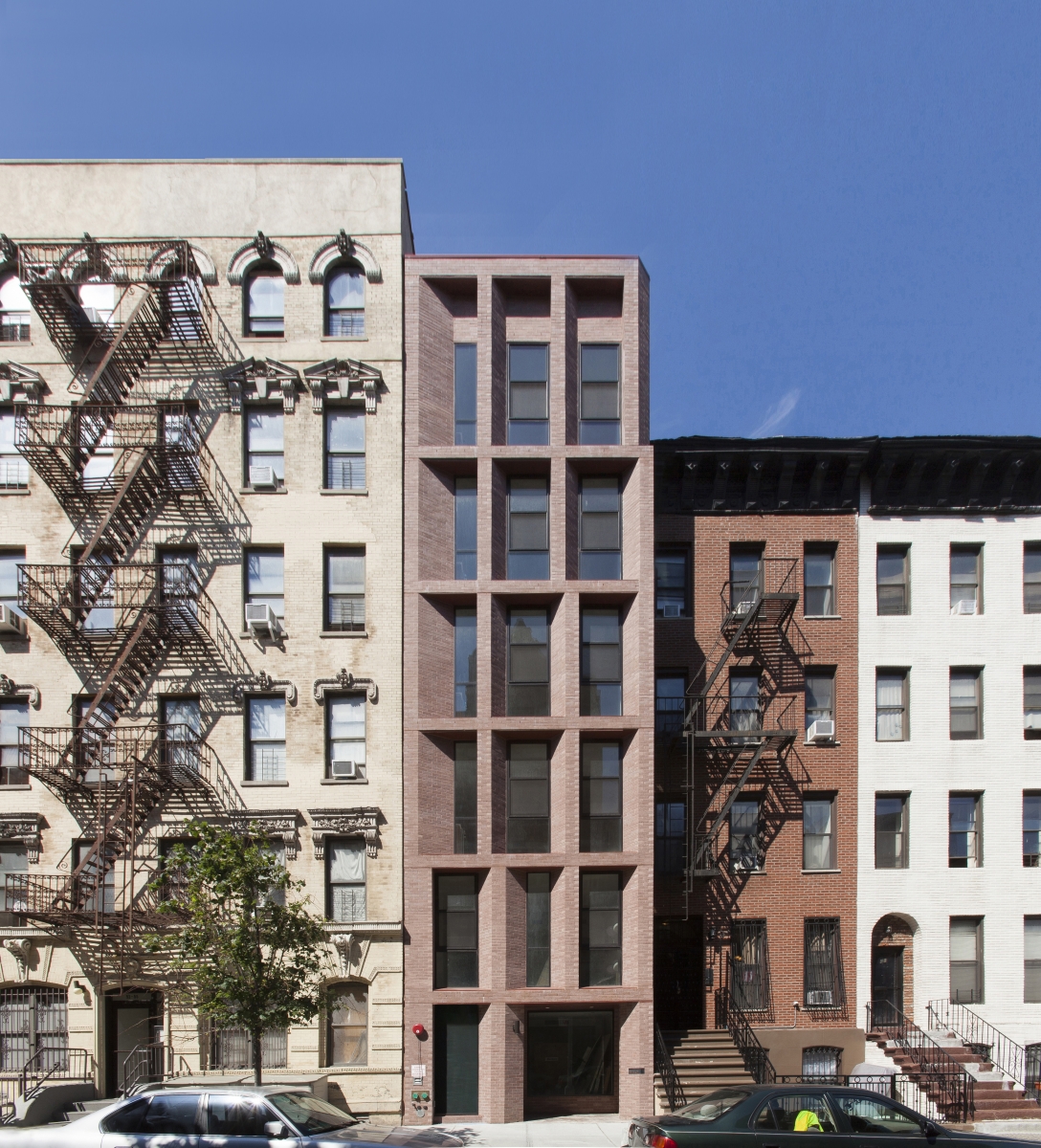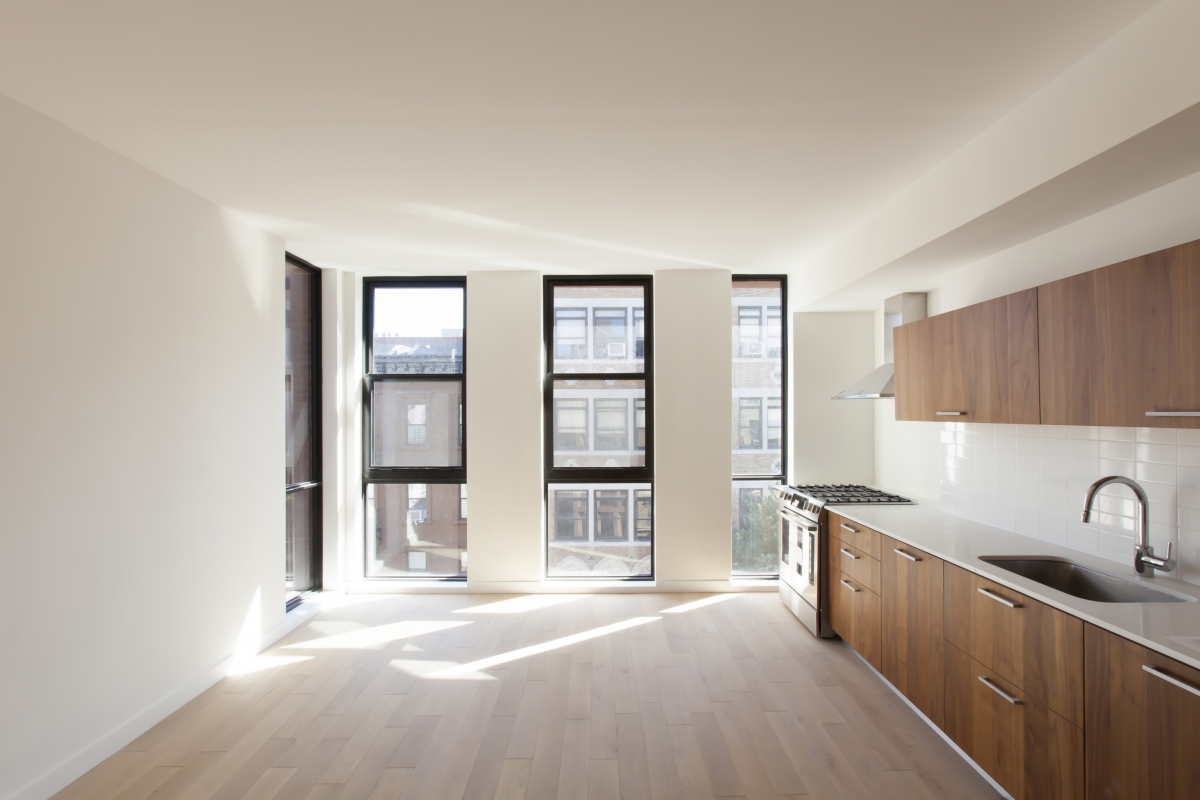 A typical façade pattern, in which each floor has three-bay openings with four pilasters, has been upheld.​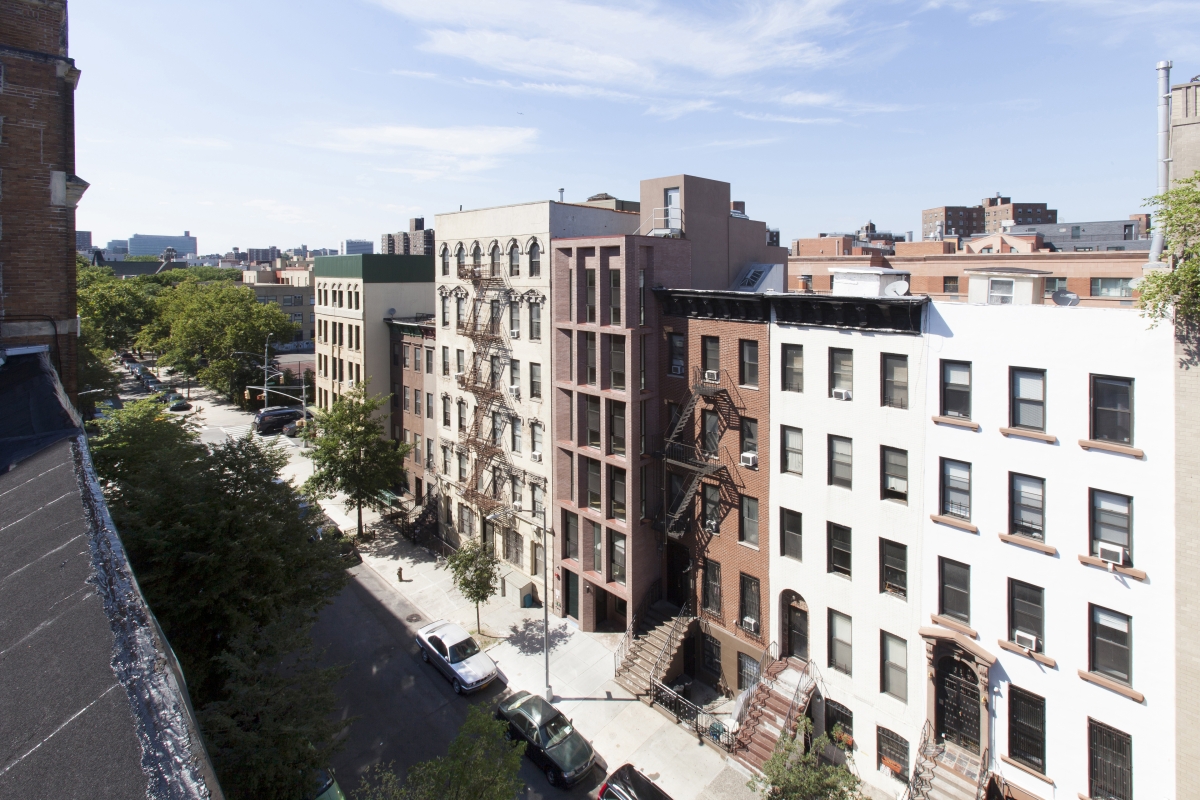 The building's 6th floor and the rooftop's southeast corner are cladded with 135-degree angled brick so that the building and the sky can seamlessly blend into each other.​
Architect
Kim Leehong (Hongik University)
Location
57 East 130th Street, New York NY 10037 USA
Programme
apartment housing
Gross floor area
746.71m2
Building to land ratio
63.3%
Structure
masonry structure
Exterior finishing
brick, stucco
Interior finishing
gypsum board with paint
Structural engineer
A Degree of Freedom
Mechanical and electrical engineer
New York Engineers
Construction
Edgehill Construction, Inc.
Design period
Mar. 2014 – May 2015
Construction period
July 2015 – Mar. 2019
---
Kim Leehong is a practitioner (principal at Leehong Kim Architects) as well as an educator (assistant professor at Hongik University). He graduated from Yonsei University and the Harvard Graduate School of Design. He has worked at architecture practices such as Gehry Partners, Samoo Architects & Engineers, and Steven Holl Architects. Since opening Leehong Kim Architects, he has led various projects in architecture, interior and public art, and has also coordinated exhibitions. He participated in the Gwangju Design Biennale 2009 and APMAP 2016 of the Amorepacific Museum of Art, and recently received the Korean Young Architect Award 2018. He is a registered architect in New York State and a LEED accredited professional, and currently serves as a Seoul Public Architect.