SPACE March 2023 (No. 664)​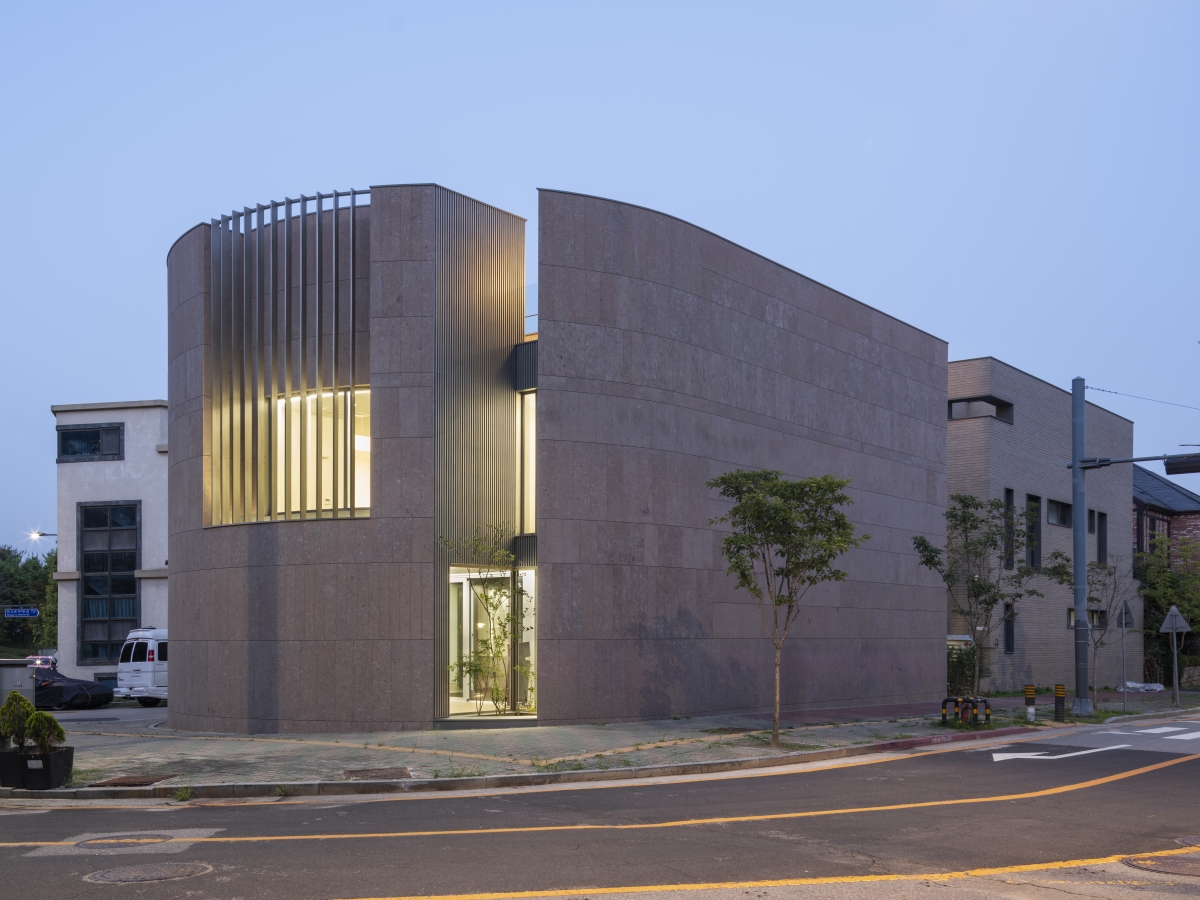 ​
It is not easy to find any resemblances in the housing complex of a newly built city centre. Only on this site in Pangyo does the land appear to be fashioned into the form of a horse's hoof against the gentle hill.
A Primitive Cave
This house is faithful to the geometrical principles absorbed by an architectural student. When designing a dwelling, it is common for an architect to intervene in the narrative of the prospective inhabitants, but this site creates a unique impression by which the house's form, circulation, and even visual impression is are generated just by looking at the figures on the cadastral map and the satellite pictures, even before speaking of the residents or the architect. It is as if there was just a lump of honest geometrical material that is respectful of the ground and so the rest is superfluous. The site was already overly expressing itself, without the architect's intervention. The site rises vertically and intact, revealing itself in three dimensions, and life as well as time are captured along its gracefully curved surfaces. The methods used to create the form and to stitch the content might not be ideal, and the curves in a living space ‒ which is not a showroom ‒ might feel unconformable. However, the overall refinement and lighting also convey a strong impression that goes beyond simply resolving questions of inconvenience. The main dilemma was to do with the exterior building materials. In order to produce a natural-looking curved surface we had to employ materials composed of small units, but the client was adamant about using stone. The only options for expressing curved surfaces from stone sheets were a thin, vertical construction or small-scale coursed masonry work with something like bricks. This problem remained unresolved during construction, and the final decision of the endlessly repeated studies was a dot, line, and surface, as we were taught long ago: a visual confusion that relieves the obsession with curved lines, by impertinently hovering around the boundary between the horizontal and vertical.
Back to Origins
The longing for an original form presumably gave rise to the Cave House, the name of this project. Old stone walls and castles grew deeper for unknown reasons, perhaps because they did not clash with the place's wishes. According to both the builder and the resident, the stairs in this house create the illusion that seems to lead somewhere: like an old place for rest that grew inhospitable over time, where weeds and butterflies are fluttering.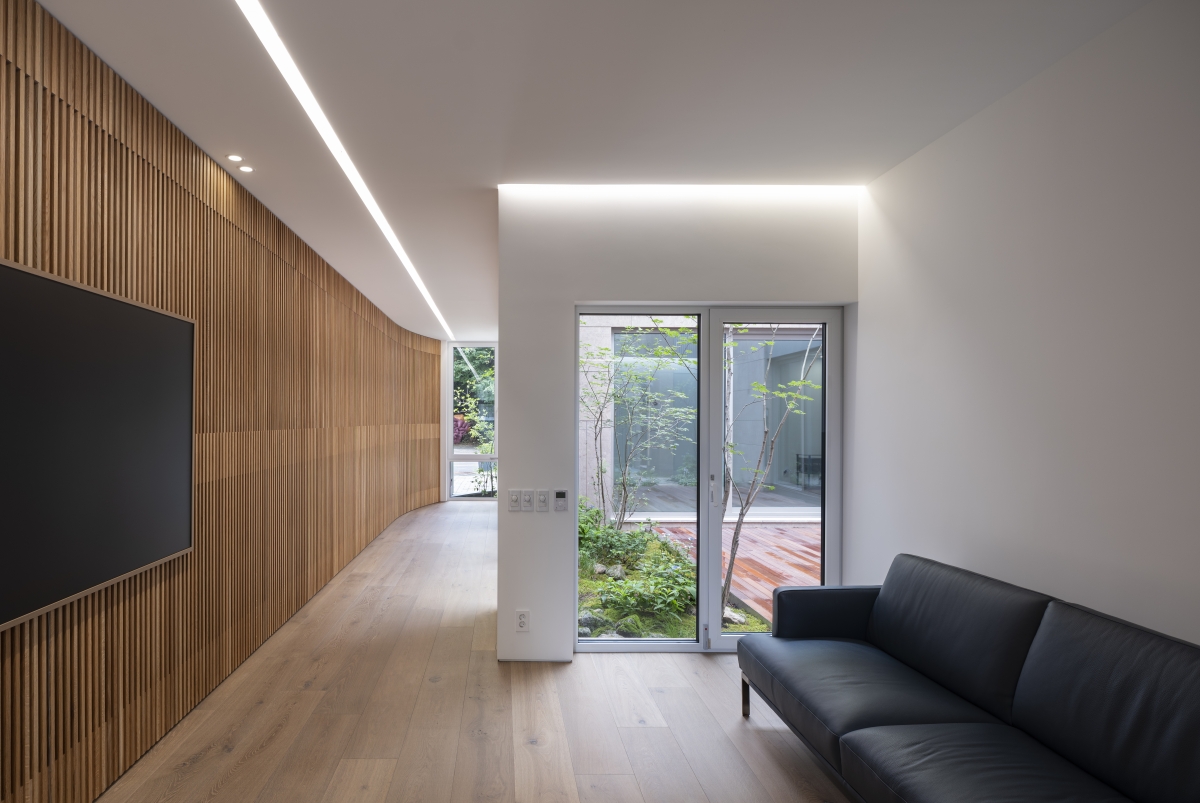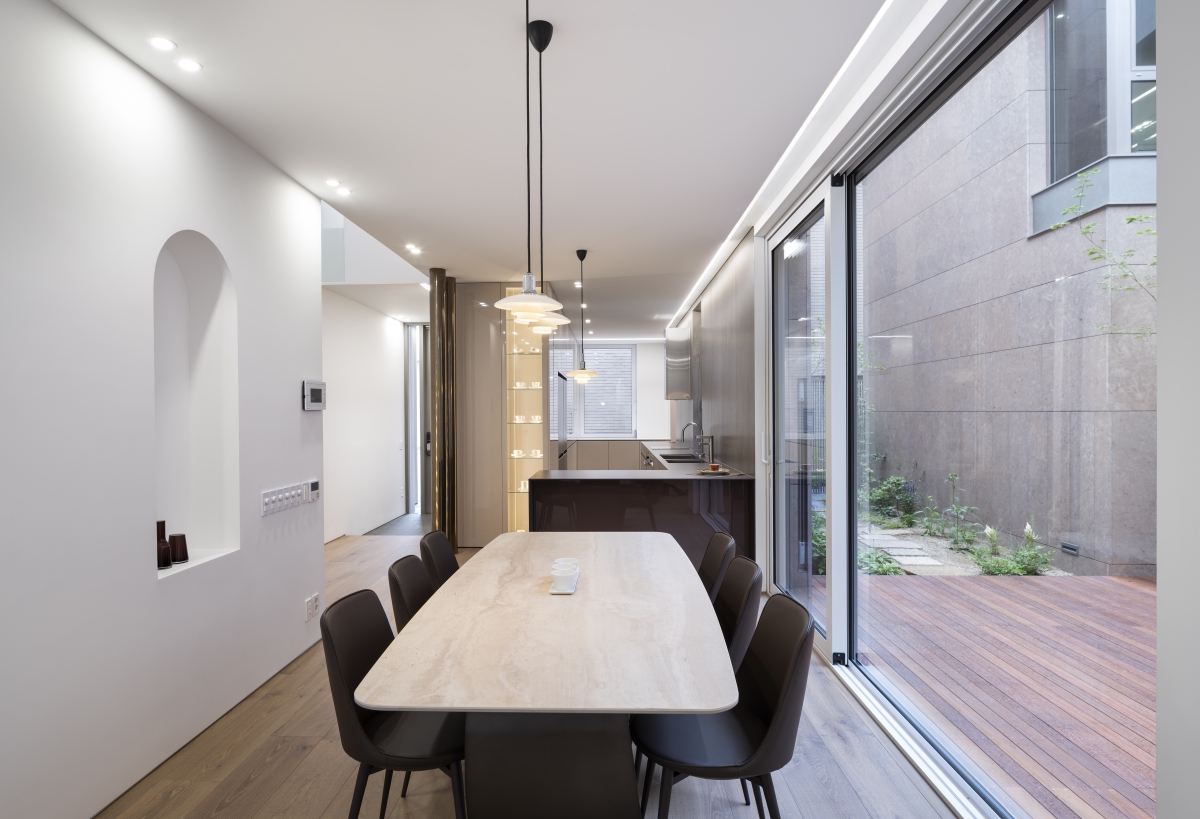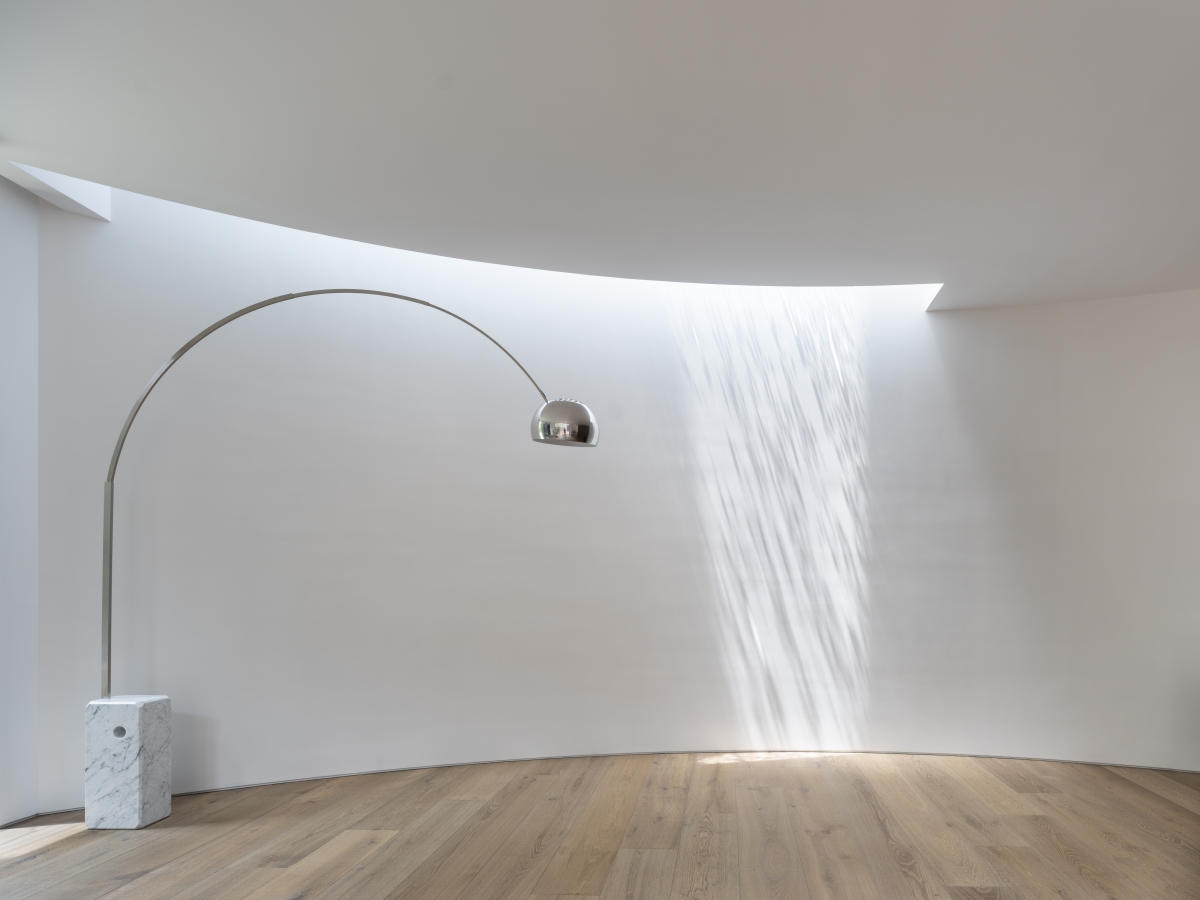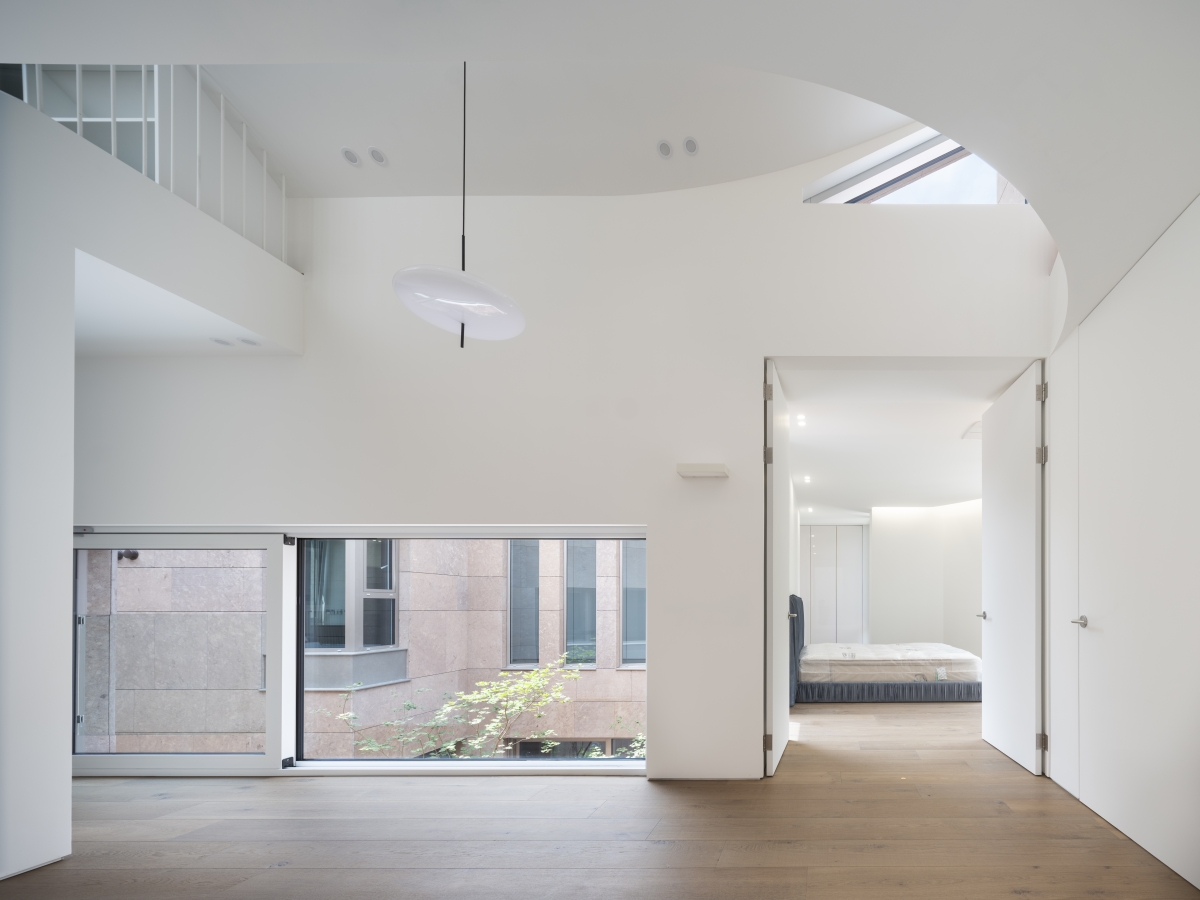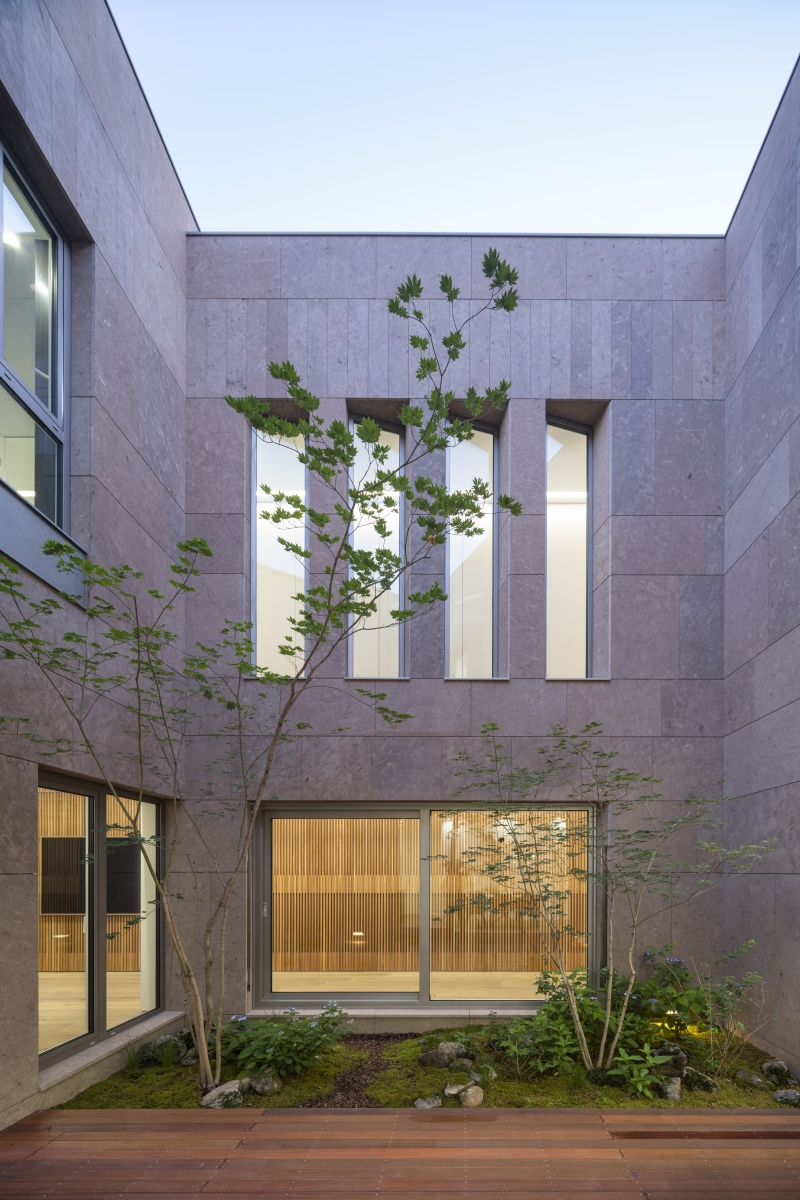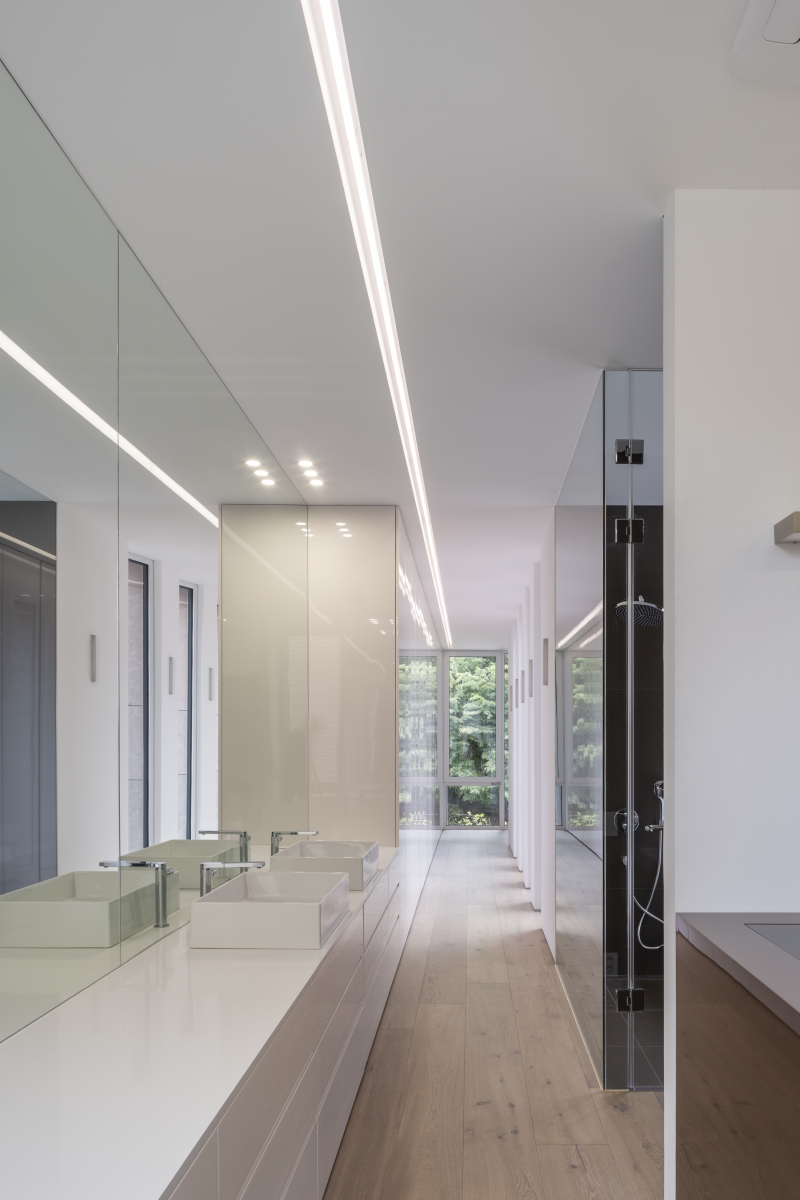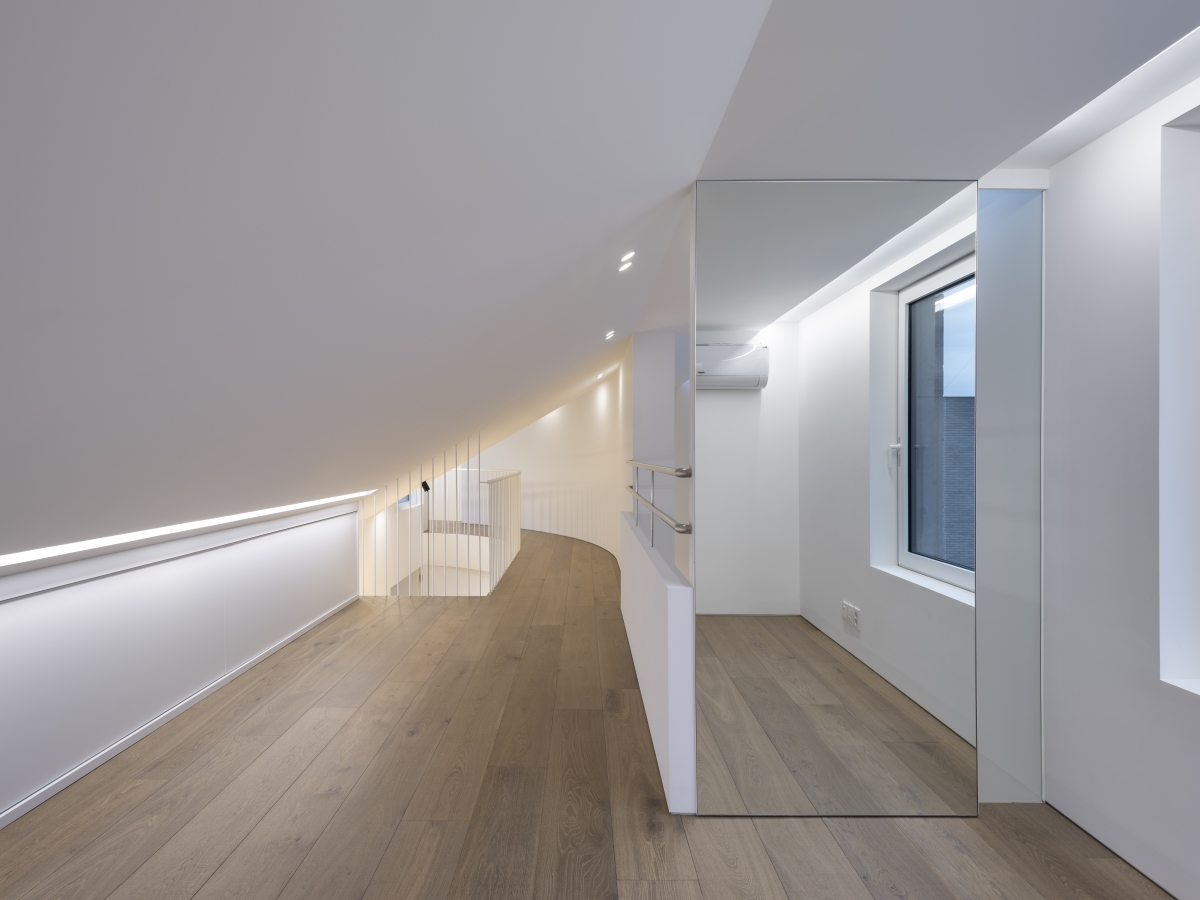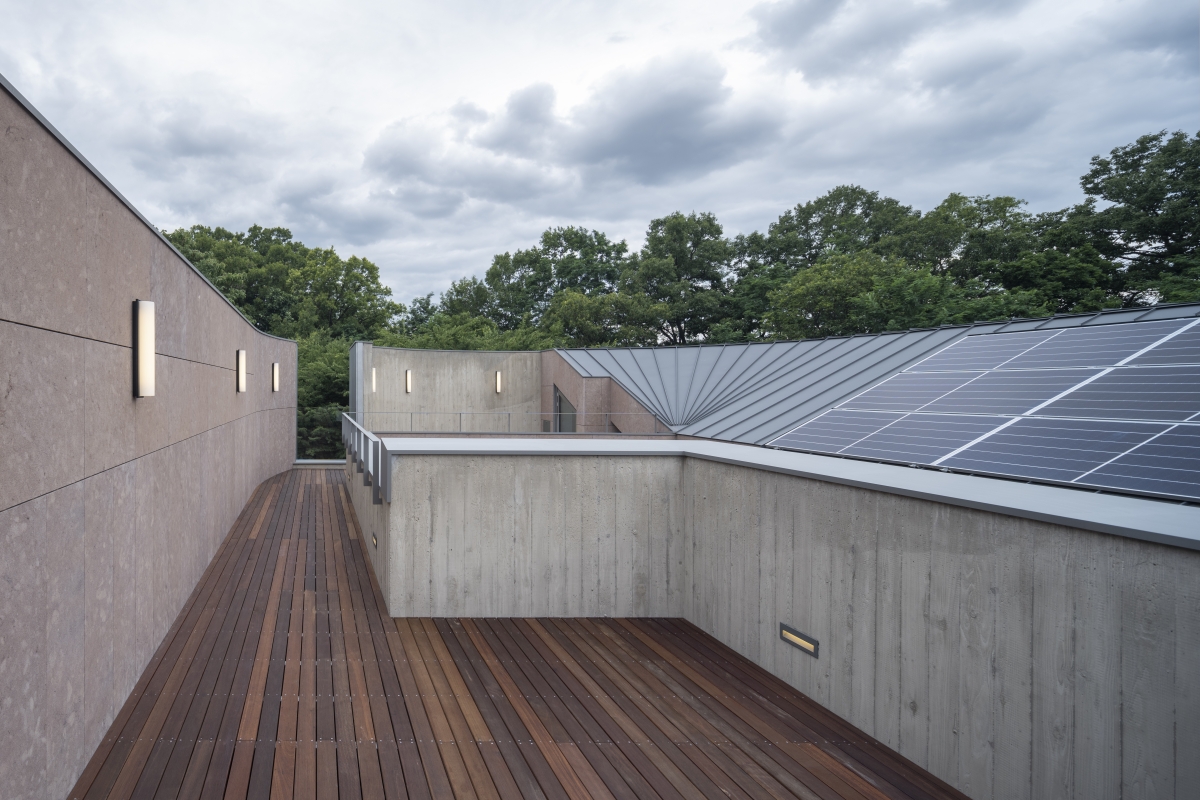 Architect
SIE:Architecture (Jung Sujin)
Design team
Jung Wooyoung, Park Junhee, Lim Sangil, Ahn Jungwo
Location
Pangyo-ro, Bundang-gu, Seongnam-si, Gyeonggi-do, K
Building to land ratio
49.8%
Exterior finishing
imestone, 3 low-e glass system window
Interior finishing
paint on gybsum board, tile, wood
Structural engineer
EUN CONSULTING STRUCTURAL ENGINEERS
Mechanical and electrical engineer
SUNG-DO ENGINEERING
Design period
Aug. 2020 _ Apr. 2021
Construction period
Apr. 2021 - May 2022
Landscape design
OPNESS STUDIO
---
Jung Sujin studied architecture at Yeungnam University, Hongik University Graduate School and École Nationale Supérieure d'Architecture de Paris-Belleville, becoming an Architect DPLG. She is currently the principal of SIE:Architecture, and is an adjunct professor at Kyung Hee University. Her most celebrated works include Spring House, Hoengseong House, I-House, Big-Mama, Nature, Cave House, Miraenaya Office, Yoonseul Building and Café Piora. She has won wards such as the Gyeonggi Architecture Awards, Aum Duck-Moon Arhcitecture Award, Korean Architecture Award.