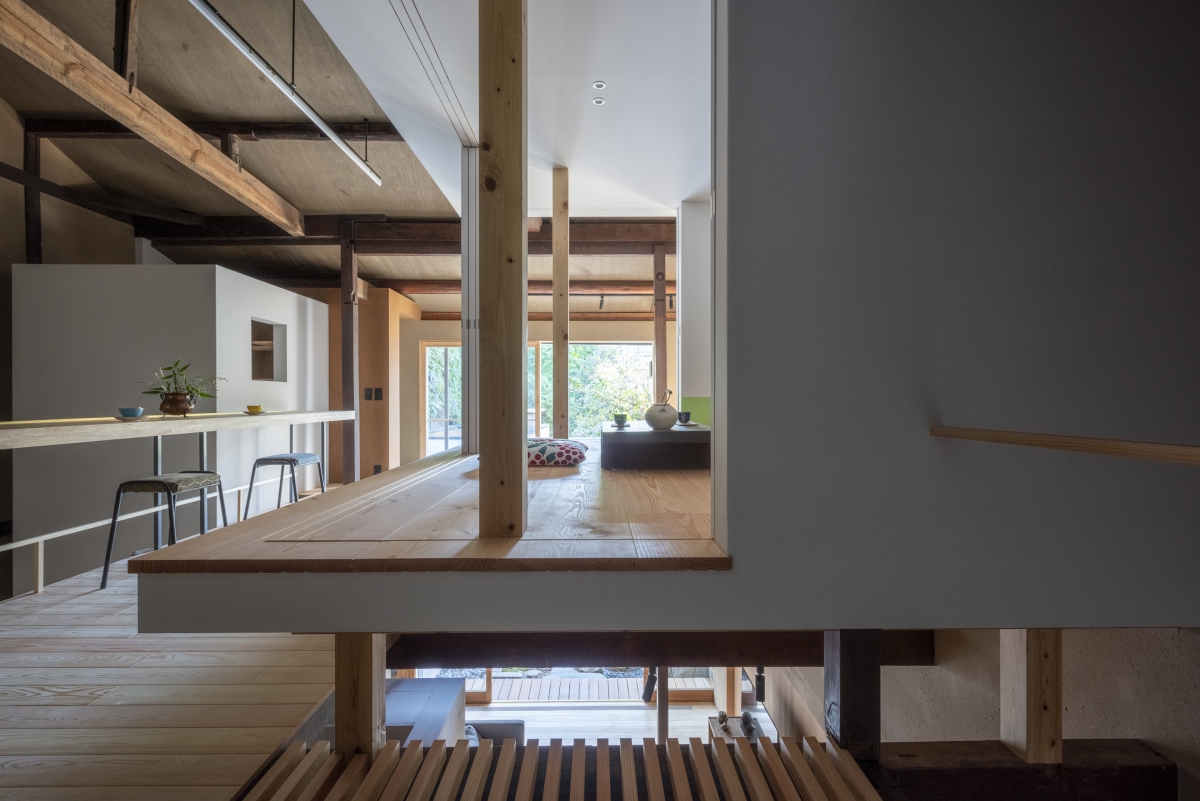 ​
Origianl Line, Added Volume, Continuous Gap
Tada Masaharu principal, Td-Atelier, Endo Shojiro principal, ENDO SHOJIRO DESIGN × Park Jiyoun
Park Jiyoun (Park): This project is the renovation of a 120-year-old machiya in Kyoto. Machiya is a traditional Japanese wooden house with a narrow façade and long side volume, a kind of townhouse that shares walls with its neighbouring houses. It must have undergone many renovations over a long period. What was the condition of the buildings at the time?
Tada Masaharu (Tada): Originally there was a room in the front, but, after setting back, the outdoor area was changed to a parking lot and the interior section was turned into a westernfacing room. The kitchen used to be a dirt floor, but with the addition of floors, modern kitchen equipment has also been introduced. There must have been a stairwell in the upper part of the kitchen for ventilation, but the floor was created upstairs by adding beams.
Park: During this renovation project, you noted that the unique composition of the house had been restored, and I would like to know more about the composition and your method of restoration.
Tada: The atrium above the kitchen has been restored. This is an important factor for machiya. By arranging the volume of the kitchen around the centre of the first floor, we made a plan that allows you to circulate. It is important to have a plan that allows you to go around the space in Japanese houses. Instead of recreating an old house, we recreated a space at an abstract level.
Park: A third of the area was planned as outdoor space, which is comprised of garden, terrace, and tsuboniwa (Japanese style garden).
Endo Shojiro (Endo): House in Marutamachi is actually a larger than a typical machiya. Not only is it a functional garden, but, as the owner's grandfather seems to have reveled in the creation, it is a tea room in the garden. However, the garden is too big for the current owner. Therefore, we divided the garden into small areas and created a garden that you can enjoy by maintaining each section on a regular basis. The back garden will be used for leisure activities such as barbecuing and camping. In Japanese townhouses, tsuboniwa was the ancestor's idea for introducing light and wind into the house.
Park: There are many voices calling for the preservation of the hanok, but they tend to be reconstructed or renovated as cafés or guest houses because they are often inconvenient spaces in real life. I know machiya is also placed in a similar situation, but why did the client decide to renovate the house?
Endo: This machiya has existed since the owner's grandparents' generation, and he remembers going out into its spaces to play when he was a child. As such, he wanted to continue living here while remodeling the machiya the clan had long cherished. He also believes that by continuing to use it while modifying it, he will leave the traces of history in this architecture and of life for posterity. We are also thinking about means of contributing to the cityscape.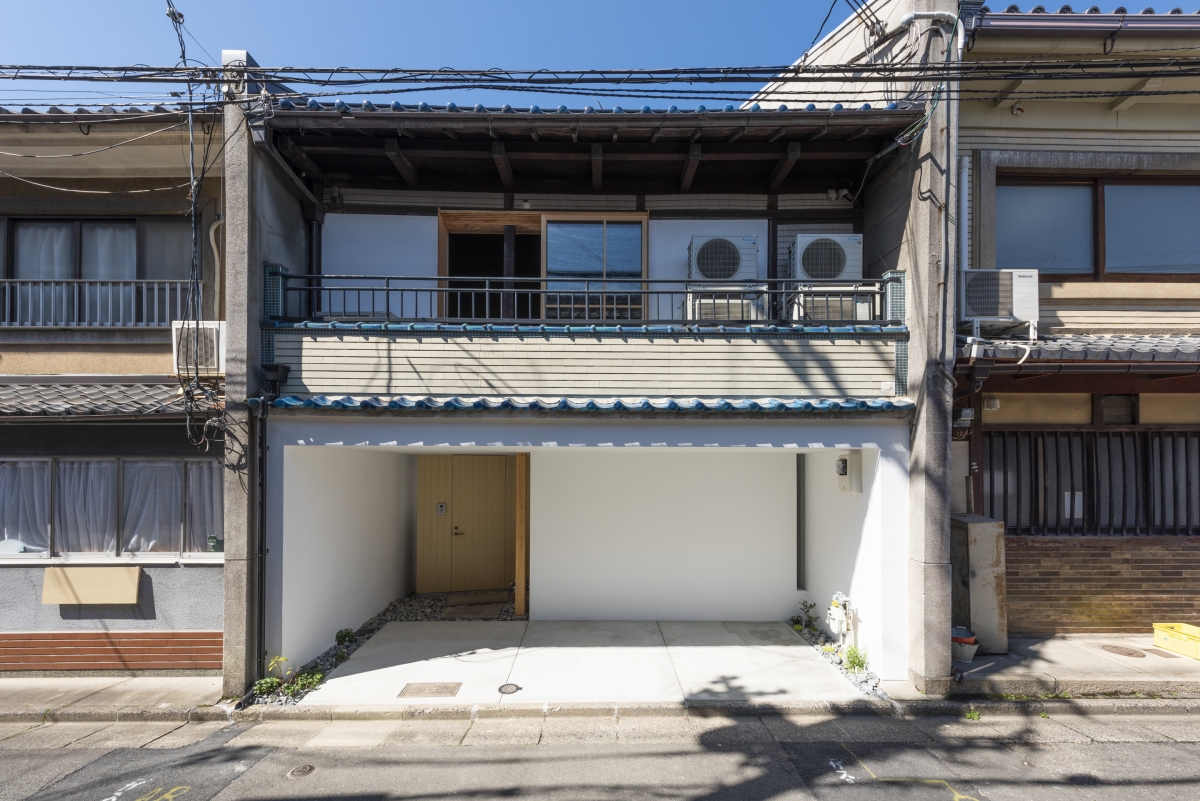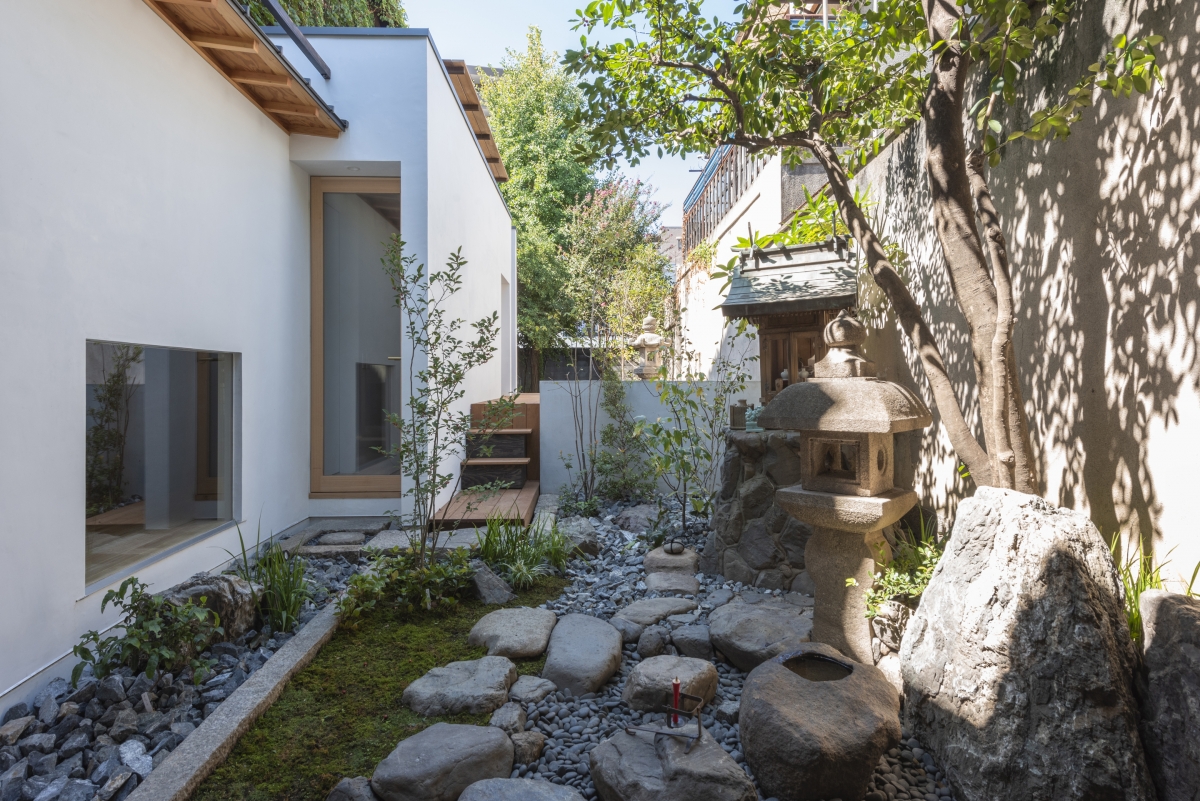 Park: The most distinctive feature of the project is to insert the 'functional volume' into an existing space to create a more niche space. Please tell us in detail how you implemented the functional volume and niche, and their functions.
Tada: The kitchen and toilet on the first floor and the kids room, toilet, study room and bar on the second floor are functional volumes. These are rooms that require some equipment or have fixed furniture, which limit their functionality to some extent. Surrounding it is a space for the family, which is a place that does not limit its functionality: one to eat, talk, study, watch TV. You can use it freely depending on the time of day and mood.
Park: The lines of columns and beams and the surfaces of the floors and ceilings create a very strong image. You must have studied a lot to decide on their height and spacing, and I would like to hear more about the process.
Tada: At the design stage, we visited the site many times and dismantled some walls and ceilings to accurately measure the positions of columns and beams. Based on actual measurement drawings, we examined the models and drawings so that new walls and lumps would create effective gaps between columns and beams. At the same time, we are planning a route in which equipment piping (exhaust, water supply, drainage) bypasses these structures without damaging them.
Park: The family of the house is comprised of a couple with a child. The kids room has a floor on the second floor with a level difference of 600mm and two sliding doors, which makes it look like a common space when the doors are open. What experience did you want to give the child?
Endo: I want you to discover the joy of space in your life. For example, try standing from the same perspective as an adult, talking to your parents through the gap downstairs, or sitting on a step and looking out. At the time of completion, the child is a 6-yearold girl. I think privacy will become more important as she grows up, but usefully it can be customised according to the occasion.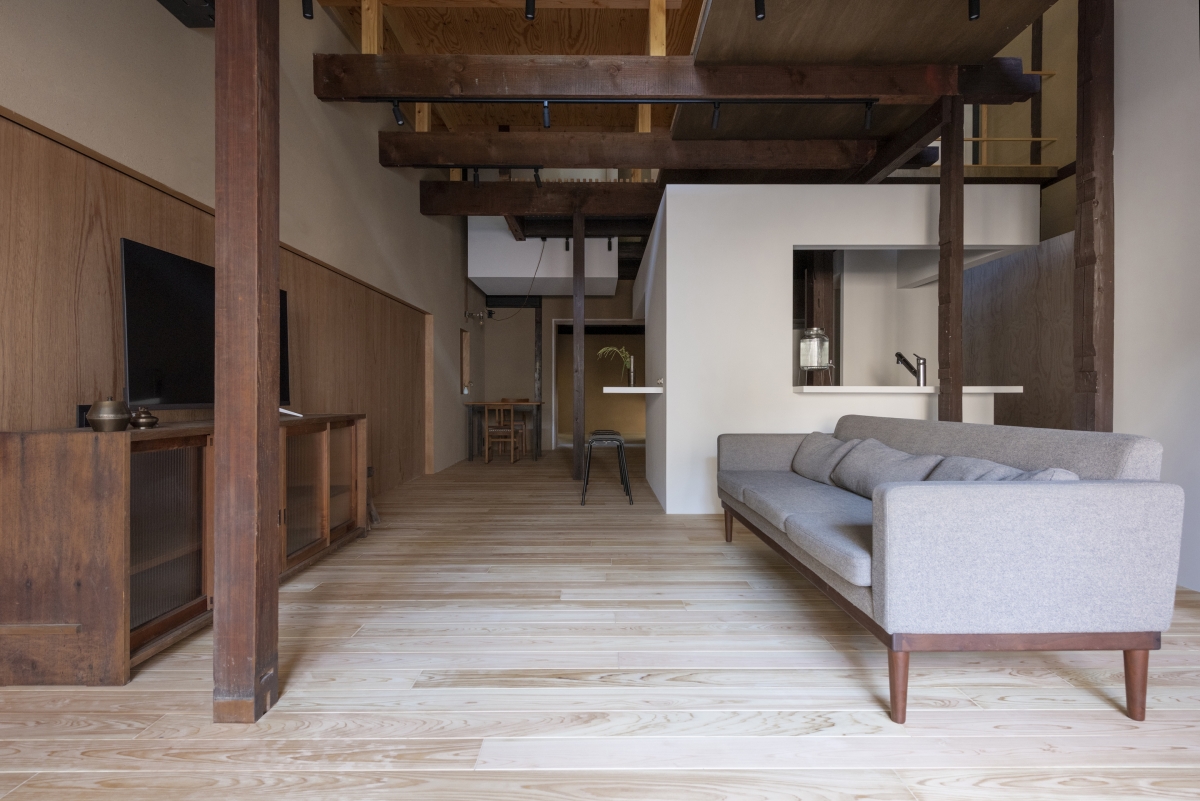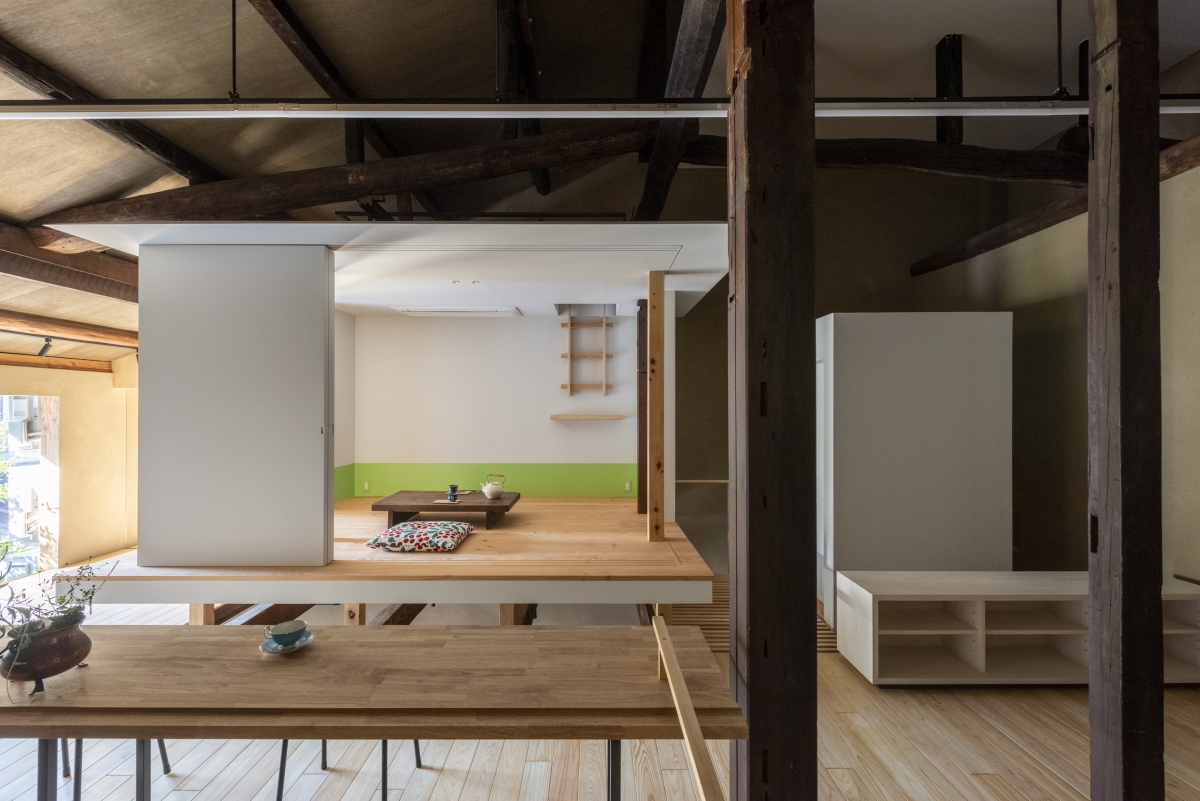 Park: It took 7 years to complete. It seems like a long process compared to the project size, and I would like to know the background to this duration.
Tada: Initially it was designed as a twofamily home with their parents. Shortly after embarking on the design, the owner's family moved to the Czech Republic for three years. The project started back up after they returned home, but due to the fact that they lived separately from his parents and other design conditions changed, they had to redesign many times.
Park: Including this project, you have carried out three other housing renovation projects in Kyoto. In House in Shimogamo (2020) and House in Bukkoji (2021), the space was arranged using wooden beams and white was used as the main colour.
Tada: White is used for houses with sliding door and plaster in both Korea and Japan. Wood and white go well together and are clean in aspect and colouring. White reacts sensitively to light and shadow, creating a delicate expression. White makes the space beautiful, and is also used to contrast the old and new. The pillars and beams have become black and more striking over time, and we contrast old and new by juxtaposing this with an abstract white geometry.
Park: Td-Atelier and ENDO SHOJIRO DESIGN cooperated in the design of both housing renovation projects in Kyoto, and some more works. I would like to know how you divide your roles and what new synergistic effects you are able to create.
Endo: Tada is from architecture and I am from product design. However, in fact, we do not divide the work, we design together. It seems that the best projects are created by two people who share their favourite designs and goals, and by repeating existing dialogues and superimposing their sketches.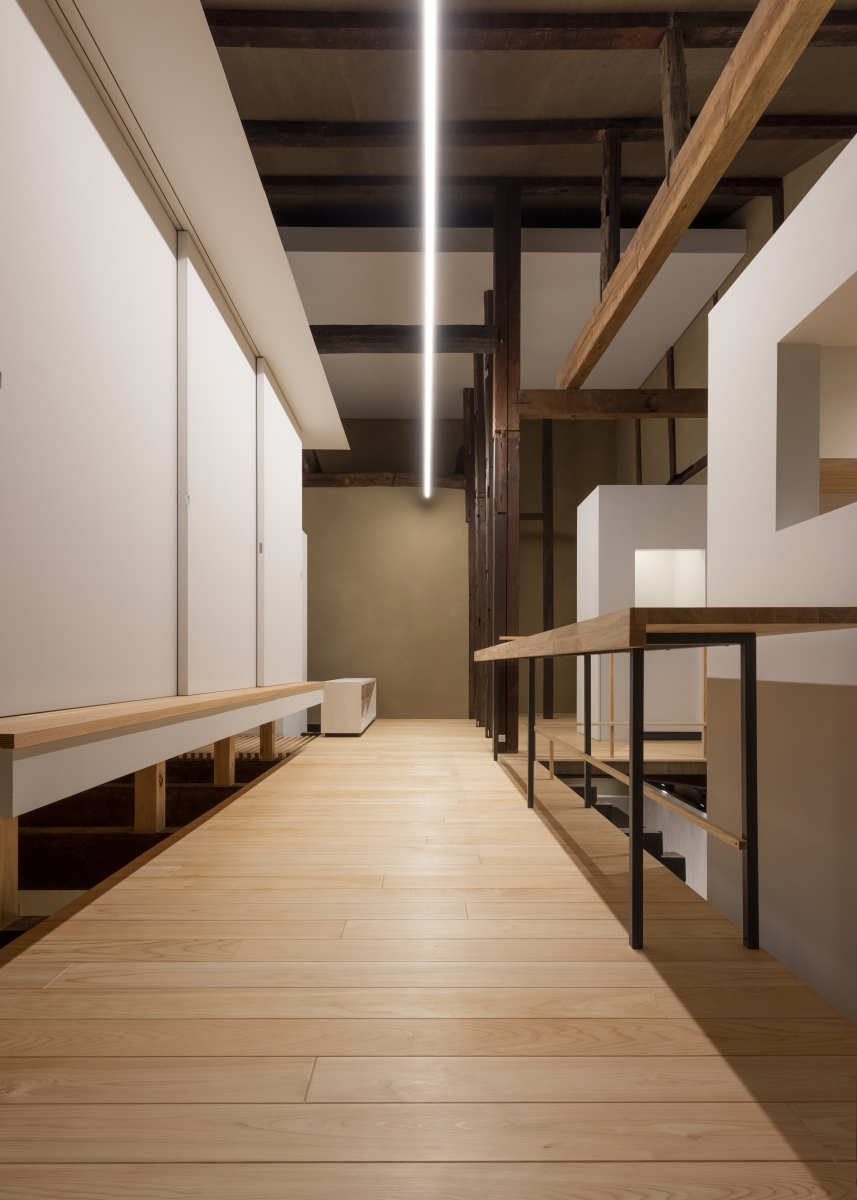 ​
Architect
Td-Atelier + ENDO SHOJIRO DESIGN
Design team
Tada Masaharu, Endo Shojiro
Building to land ratio
39.19%
Exterior finishing
stucco, galvalume steel roof, existing repair
Interior finishing
plasterboard, straw filled clay wall, lauan plywoo
Construction
Fujisaki Gumi.Co.,Ltd
Design period
July 2014 – Dec. 2020
Construction period
Dec. 2020 – Oct. 2021
---
Tada Masaharu, Endo Shojiro
Tada Masaharu was born in Kyoto, Japan. In 2006 Td-Atelier established in Kyoto. In 2014, Masaharu established a community-related project in Kumano, and he is currently involved in architectural projects in two areas, Kansai and Kumano. Since 2011, he has been a part-time lecturer at Kinki University.

Endo Shojiro was born in Kobe, Japan. He obtained bachelor
's degree in Architecture and Design and masters of engineering in Engineering and Design, Kyoto Institute of Technology in 2005. He established the design office ENDO SHOJIRO DESIGN in Kyoto in 2009. He has been a part-time lecturer in the College of Industrial Technology since 2014.