Across the Universe
I hailed a cab from the train station to drive me to Pohang University of Science & Technology. I was going to find my way there once I get dropped off somewhere within the campus, but soon I realized that there was no need for me to look for it because it was just so visible. POSCO CHANGEUP GROUND (hereinafter CHANGEUP GROUND) is built across the central library adjacent to the campus's main road. Its location acts like a keystone that connects the northern lecture zone with the southern research zone as well as the east-west axis divided by the main road. With its two-story high platelike mass of 60m width and 80m height that acts like a huge eave while being adorned by metal-finished hexahedrons hanging on it, the building resembles an alien and yet also futuristic-looking spaceship that got marooned on this campus after journeying through the galaxy. When I made a passing remark that it might have been better if the cantilever of the platelike mass had protruded a little further out to create a clearer contrast with the hanging clusters, the architect expressed his deep frustration about the adjustments that had to be forced during the working design stage due to quakeproofing concerns and construction costs.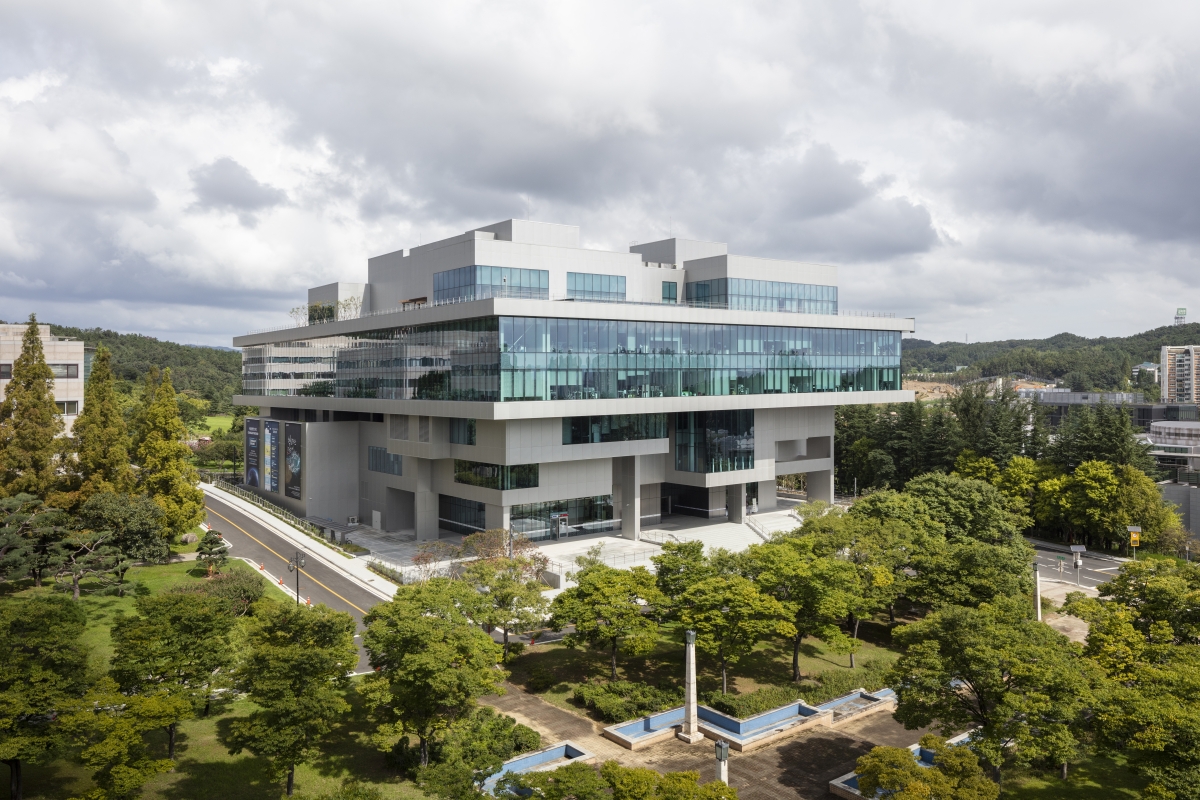 Upon entering the interior, the six-story high atrium, the collection of hexahedron rooms surrounding it, and the flow of the linear staircase that connects each floor come immediately into view. Due to this connection between the exterior image and the interior spatial composition, the building constitutes an organic and integral environment. As Thomas Friedman once described the 21st century world as being flat, we are living in a time of endless competition where divisions between history and geography are becoming increasingly meaningless and creativity and collaboration at the individual and communal levels are required more than ever to maintain competitiveness. Consequently, it is becoming demanded of recent workspace designs to not only consider efficiency but also to innovate a complex spatial design that can easily undergo modifications while maintaining balance between the spaces for focus, communication, and leisure. Demands for multiple functional spaces would accompany the design request, and the architect's interpretation and philosophy would come into play when deciding how these spaces are to be classified, combined, and cast into their respective roles and properties. The architect explained that he divided the space into four categories—the space that embodies the Incubating Center's identity, the focus-space that is to become the private research spaces, the shared research space for collaborative work, and space for leisure and communication—and expressed the configuration system that determines the relationships between these spaces via the architectural form. The sense of spatiality created by the comprehensive intermeshing of the atrium occupied by the free combination of various shared spaces, the private or shared research spaces that encompass those spaces, and the inner court that provides natural light and the integrated leisure spaces evokes the image of a well-functioning symbiotic ecosystem.
This generally open interior spatial composition where its shared spaces take up about half of its total spatial area differs significantly from the past-century buildings where shared spaces were only used as transition spaces connecting one functional room to another. It feels like a successful demonstration of Jan Gehl's theory which states that unexpectedly various kinds of community activity happen in the ambiguous outdoor boundary spaces between buildings (public space or middle zone)—just only that this time it is indoors.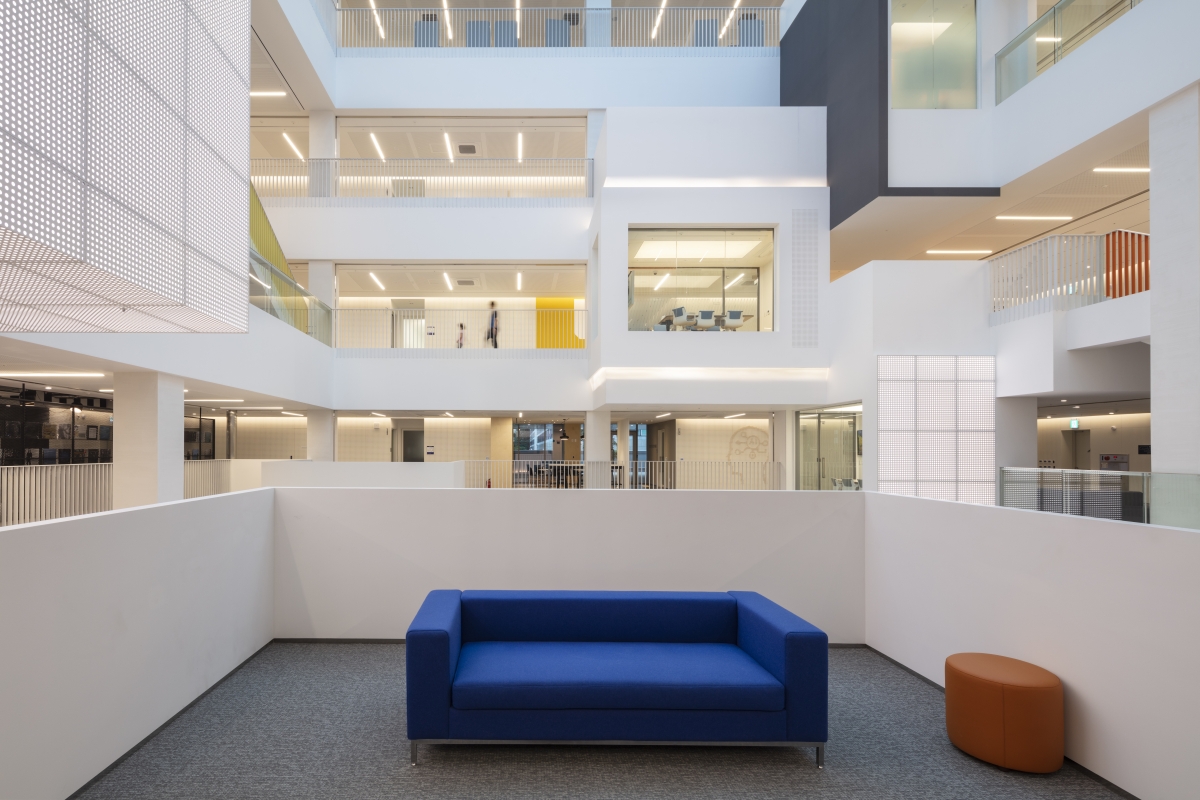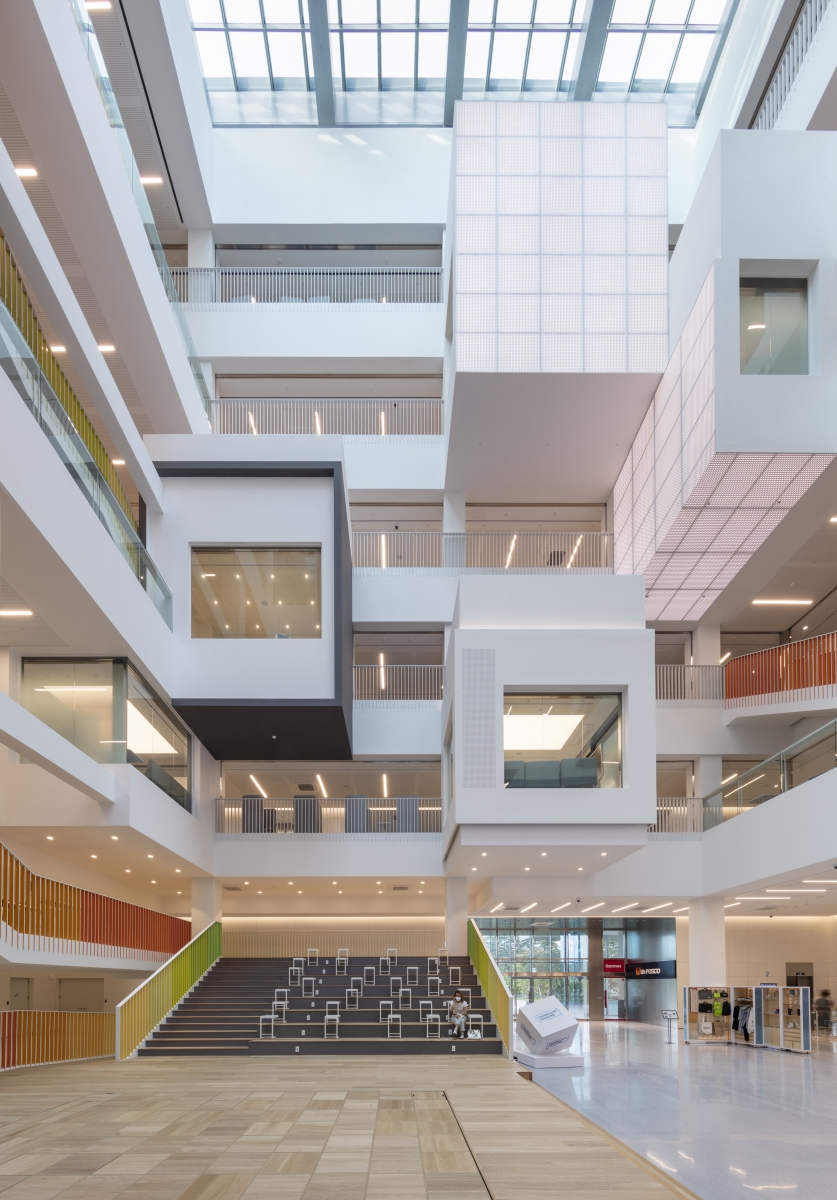 During our discussions, I got to learn that the work for Unsangdong Architects was executed via an inductive method by referencing all possible alternatives, and for that reason it contains a significant amount of architectural ideas that got produced as byproducts during the past decade of work. (I felt envious at this point.) Differing from architectural production methods which seek to create a perfectly-tailored suit for a specific program, this work method is characterized by its expandability that can cater to various conditions. Also, the strategy that projects at Unsangdong Architects tend to follow—that is, the combining of discrete units into a whole—is ingenious as it enables complexity and liveliness within the architecture's form or its interior spatial composition. Just as the meaning behind the mission for '(Ki)Unsang-dong' suggests, the architecture of Unsangdong Architects exudes a certain sense of dynamic energy. As a realization of a 'universe'-like ecosystem within a 'university' campus, it seems to me that CHANGEUP GROUND could go beyond its functional role as a support center for entrepreneurs to become an archetype for the contemporary context regarding construction logic for exclusive and shared spaces. I cannot but look forward to seeing the space of (Ki)Unsangdong Architects bustling with various events and people as they go about doing rigorous research, sharing ideas, and doing collaborative work post-Covid. (written by Kim Jeongim / edited by Park Semi)
​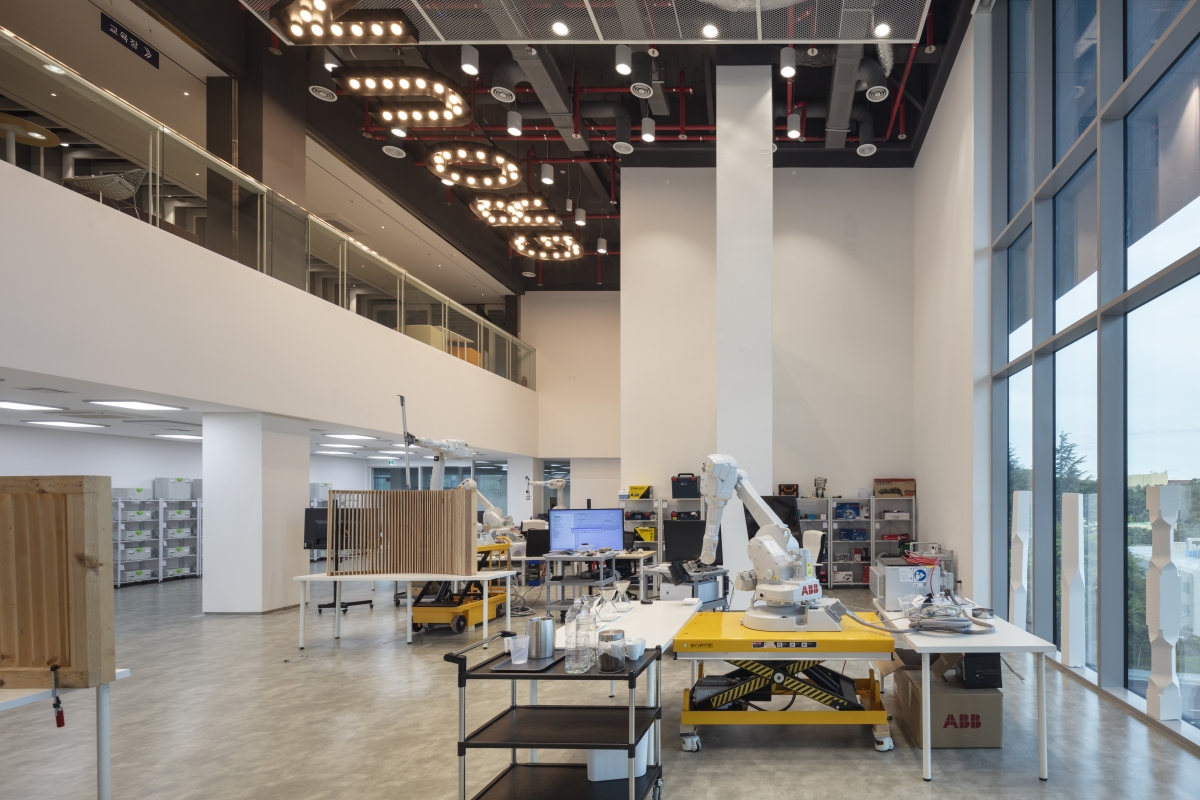 ​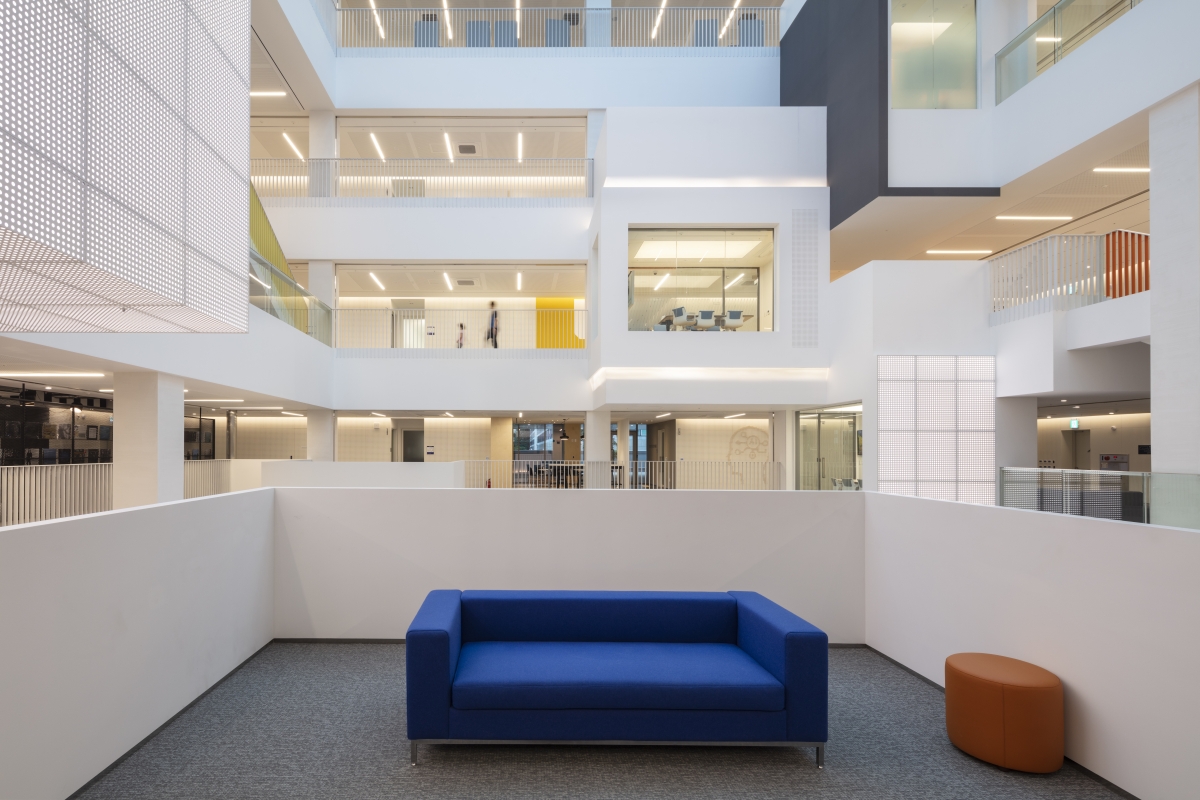 ​ⓒ​Namgoong Sun​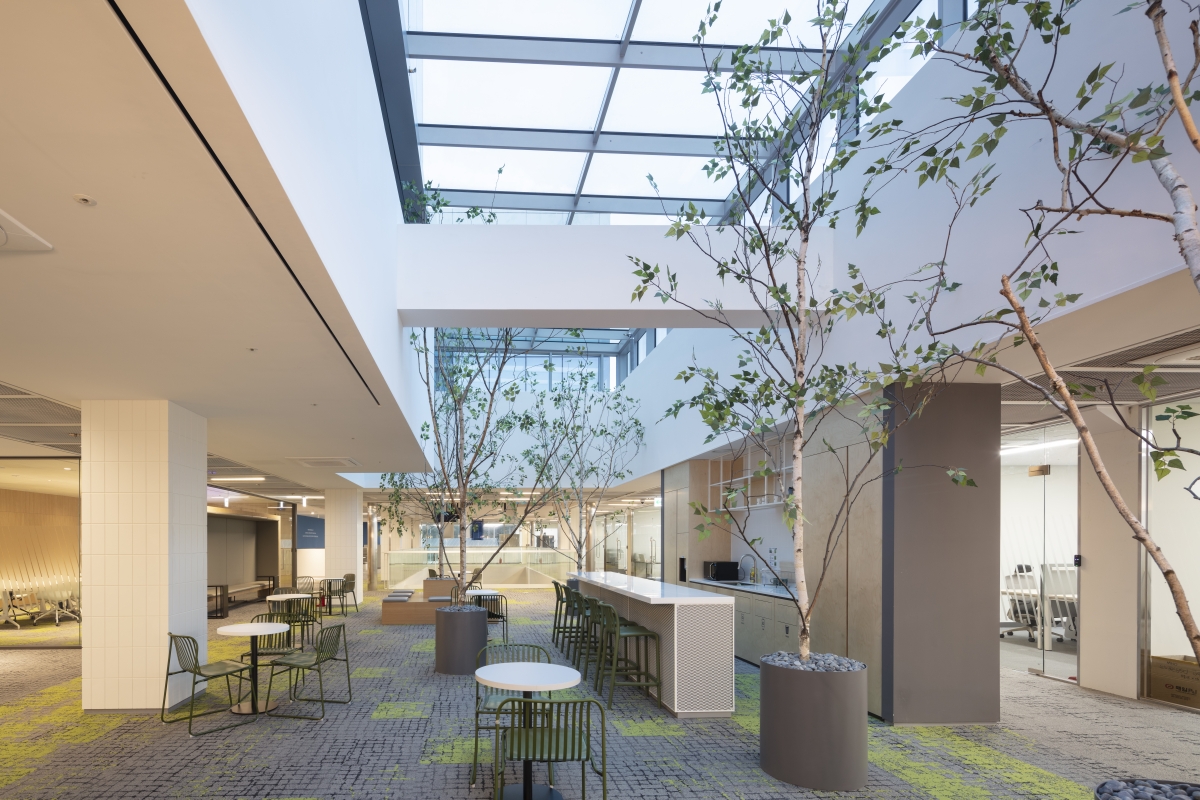 Architect
Jang Yoongyoo (Kookmin University) + Unsangdong A
Design team
Unsangdong Architects - Yang Wonjoon, Ko Eunsol, L
Location
77 Cheongam-ro, Nam-gu Pohang-si, Gyeongsangbukdo,
Programme
education and research
Gross floor area
28,372.62㎡
Building to land ratio
77.6%
Structure
steel structure, RC
Exterior finishing
insulated glass, steel pannel
Interior finishing
metal, stone, carpet tile, rember board,
Structural engineer
Maar Structural E&C
Mechanical and electrical engineer
SIN IL E&C
Design period
June 2019 – Sep. 2020
Construction period
Mar. 2020 – June 2021
---
Kim Jeongim, the principal of Seoro Architects, has been practicing on projects of in various scales , including master plans, architectural designs, interior design and space display. She is interested not only in focusing and considering on dynamics and relationships between diverse elements in modern society but in reflecting them in architectural space.