A Place For Cultivating Life Through Woodwork And Books​
People and Programmes
The clients, a couple from Woodworking & Reading space SOOYEON (hereinafter SOOYEON), are a photographer and a carpenter. They charged me with building a wood workshop along with a small gallery-type book café for those who admire woodwork, photography and architecture to enjoy a cup of tea together. The husband, whom I came to know during a trip, reminds me of the calmness of a mountain and the honesty of wood. His photography, captured through his singular eye, is also pure and vigorous in intention. His wife has a profound fondness for woodwork and books. Their refined taste has affected the form, interior design, material palette and details of the building. SOOYEON was destined to become a place in which the couple's love for woodwork and books could be preserved and in which they could cultivate a life through them.
Site and Arrangement Plan
If you drive for about 5 minutes in the direction of Yangpyeong, after getting off the Yeongdong Expressway at the East Gonjiam Interchange, you will reach the Sanbuk-myeon four-way stop. At this point, if you turn left towards Jueo-ri, you will shortly arrive at SOOYEON. The site is a long and narrow lot encircled by mountains, roads, lands, farms, and streams which form five layers and draw parallel lines along a road that runs north and south with mountains on both sides. The building has been set alongside the lines drawn by these layers and is crowned with a gabled roof that resembles a mountain top. Then openings are made in a way so that the mountains on either side can be seen from any position.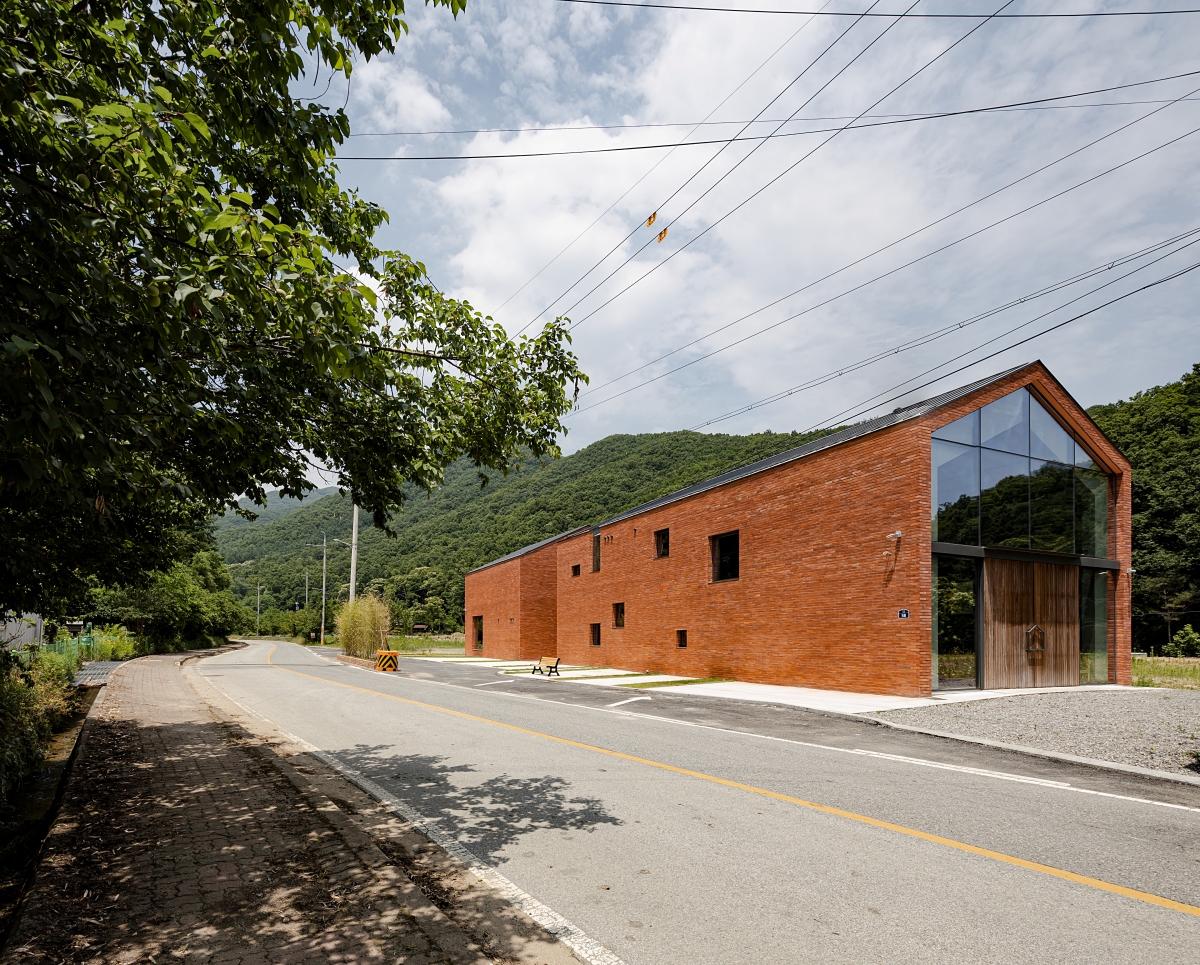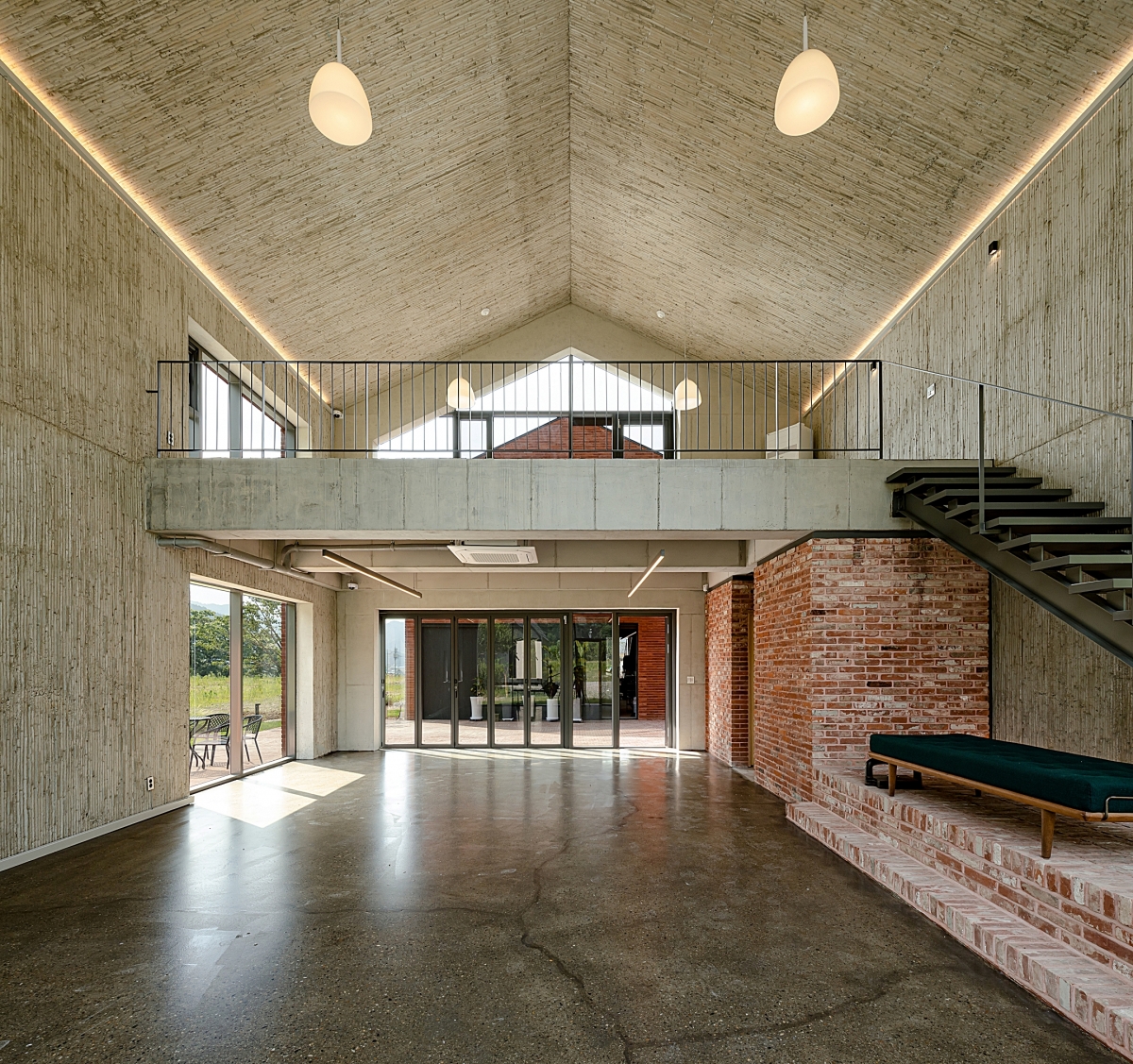 Roof and Scenery
The wood workshop and the gallery-type café have been separated from each other, and yet a courtyard and a bridge serve as a connector between them. When entering the building, you discover that the floor height is quite high due to the presence of a void; both units were designed to possess a large floor-less area so that two floors can share one ceiling. This section design allows those inside the building crossing this moderate floor area to immerse themselves in a richer space experience and to enjoy the surrounding landscape in various ways. As for the interior, beams that were supposed to be positioned at the centre were moved to another location with the goal of presenting a refined gabled ceiling. Reversed beams have been laid at a point at which a wall meets the roof or a roof meets another roof, which makes the borderline between surfaces more prominent. Outer walls to the east and west, which run down from the pitched roof, are designed in solid brick. The size and number of their openings, offering views of the surrounding mountains, have been carefully determined to make the wall texture more vivid. The southern and northern façades with their gabled form have been designed to appear transparent by applying a glass curtain wall system, and therefore the surrounding landscape, which draws a long linear stretch along the road, can penetrate the building.
Brick and Exposed Concrete
From the moment I first visited the site, I thought of using red brick as external cladding because it would be a good match for the green mountains and the terrain surrounding the site. Red brick was applied after cutting its surface to produce a deeper red and a constant shade, and only horizontal grouts are left to emphasise the simple mass and volume of the gabled building. However, the interior is finished with concrete instead of brick. The walls and ceilings are made of exposed concrete with bamboo formwork, and the effect of the simple yet delicate texture formed by bamboo joints is optimised. The interior is covered with a single material so that it can show consistency throughout the space. As for the exposed concrete with bamboo formwork, a one-piece mould was made using euroform, and bamboo was fixed to the top before inserting rebars. This concrete placing system required relatively lower construction costs and helped to accentuate the natural material's texture. Some of the walls in supplementary spaces like the bathroom have been clad with unprocessed old brick to present a texture that will be in contrast to the concrete.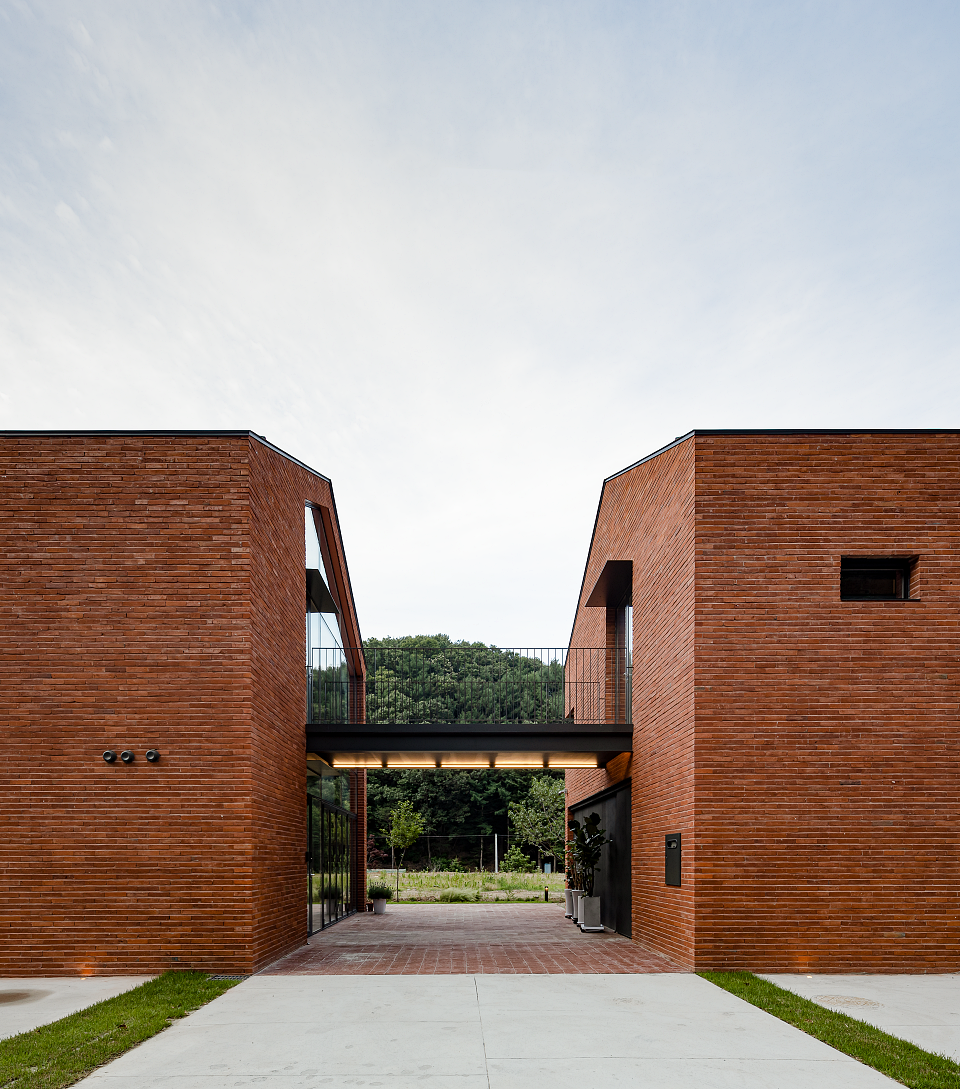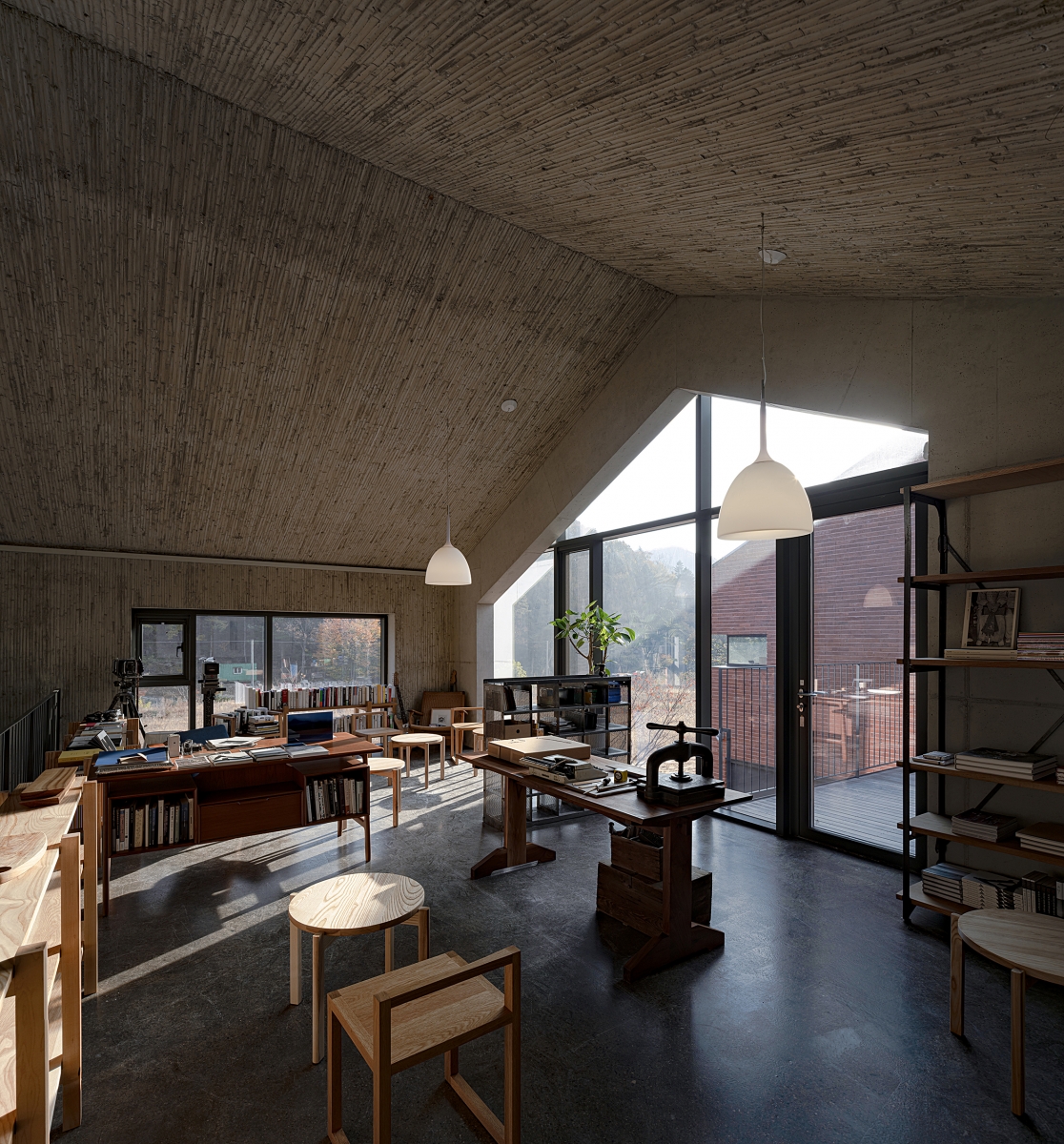 Stairs and Lighting
The open-style stairs serve as an eye-catching centrepiece in this relatively simple interior space. Installed near the courtyard of each unit as an independent entity, they appear to stand symmetrical with the roadside area. Their distinguishing materials and forms establish​ a note of contrast to the overall design. The workshop's concrete stairs with their ordinary design have been clad with cherry-colored kick plate and black steel siding. The café's stairway was installed on a brick foundation to provide a landing, and white and green marble was laid over the steel support of the stairs to add a certain charm. The wall mounted lights were carefully chosen to enhance the wall texture. Indirect lights and pendant lights of an elongated shape correspond with the linear form of the building arrangement and floor plans. These areas are finished with exposed concrete of bamboo formwork and have been fitted with indirect lighting to make the surface texture more pronounced.
Heart and People
Not long after construction was completed, local residents began to learn of this place through word of mouth and the number of visitors increased. The wish of the clients, who wanted to provide a place in which many people could come to mingle, has come true. It was heartening to see the building flourishing in its drawing together of diverse stories and scenery. However, it has become more and more common that the building is unable to accommodate all of its visitors. The moment to contemplate extension has come all too early for the clients. When I thought to introduce a range of ad hoc measures, such as implementing an awning system or another temporary structure, the clients said, 'As there are visitors who travel to this place simply to see our building in its original state, we think it best to leave it as is, rather than making additions or fiddling around with it'. Could there be a gentler way to express respect for architecture? I sincerely hope that SOOYEON, together with such intelligent clients, continues to safeguard its woodwork and books, and age with dignity in the many years to come. (written by Lee Chungkee / edited by Kim Yeram​)​
Architect
Lee Chungkee, B-and Archite
Design team
Lee Chungkee, Lee Sangbok
Location
58, Jueo-ro, Sanbuk-myeon, Yeoju-si, Gyeonggi-do,
Programme
neighbourhood living facility
Building to land ratio
38.84%
Exterior finishing
red brick, zinc, low-e triple glass
Interior finishing
exposed concrete, clay brick
Structural engineer
K1 Structural Engineering
Mechanical and electrical engineer
DUKSOO Engineering
Construction
SYSHOME Construction
Design period
Feb. – Apr. 2019
Construction period
June – Dec. 2019
---
Lee Chungkee is a professor of architecture department at the University of Seoul. He also served as an honorary mayor for Seoul urban regeneration, a member of the Arts Council Korea (ARKO), a director of the Seoul Architectural Festival. Recently, he has been devoting his interest and efforts to a social activity which furthers village cultivation and public design, and areas such as urbanism, recycling and reuse in architecture, in addition to architectural design itself. He did a various architectural works including Inwang Guardpost-bookstore, Tri-Bricks, KOSCA Juju headquarters, Jinkwang Church, Okgye Service Station, Ginsengland Service Station, and Canaan Church.
Lee Sangbok graduated from Dongguk University majoring in architectural engineering, and served as an adjunct professor at University of Seoul. And he is currently serving as a member of the Pyeongtaek City Integrated Review Committee. Since opening the B-and Architect & Design in 2017, he has designed a number of houses, offices and knowledge industry centres. As a local partner of HBA, a world-renowned hotel interior company, he is carrying out projects in total design that embodies brand identity of major builders.