A Hotel that Connects Another Lifestyles
​Kengo Kuma principal, Kengo Kuma & Associates × Kim Yeram
Kim Yeram (Kim): Nippon Telegraph and Telephone Corporation carried out an urban development project named ShinPuhKan Complex. Tell us about the aims of this urban development project and the history behind the complex.
Kengo Kuma (Kuma): In 1926, when Kyoto was on its way to becoming a modern city, the Japanese architect Yoshida Tetsuro designed the Kyoto Central Telephone Office, the predecessor to ShinPuhKan. Later, in 2001, it opened as a commercial establishment following extension work designed by Richard Rogers and preserved the appearance of the original office on condition of redevelopment in the future. With the hope of breathing new life into Kyoto, the facility was named ShinPuhKan. However, it closed temporarily for comprehensive redevelopment in 2016 and we were asked to renovate this landmark to host commercial facilities around a hotel.
Kim: What kind of experiences and values did the client hope to communicate through Ace Hotel?
Kuma: The Ace Hotel is a lifestyle hotel brand, which opened its doors in 1999 in Seattle, USA. This hotel chain is committed to changing the existing definition of a hotel by connecting more empgatically with the region in which the hotel is located, introducing its guests to the wider community. The concept of this hotel is to create a community in which people gather, and for the hotel to act as a hub capable of generating a new cultural climate. The Ace Hotel Kyoto is the first property for the chain in Japan, and indeed in Asia. The Ace Hotel states that building accommodation contributes to a sense of community. Therefore, in order to quickly expand the business, they do not mass-produce buildings, but try to use meaningful architecture in the area in which the hotel is to be built. Continued collaboration with local architects is also consistent with their adopted contexts. By following the Ace Hotel's philosophy, we provided a kind of promenade that runs across the site to encourage people to pass in and out. This promenade is dotted with luxury and traditional shops specific to Kyoto, with the intention of attracting pedestrians and tourists.
Kim: The hotel is divided into a new building with 213 guest rooms and old building of various commercial spaces. How these two buildings are connected?
Kuma: The spatial layout is based on a strategy adopted by the hotel to blur the boundary between the hotel and the town, so that hotel functions such as a lobby, restaurant, café, multi-purpose hall, lifestyle shops are all separate and distinct but in one space. The old building is located at the entrance to the building, which is visited by many people. As the Ace Hotel deliberately uses its lobbies as public spaces, cultivating the atmosphere of a living room for local residents, we planned for this to be a high-rise hotel lobby and café. In terms of its materials, the remodeled building and the new building transmit a similar mood despite a difference in materials. Next to the old red brick façade, the new building features a multiple layers of materials such as wooden members, aluminium louvers that randomly fluctuate, and ink-black precast concrete containing iron oxide.
Kim: You used Machiya (Japanese traditional wooden house linked to shop) in the old building. How did you reinterpret this historic architectural form in a modern way, and how did that interpretation speak to the hotel's exterior composition?
Kuma: One of the characteristics of Machiya is the use of Hisashi (Japanese eave), which plays a significant role in drawing people in from the outside, whereas a wall only divides inside and outside. This works as a loggia located at the entrance to the building. In addition, Machiya features a passage garden inside the house that connects the entrance to the backyard, functioning as a semi-public space. We reflected this idea in the lobby, as an inner garden, of the hotel and placed the woodwork in the lobby.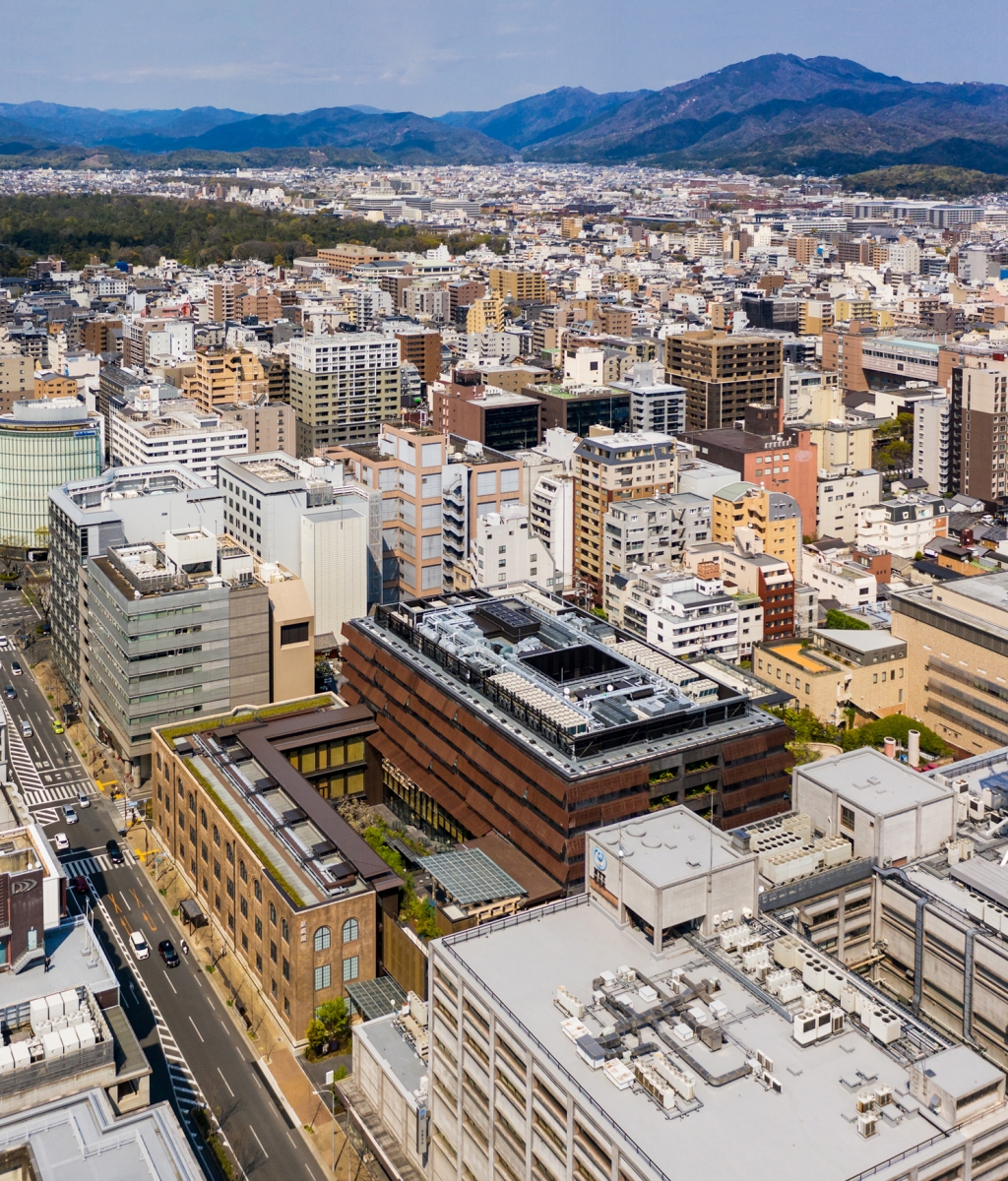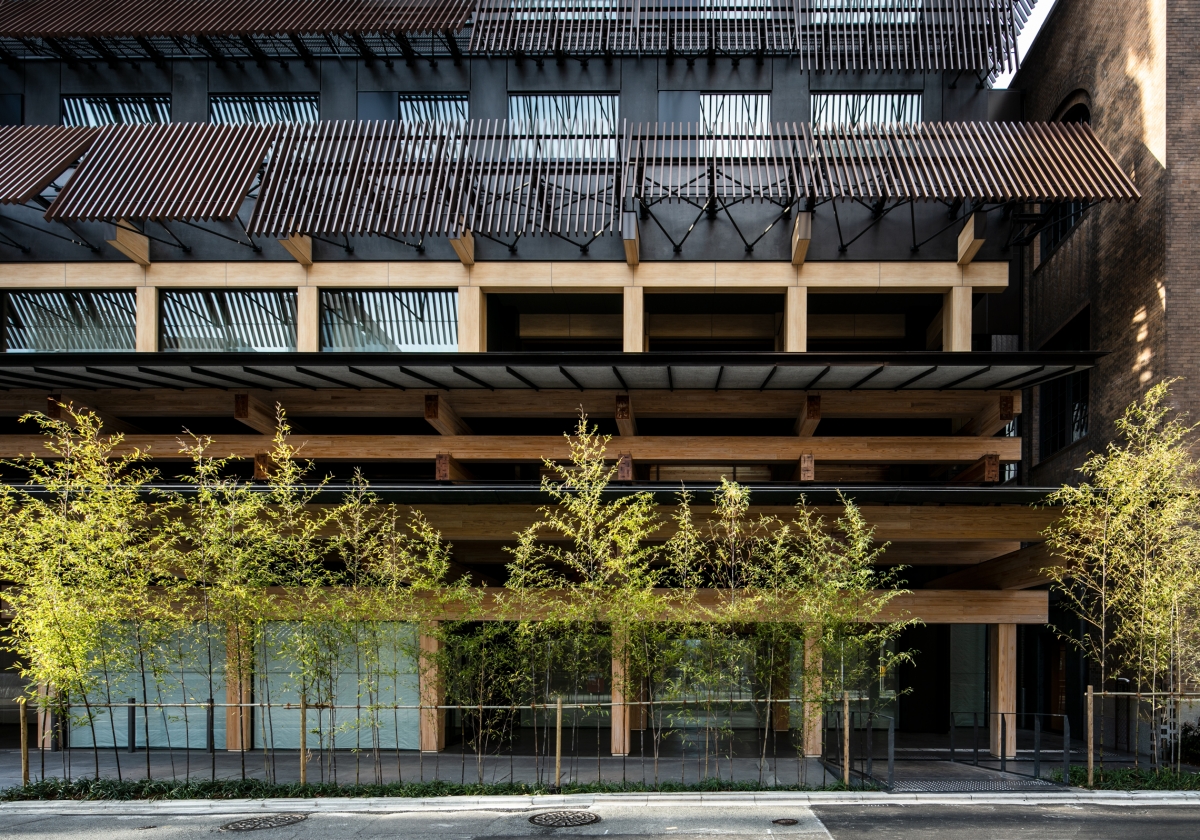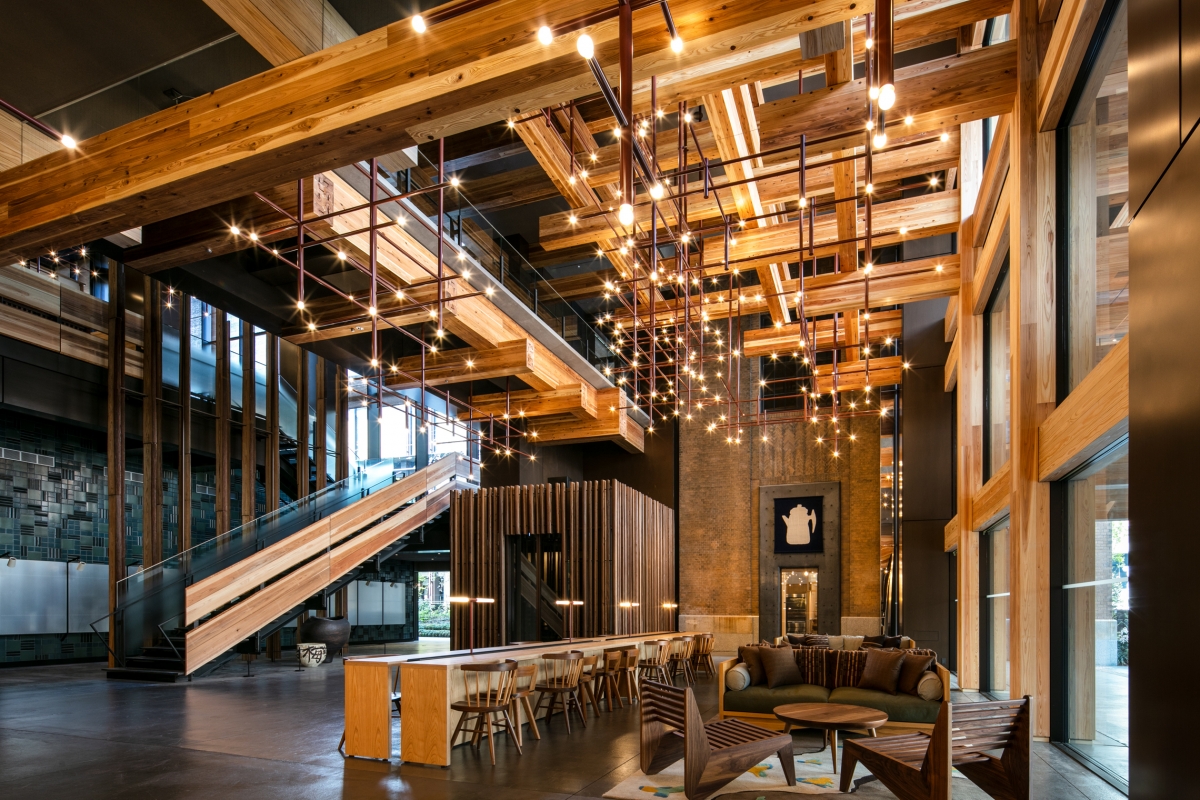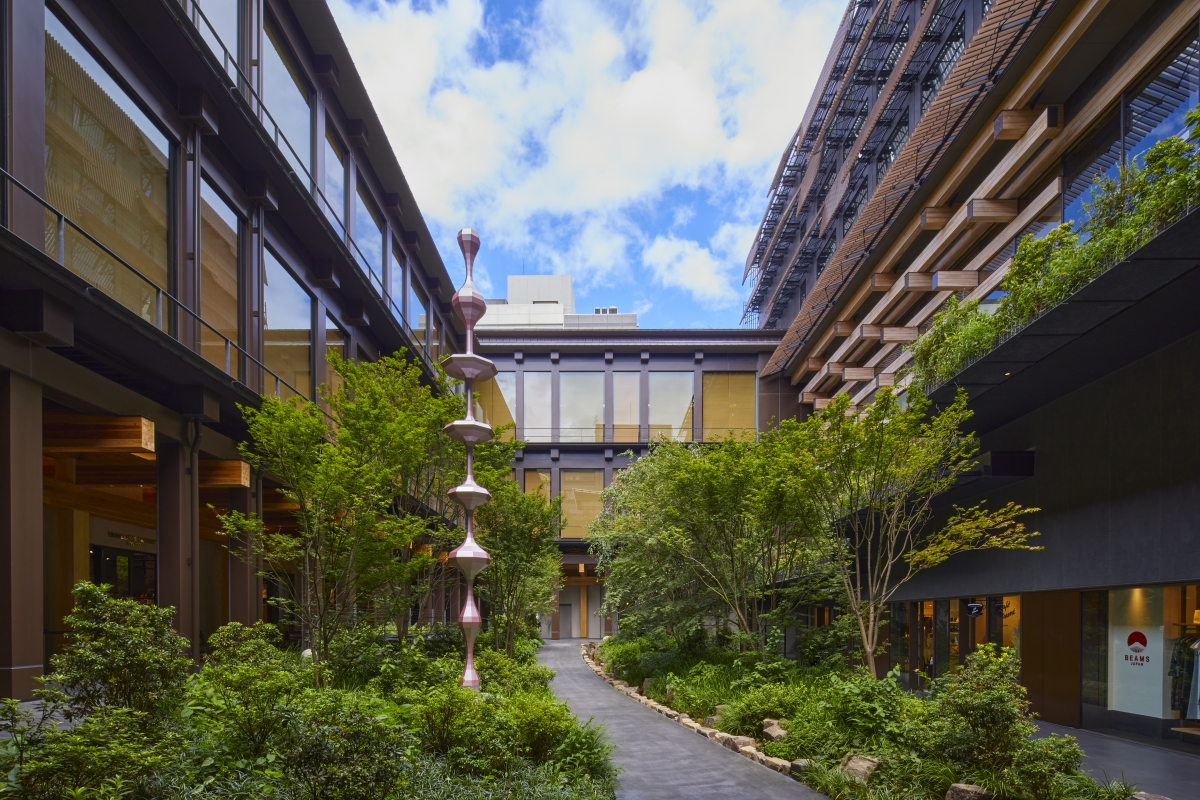 ⓒYoshihiro Makino
​
Kim: Green areas are arranged on the first and third floors. What did you consider important when placing these new landscapes?
Kuma: The courtyard in the old site was rather a dry space with little greenery. Even though the garden is not large in scale, we decided to plant green to provide a more relaxing space for visitors. The courtyard on the ground level reveals a more traditional sense of space with some essential garden elements, including a narrow stream of water which emits a refreshing, gentle sound, a small mound of earth covered by greenery representing mountains, and a cluster of cherry and maple trees for the promised expression of shifting seasons. On the other hand, the roof garden on the third level, facing the all-day dining room, provides guests with an opportunity to encounter unexpected and even extraordinary experiences in view of this city. Widely exposed to the sky, cast in rich sunlight and embraced by a wide variety of plants and water features illustrating seasonal change, this space promotes interaction with nature in the middle of a historical urban context.
Kim: You collaborated with Commune Design, who took charge of the interiors of the hotel.
Kuma: Kengo Kuma & Associates was responsible for the communal spaces in the hotel, so the lobby, while Commune Design oversaw the interiors. We worked together closely and tried to erase any gap between the two to create a holistic hotel through an entirely collaborative work. We tried to achieve dialogue by bringing in layers to the design, from different eras and styles, and used organic materials in unexpected ways to create collective and highly textured interiors. We drew upon traditional elements of Japanese architecture, such as wood framing, Washi (Japanese paper), stucco, Tatami and woven bamboo.
Kim: What kind of concept is the room designed?
Kuma: Commune Design created a Kyoto style all of their own, which was very different from the common or typical traditional appearances observed everywhere in Kyoto. They designed scenery within the hotel by blending the craft cultures of the east and west.
Over 50 craftsmen from Kyoto participated in the project, contributing fabrics, tiles, oak, etc., while western designers made furniture influenced by modernist design principles.
Kim: From the decision to hold the Tokyo Olympic Games to the spread of Coronavirus Disease-19 (COVID-19), what kind of changes do you anticipate from Japanese accommodation? How should architecture embrace these changes?
Kuma: Japan has long been too Tokyo-centred, with millions of crowded complexes and buildings concentrated in a small area. These buildings are sealed off and set apart from life outside. The number of people leaving Tokyo and the people traveling to rural cities is also increasing. Perhaps because of this trend, there are many more hotels in Kyoto these days. I believe that COVID-19 will definitely change this urban environment and that the 'ins' and 'outs' should be more connected.​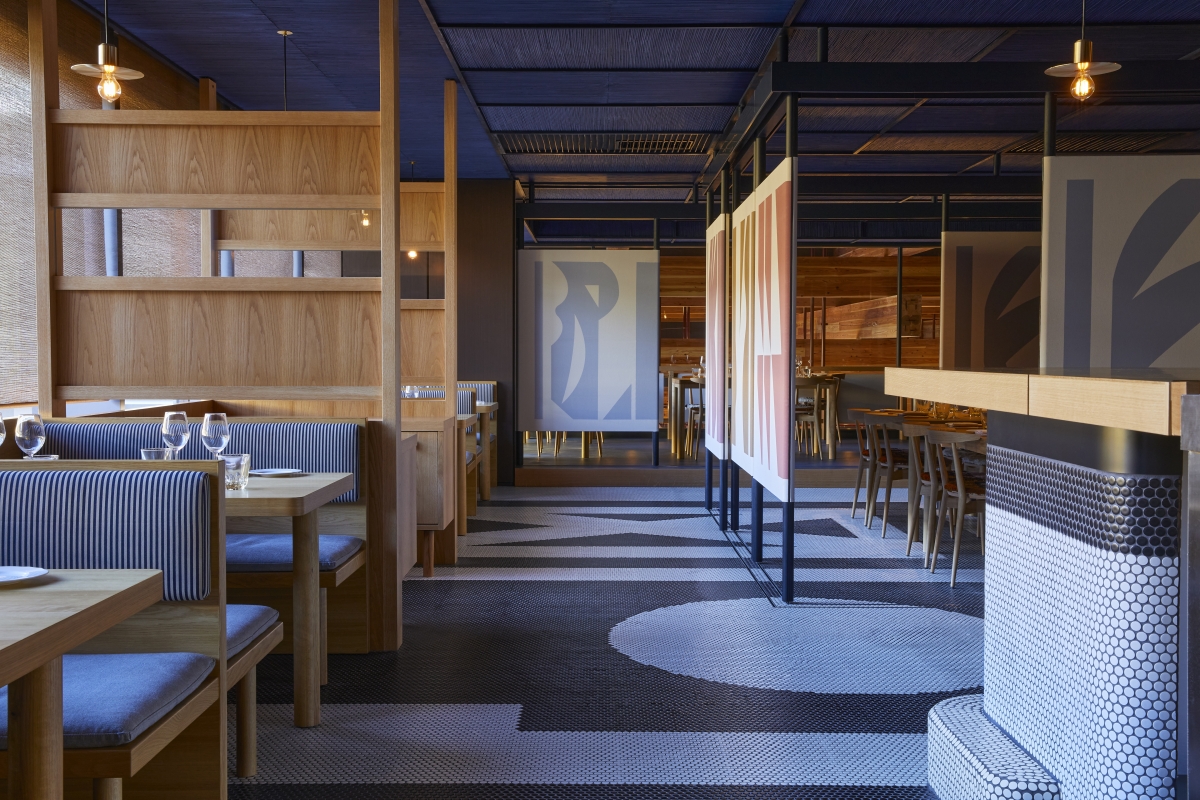 ⓒYoshihiro Makino
​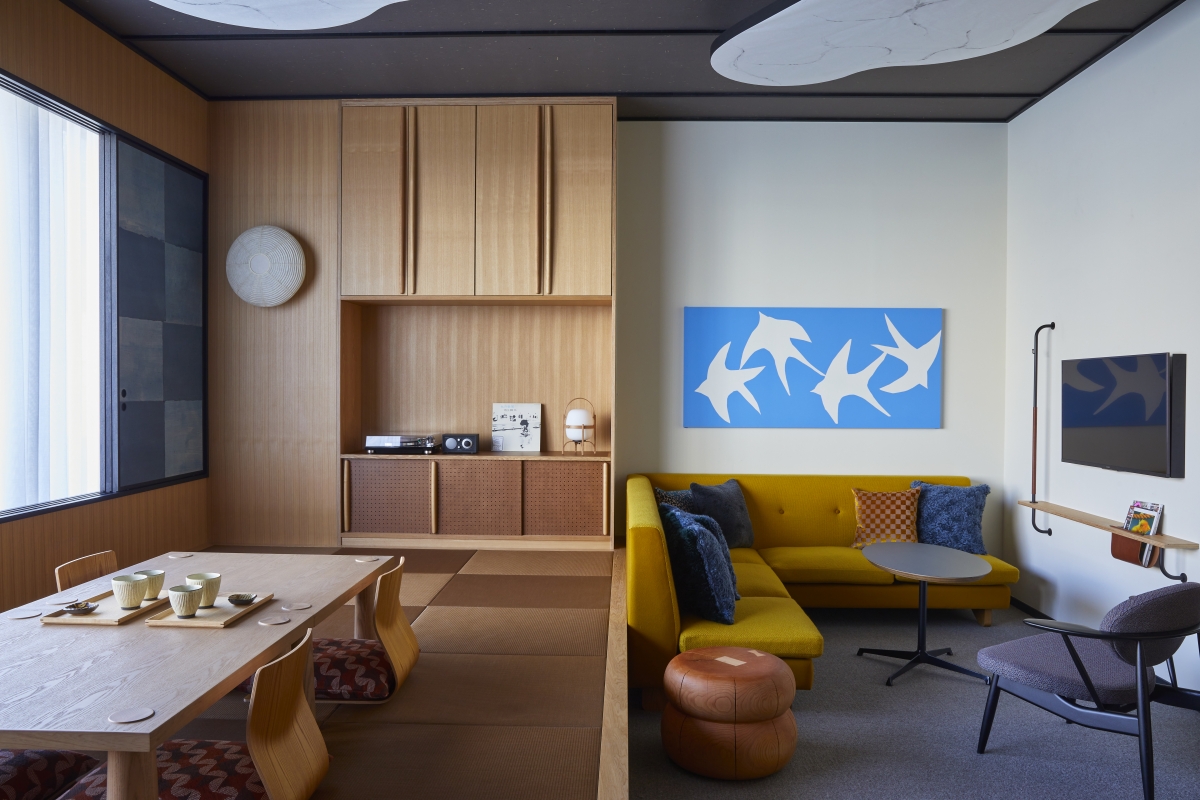 ⓒYoshihiro Makino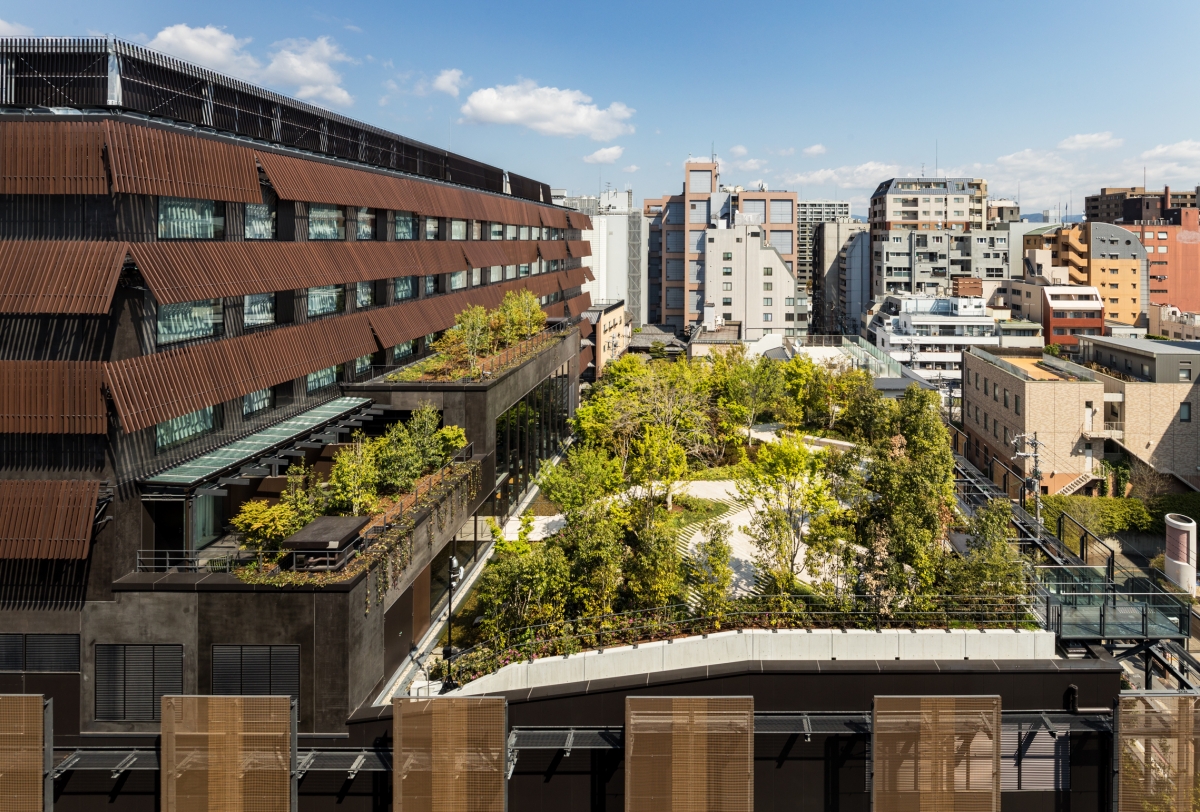 ​
Architect
Kengo Kuma & Associates (Kengo Kuma) + NTT FACILI
Design team
Yuki Ikeguchi, Kenji Miyahara, Hiroaki Akiyama,
Location
586-2 Banocho, Nakagyo-ku, Kyoto, Japan
Programme
hotel, commercial facilities
Gross floor area
25,610.97㎡
Building to land ratio
80.22%
Exterior finishing
waterproof asphalt, porcelain tile, charcoal mixed
Interior finishing
charcoal mixed concrete, steel sash with fluorores
Structural engineer
NTT FACILITIES, INC.
Design period
2015 – 2017
Construction period
Aug. 2017 – Mar. 2020
Client
NTT Urban Development
Landscape design
PLACEMEDIA
Interior design
Commune Design
---
Kengo Kuma received his master's degree in architecture from the University of Tokyo and established Kengo Kuma & Associates in 1990. Kengo Kuma & Associates aims to design architecture which naturally merges with its cultural and environmental surroundings, proposing gentle, human scaled buildings. The office is constantly in search of new materials to replace concrete and steel, and seeks a new approach for architecture in a post-industrial society.