At Barakat Contemporary, located in Samcheong-dong in Jongno-gu, Seoul, the first solo show in Korea by the British sculptor Michael Dean is on show from Mar. 31 to May 30 under the title, 'Garden of Delete'. Dean introduces himself as a proficient 'writer'. This is because the starting point for his work is always language. Using language as a medium through which to express his thoughts and feelings for the world around us, Dean pursues various genres and modes of writing. For him, writing is not limited to the printing of words on paper; rather, it can take on different material and tangible forms such as recitation, performance, theater, sound, body prints, and sculpture.
At this exhibition, Dean uses the exhibition space as an empty page on which to write the language of sculpture. However, instead of being meticulous and cordial, the scene is crude and abstruse. Rusted steel frame materials, cut and broken concrete pieces, building remains, ripped books and crushed paper are all piled on each another and strewn about on the floor. While this might feel more like a garbage yard than an exhibition hall, as one moves through the disorderly room, however, upon taking a step back and looking from the floor above, one realises how the pieces come together to make the sentence 'HAPPY BROKE SADS BONES WITH STICKS AND STONES'.
Dean explains that he 'changed formless words, which could be just noise and air, into concrete'. As he compares the changing face of the object and the state in which the object pauses momentarily within the flow of time with the 'delete' key on the keyboard, Dean added that it is by 'gardening delete, gardening states of disappearance, and holding on to something with the justice of its penultimate disappearance' — that is, by devising a garden of delete — that one can discover 'delight'.​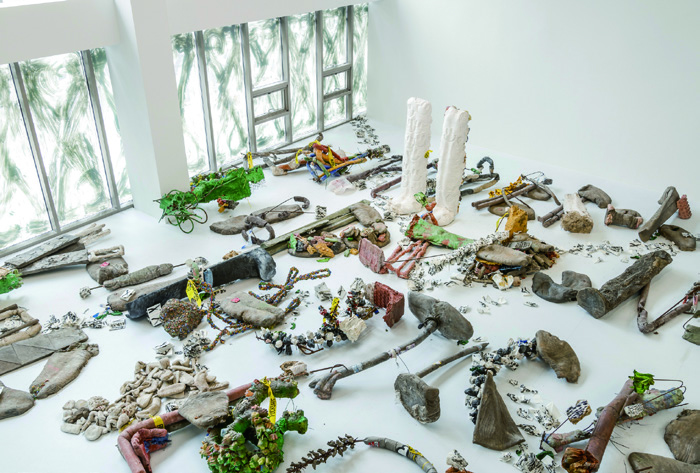 Exhibition view of 'Garden of Delete' / Image courtesy of Barakat Contemporary​