Seongsu-dong will not be left out if you pick the 'hippest' place in Seoul these days. In this area, from Seoul Forest to Seongsu Station, cafés, restaurants, studios, galleries, and editorial shops line every alley, and at the same time, old metal factories, auto repair shops, and printing shops are scattered throughout the region. The exhibition Locality: Seongsu 2-ga 3-dong, which takes Seongsu-dong as its theme, was held at Domansa from Dec. 19, 2020 to Jan. 30, 2021.
The exhibition looked into how production facilities in the city can coexist with new cultural projects and industries. In particular, by focusing on Seongsu 2-ga 3-dong, the stories of the objects produced here, the space where produces, trades, and consumes objects, and the people who daily travel through the area are recorded. Metal rods, springs, bolt and nuts, shoe soles, shoe heels, patterns, scooter wheels, vehicle parts, and other products that are not viewed as single objects at other times were unfamiliarly placed in the gallery. On one side of the wall, Lucydrawing's Small Seongsu (2020) series of sketches document factories and buildings like self-portraits.
Also, the research work of PRAUD (co-principals, Yim Dongwoo and Rafael Luna), Made in Seongsu (2020), which analysed and dismantled the urban structure and architecture, was introduced on the other side. PRAUD said that they conducted this research to discover 'the architectural forms and concepts created by ordinary people in ordinary cities, not the architectural concepts announced by famous architects'. This research work particularly focused on the architectural elements of factory facilities and pointed out how the manufacturing industry can survive in the city centre from an urban and architectural perspective. Besides, photographs of the shoe factory being demolished and interview videos of local small business owners were also exhibited, listing multi-dimensional stories about the locality and culture of Seongsu-dong.
by Choi Eunhwa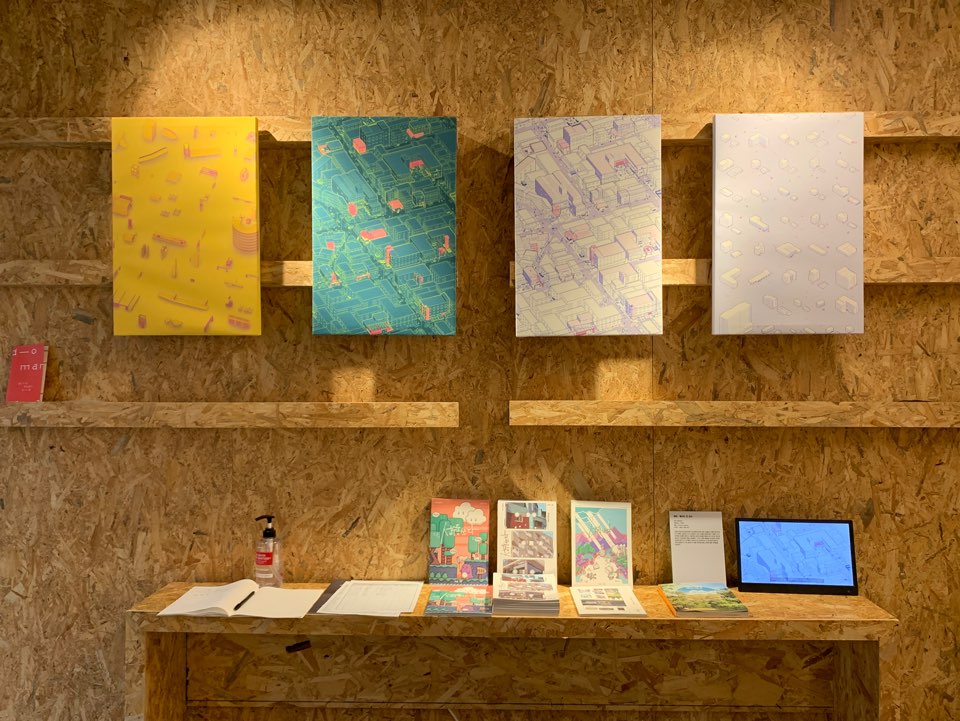 ⓒChoi Eunhwa
​