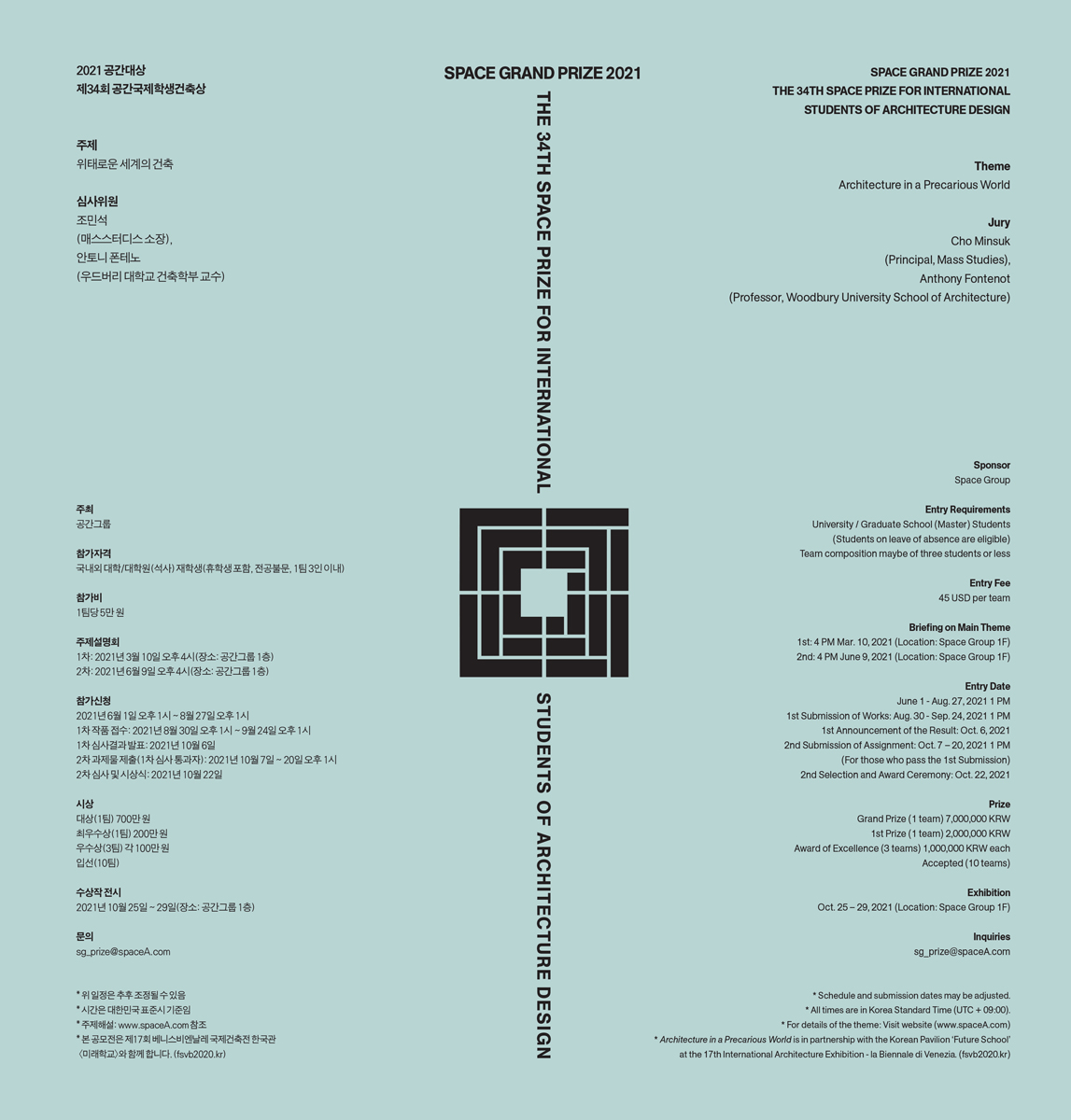 ​
The 34th Space Prize for International Students of Architecture Design
Architecture in a Precarious World
The global pandemic has exacerbated the ongoing social, economic, and ecological crisis; a world of extreme precariousness that has grown increasingly widespread over the last few decades. Its effects are well-known, from massive income and social inequality to sea level rise, catastrophic flooding, and increasingly powerful hurricanes and wildfires. The early 21st century is defined by omnipresent fragility. More recently, economic and social changes are becoming increasingly apparent. The term "precariat" (precarious proletariat) has been coined to describe the urgent problem of the unstable conditions of a new class of workers lacking predictability and security. This accumulation of crisis, with its magnitude so vast, complex, and varied, demands definitive action and change. Perhaps one positive aspect of this pervasive condition is that we are confronted with endless numbers of issues and compromised sites all around us which we can immediately reassess and upon which we can begin to develop strategies of intervention. In response to these acute changes, we are forced to grapple with fundamental questions: Is architecture a relevant tool for addressing such a precarious world? If so, how might it be used to respond to these overwhelming challenges?
This competition is a call to broadly survey and identify various fragile sites, precarious social and ecological conditions, that urgently need to be addressed and cared for while seeking alternative approaches to resilience through design. It is also an appeal to imagine new forms of commons that, in turn, could inspire a hopeful and bold new path for future architects.
STRATEGY
The following working strategies, or modes of observation, are meant to help instigate new approaches to design. Participants should feel free to explore these ideas, explicitly or implicitly, as a point of departure for developing design interventions that could range from the micro to the macro scale.
1. LOCAL AND HYPER-SPECIFIC
Although the same pandemic has spread across the globe, the various approaches to dealing with it have fluctuated widely depending on the specific social, political, and cultural conditions of each country. The current unprecedented immobility caused by this calamity can be utilized as a unique opportunity to closely examine the world around us and seek the hyper-specific conditions that define the precarious nature of a local site. At the same time, we urge one to remain keenly aware of the "universalizing" forces at work. Since World War II, the proliferation of the world economy, technology, and commodity markets on a global scale, increasingly commodifies all aspects of social life. The last few decades have witnessed a new paradigm defined by what some have called "surveillance capitalism." Silicon Valley and other corporations are mining information of users to predict and shape their behavior, constructing seemingly inescapable "algorithm ghettos." The technocratic state has systematically restructured our lives, enticing us to incessantly "socially interact," shop, and entertain ourselves, but as we retreat further into isolated bubbles, what are the consequences for the world beyond? Arguably, architecture and urban planning have played a minor role in this development. As a way of engaging this radical global transformation, we promote an aggressive hyper-specific approach to local conditions, issues, and knowledge to move beyond the prevailing model which is defined by extensive and persistent forces of homogenization. New forms of local engagement are key. Again, while the scale of the intervention may range from large to extremely small, what matters most is the ability to situate one's design within the specific conditions of the site.
2. NON-ANTHROPOCENTRIC
The non-anthropocentric view maintains that other subjects should be regarded as having equal significance as human beings. The pandemic has revealed the obvious fact, which has often been ignored, that we are not the only protagonists on this planet. We coexist with non-human subjects. For example, the Whanganui River in New Zealand has been granted the legal status of a person while "Sophia," a robot brought to life by artificial intelligence (AI), has been given citizenship. These contrasting cases exemplify the ways in which our former ethics have, necessarily, evolved. Architecture and urban planning have long been, until now, rather hopelessly human-centric disciplines that have remained oblivious to this fragile condition. The world is defined by relationships between humans and non-human agents, including animals, plants, landscapes, and other subjects that still demand recognition, which require careful observation, understanding, and constant nurturing. Now we must urgently reform our old viewpoint and explore the design implications of this new way of thinking as a matter of our own survival.
3. ABSENCE
Architecture has contributed significantly to the proliferation of objects and images in an oversaturated world. Overconsumption, or excessive unsustainable consumption, has resulted in widespread resource depletion. A new generation of political activists have initiated the "deconsumption" movement. Yet architecture remains deeply implicated in the status quo. The proliferation of commodities, including architecture as a commodity, has reached new heights. In response to these developments, we encourage one to imagine the opposite, the "absence" of production and consumption. The idea of undoing, or erasure, removal or stripping things down to their bare essence, may offer a productive strategy to imagine a less precarious, more sustainable, future. Reimagining the world may help instigate the emergence of new environments. For example, what might happen if private cars disappear from the city? What would then happen in all those parking spaces?
METHOD
In order to systematically compare and assess proposals, we suggest this simple sequence of work. Each project will be judged on its ability to articulate these key points.
1) Define a precarious state. Identify precarious conditions that need nurturing, care, and improvement as it relates to nature, civic life, society, culture, education, knowledge, and digital information, especially in terms of what used to be considered as the commons. Engage the tensions between a market economy and new experimental models that explore the possibility of de-commodified land, food, and housing, etc. as new forms of commons.
2) Situate oneself as an engaged architect. It is evident that architects cannot solve such complex issues alone. Therefore, we suggest engaging in research related to diverse groups representing the public sector, as well as private companies, including activists, community leaders, workers, academics, and NGOs, that are critically addressing current problems. Engaging in, or speculating upon, new forms of collaborations can help distinguish one's approach from the more typical design methodologies.
3) Locate the intervention in a specific context. Participants are free to choose any site. Look around and observe everyday life to discover potential sites. Explore the idea of "new ground," an imaginative way of finding territorial opportunities in a post-capitalist city and beyond. Consider spaces above, below, or in-between existing programs of the overly commodified urban landscape. We encourage one to explore local conditions and their specific qualities in an imaginative way. In contrast to the dominant idea that "something that has no price has no value," the 21st century calls for a new valuation, outside of the prevailing model of an economy of consumption.
4) Design with intention, which can manifest itself as buildings, non-buildings, landscapes, or new forms of organization, etc. Adding to or subtracting from existing conditions, along with various other forms of manipulation, are encouraged to generate diverse proposals. This approach may not result in the typical architectural response (i.e., built form) but we welcome the outcome if it serves the purpose. At the same time, we maintain that architecture has the power to make significant contributions to the commons.
The Role of the Future Architect
We hope that this approach of imagining and actively engaging in a broader spectrum of the design process can help address some of the more fundamental questions of our time, while creating concrete proposals, which may help encourage future architects to expand what architects and architecture can do.
Architecture in a Precarious World is in partnership with the Korean Pavilion Future School at the 17th International Architecture Exhibition - la Biennale di Venezia. (fsvb2020.kr)
-
Jury CV
Cho Minsuk
Minsuk Cho is an architect and founding principal of the architecture firm Mass Studies (2003). He studied at the Architectural Engineering Department of Yonsei University and the Graduate School of Architecture at Columbia University. Mass Studies has been committed to a discursive architectural practice through socio-cultural and urban research and mostly built works that are widely recognized, with representative works including the Pixel House, Missing Matrix, Bundle Matrix, Shanghai Expo 2010: Korea Pavilion, Daum Space.1, Tea Stone/Innisfree, Southcape, Dome-ino, the Daejeon University Dormitory. Mass Studies' buildings have received multiple awards, both domestic and international, including the annual Korean Institute of Architects Award (Bundle Matrix, Daum Space.1, Daejeon University Dormitory), a Silver Medal from the Bureau International des Expositions (BIE) for the Pavilion Design Category to the Korean Pavilion at the Shanghai Expo 2010 and was a finalist for the Deutsches Architekturmuseum (DAM) Highrise Awards (Missing Matrix). Cho has received the Hwa-Gwan Order of Cultural Merit (2014) of Korea. In September 2020, the Space K Seoul Museum of Art was completed in the Magok District, Seoul. Current in-progress projects, all selected through competitions, include the new Seoul Cinematheque, the Danginri Cultural Space, the Yang-dong District Main Street, and the Yeonhui Public Housing Complex. Active beyond his practice, he co-curated an exhibition at the 2011 Gwangju Design Biennale with Anthony Fontenot and was the commissioner and co-curator of the Korean Pavilion for the 14th International Architecture Exhibition - la Biennale di Venezia, which was awarded the Gold Lion for Best National Participation. In late 2014, PLATEAU Samsung Museum of Art, Seoul, held its first and only architecture exhibition, highlighting his works in a solo show titled "Before/After: Mass Studies Does Architecture." Cho is an active lecturer and speaker globally.
Anthony Fontenot
Anthony Fontenot, an historian, theorist, and curator of architecture and urbanism, is professor of architecture at Woodbury University. He holds a Bachelor of Architecture degree from the University of Louisiana, a Master of Architecture degree from Southern California Institute of Architecture, and a Ph.D. in the history and theory of architecture from Princeton University. Fontenot was awarded the Woodrow Wilson Scholars fellowship (2008-2010) at Princeton, a research fellowship (2010-2011) at the Getty Research Institute, and a Graham Foundation for Advanced Studies in the Fine Arts grant in 2014. His books include Non-Design: Architecture, Liberalism, and the Market (University of Chicago Press, forthcoming 2021), Gregory Ain: Low-Cost Modern Housing and the Construction of a Social Landscape (MIT Press, forthcoming 2022), (co-author) New Orleans Under Reconstruction: The Crisis of Planning (Verso, 2014), and (co-author) Berlin: City Without Form (forthcoming 2021). He is the author of numerous chapters and articles, including "Activating Medellín and the Politics of Citizen Engagement" in All-Inclusive Engagement in Architecture, eds., Farhana Ferdous and Bryan Bell (Routledge, forthcoming 2021), "The Battle Over Bauhaus Design: Hannes Meyer Versus László Moholy-Nagy" in Hannes Meyers Bauhauslehre – Von Dessau nach Mexiko, ed. Philipp Oswalt (Birkhäuser, 2018). Fontenot has organized numerous international symposia and exhibitions. He was co-curator, with Minsuk Cho, of the 2011 Gwangju Design Biennale in South Korea, Clip/Stamp/Fold: The Radical Architecture of Little Magazines 196X – 197X (2007-) and, and Pedro E. Guerrero: Photographs of Modern Life (2012). He curated Gregory Ain: Low-Cost Modern Housing and the Construction of a Social Landscape (2015) and Exposing New Orleans (2006) at Princeton University. He organized Sustainable Dialogues (2007-2008), a series of symposia on the reconstruction of New Orleans and co-organized the symposium Questioning the Standard: New Narratives of Art in Los Angeles (2011) at the Getty.