The exhibition 'Equilibrium', in which one can contemplate the impact of climate change and environmental pollution and what one should do to ensure the future of the planet, is now on show at the Asia Culture Centre. The title of the exhibition, 'Equilibrium', refers to a state in which the number and type of species are in balance in an ecosystem. It showcases the works by 11 teams of Asian artists, including Korean, Taiwanese, Vietnamese, and Indonesian representatives.
The show starts with the memory of an individual. In the first section, 'Environment in an Individual's Past Memories', features works containing the sounds and scenery from regions close to where artists lived in the past or currently live. The Heo Baekryeon & Mudeungsan Soundscape, which combines Farming When The Sun Rises (1954) by Heo Baekryeon and the soundscape work of Laila Chin-Hui FAN, reveals a sonic atmosphere created by the present environment, which is markedly different from the soundscapes of the past.
The exhibition traces personal memory to societal remembrance, leading to the second and third sections, 'The Past and Present of the Environment Related to Society, History, and Politics'. These sections exhibit The Age of Awakening (2018), a documentary about the development of Changhua City in Taiwan from a tidal flat to an industrial complex; the Serpents' Tails series (2012-2018) that compares motorcycle fumes to snakes that fill Ho Chi Minh City, Vietnam; and Natural History Museum: Placentalia (2019), which metaphorically captures the invisible life in donated glass bottles.
The last section, 'Healing through the Environment, Future Vision + Imaginary World', imagines the future through the creative powers of the artists. Regressed Time (2020), a drone swarm flight performance using augmented reality technology, is a work that symbolically compares the appearance of people through the movement of drones adapting to their new environment.
The exhibition is on show until Mar. 14, 2021. ​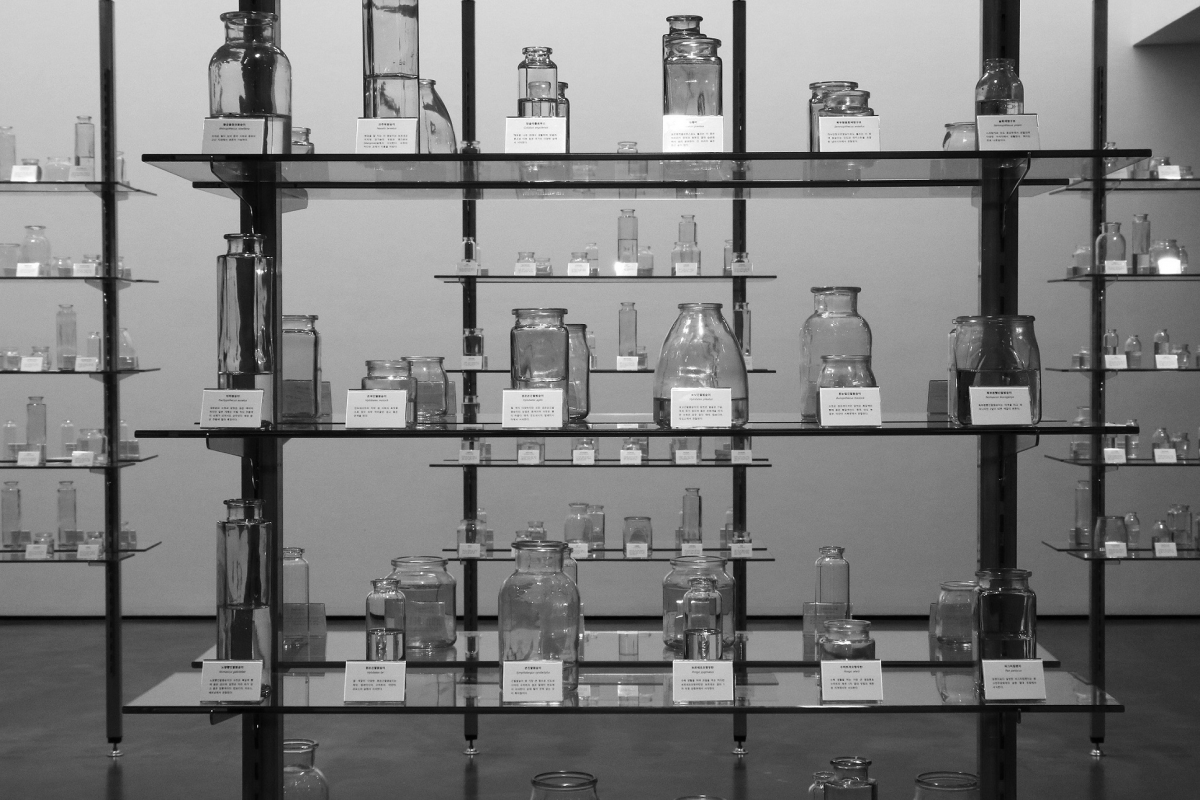 Jungki BEAK, History Museum: Placentalia, Mixed media, Various size, 2019
Image courtesy of Asia Culture Center​