The award ceremony for the 33rd SPACE Prize for International Students of Architectural Design was held on Oct. 23 in SPACE GROUP's main building. As the last competition was held six years, ago in 2014, this iteration received a huge amount of attention from students. Lim Hyoungnam, Roh Eunjoo (co-principals, studio_GAON), who was the examining committee member, proposed the theme 'Warmth in Architecture: Humanity' for multi-housing.
The grand award went to L'enfer, c'est les autres designed by Song Eojin, Lee Euijeong, and Jo Yoonji (Chung-Ang University). The first runner-up prize went to Min Geunho, Lee Wootae, and Choi Jihyeon's (Dankook University) Eunma One and All-As a Part, while the second runner-up prize was awarded to Jang Kyeongcheon, Park Hayoon, and Lim Sangha's (Hongik University) School : Back to the Children, Jeong Jiwon, Kang Minji, and Jeong Euiryeong's (Seoul National University of Science and Technology) CO-MUNITY, and Choi Minjoon, Woo Seungwoo, Yoo Jeongmin's (Kookmin University) Domain.
Special mentions were given to Binghao Yao's (Soochow University) Havitat – Everyone's "Private" Garden; Peng Xinyao, Qi Jingyi, and Yang Wenting's (Kyung Hee University) WONDERLAND; Jeon Yohwan, Kim Hoswoo, and Lee Jeongwoo's (Dongguk University) UNVEIL; Ma Yeongbeom, Lee Jeongseok, and Jo Minsoo's (Hanyang University) Tear Up, Be Vertical; and Jeong Harim's (Chung-Ang University) What is your Color. Selected works were awarded to Ko Minsun, Lee Yoojin, and Lee Jiyoung's (Pusan National University) WE OUR HOME; Shin Sooyeon, Moon Se-eun, and Lee Jihee's (Soongsil University) Madang-Family; Seo Dongjae, Kang Minhyeon, and Kang Joonyeong's (Korea University) Sensory house; Jeon Byeonghyeon (Hongik University), Oh Moongyu (Sun Moon University), and Lee Jonggeun's (Yonsei University) COLLECTIVE SHIELDS; Park Jihye, Kwon Jaehee, and Hyeon Hayoung's (Seoul National University) Aging in Seoul; and Kim Jowoon, Yoon Seonghoon, and Choi Jaewon's (University of Seoul) NEW-NORMAL × CITY.
SPACE GROUP appointed Cho Minsuk (principal, Mass Studies) to the examining committee for next year's SPACE Prize for International Students of Architectural Design and revealed that the design theme would be announced in Feb. 2021.​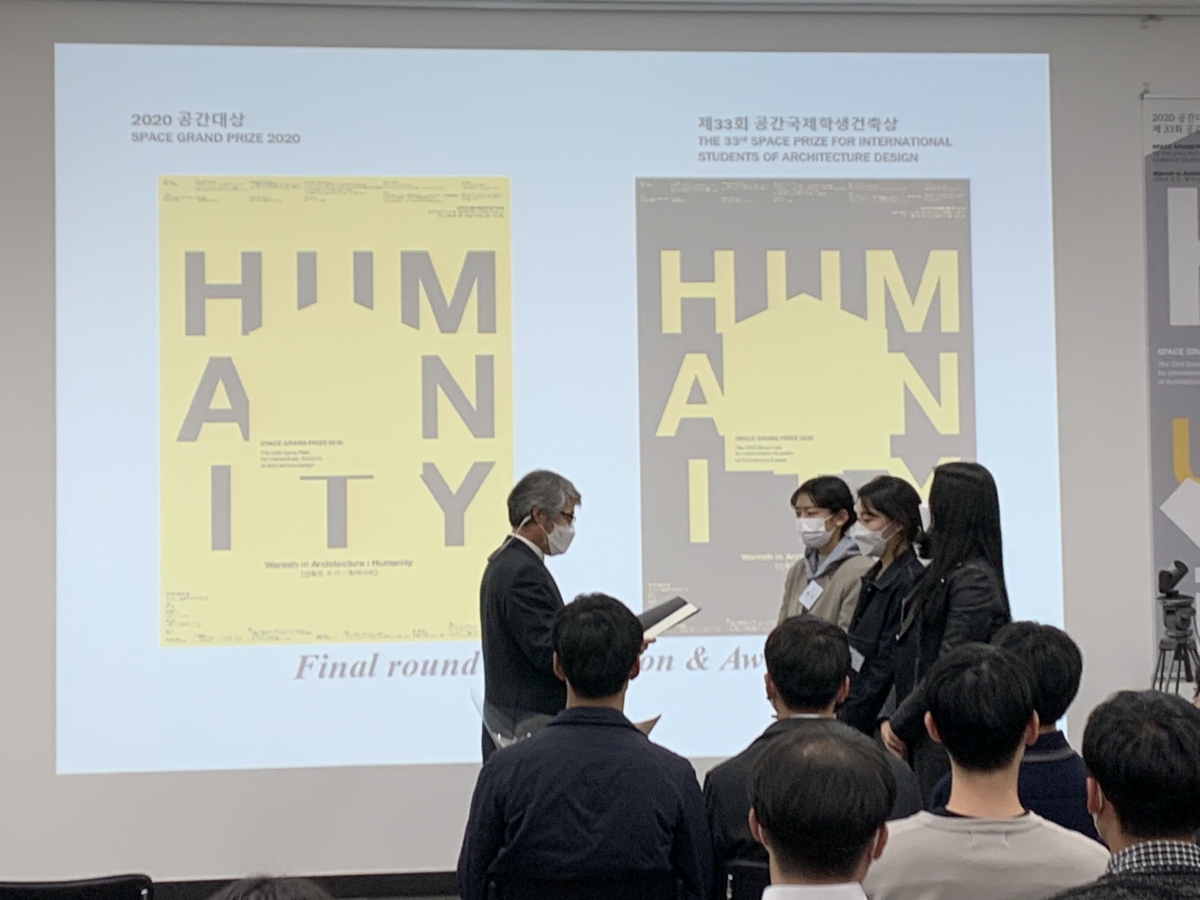 ⓒKim Yeram