Black and white ID photos of student protestors line the walls, as the room reverberates with the cries of surviving families and friends. The portraits are from Noh Suntag's Forgetting Machines (2006-2020) - which memoralises the participants in the 5·18 Democratisation Movement who were identified 22 years after their deaths - and Jurgen Hinzpeter's Sudkorea am Scheideweg (1980), a documentary that recalls the violent manner in which the protests were countered. They are part of Art Sonje Center's exhibition 'Spring of Democracy', which was held from June 3 to July 5 and reflected upon the Movement on its 40th anniversary.
The German curator Ute Meta Bauer, who organised this event, explained that she wanted to 'examine democracy as an ongoing experiment, rather than an ossified institution'. Upon reaching the third floor of the exhibition, one is entranced by pictures from the protests hanging against purple fabric backdrops. Pictures of those from the military unleashed on the protestors, in the form of Heinkuhn Oh's Gwangju Story (1995), are suspended on the other side of the fabric, a juxtaposition that reminds us of the way in which the two groups were pitted against each other. Also on display are submissions from the Gwangju Biennale, which examine democratisation movements at other points in history. Lee Bul's Heaven and Earth (2007) recreated aspects of the torture chambers located inside the Namyeong-Dong Anti-Communist Branch of the Korean National Security Headquarters designed by the architect Kim Swoo Geun, and revisit the torture and death of Park Jongcheol. Another of his works takes inspiration from the crater atop Baekdusan Mountain, modelling a bathtub in its image that is meant to capture the innate desire for democracy shared by the Korean people. Lim Minouk's Navigation ID (2014) documents a meeting that occurred between the bereaved parents of the 5·18 Movement student protestors and the children of soldiers who were killed in the Korean War. Several scenes show how the two groups express their sorrow and console each other, while the author explains that he sought to highlight the senseless violence sanctioned by the state as well as the surviving desire to continue to uphold the spirit of democracy.
On the second floor of the exhibition sits a design library that was modeled after the town square located in front of Jeollanam-do Provincial Government Office. Visitors may browse its archives for records and research related to the 5·18 Movement, as well as information on patients admitted to the Armed Forces Gwangju Hospital with torture wounds inflicted by the military.
Four other exhibitions that also commemorated the events of 1980 were also throughout Germany, Taiwan and Argentina. A show is planned in September in Gwangju to bring those themes together and focus on democratisation as a force that can transcend national borders.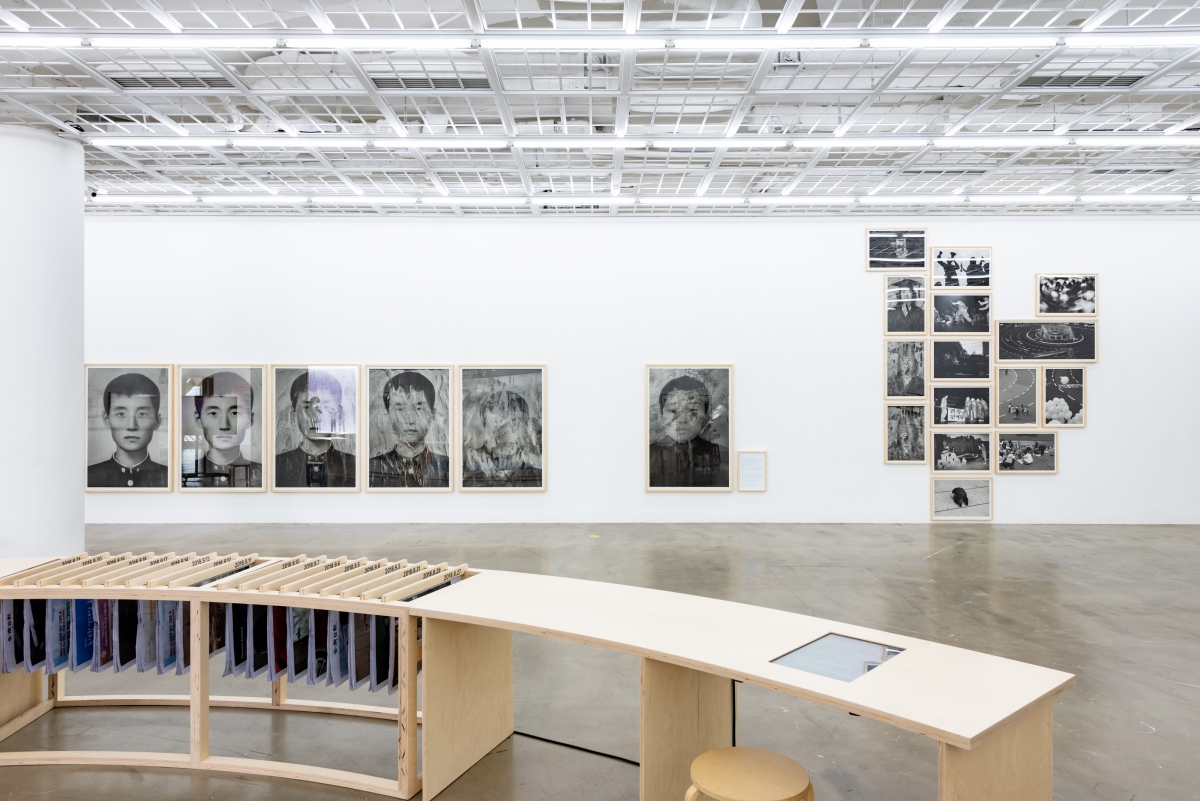 Exhibition views of 'Spring of Democracy' / ​Images courtesy of Art Sonje Center​​