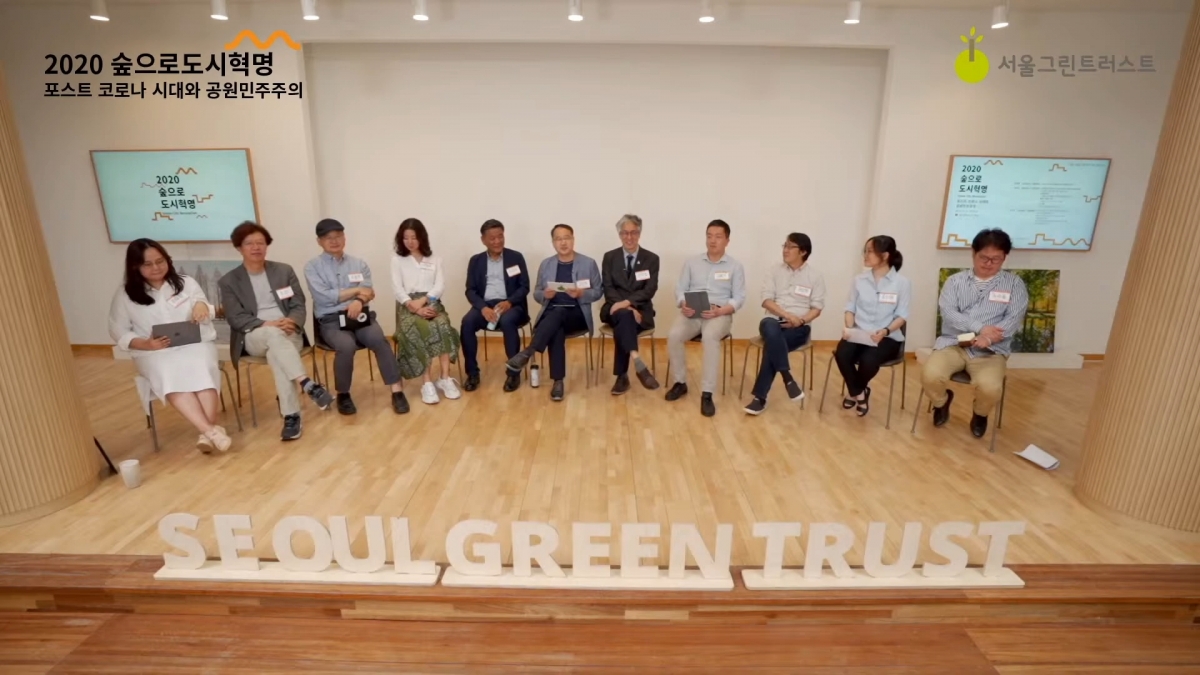 Online symposium of 'Urban Parks and Democracy in the Post-COVID-19 Era' / Screenshot from a Youtube​
On June 12, the Seoul Green Trust conducted an online symposium entitled '2020 Green City Revolution'. The symposium was composed of three sections under the theme of 'Urban Parks and Democracy in the Post-COVID-19 Era'.
In the first part, 'Question', diverse approaches to and opinions of urban parks were introduced. There was a collection of varying thoughts: 'The change to lifestyles post-pandemic will also bring about changes to behaviour when using parks?'; 'What are the guidelines when using parks to relieve COVID-19 depression?'; 'It is necessary to provide a plan to make both large and small parks available to everyone in a considered and considerate manner'; and the 'Regional polarisation of parks'.
The second part, 'Finding', featured a series of presentations by four experts. The first presentation was given by Kyung-jin Zoh (professor, Seoul National University) on the topic of neighbourhood parks. He stated that the 'COVID-19 outbreak has provided an opportunity to recognise the importance of parks as vital social infrastructure', particularly stressing the significance of neighbourhood parks that are intimately connected to our daily lives. 'In Seoul, the size of parks varies per region', he noted, adding 'I think the fair sharing of parks and the nurturing of local parks by planting flowers and remodeling parks is to practice daily democracy'. It was followed by a presentation by Oh Chunghyun (professor, Dongguk University) on the Green Map. He announced that 'Today, in the same way that we can easily obtain information related to restaurants and cafes via online platforms such as Kakao Map and Naver Map, information about parks, green spaces, trees, bicycle roads, and trails should be gathered, made available and shared'. As for ways of realising this green map, he said that it would be necessary to 'collect and share information together by using platforms such as Wikipedia and Naturing' rather than creation and distribution of information solely by experts.
In the following presentation, Seo Young-Ai (principal, ESOO Landscape Architects) pointed out that 'We must consider how best to organise and use memories and records related to parks', adding that 'Parks are right next to us, but many of them have no related documentations' through mention of Boramae Park. For her, archives should involve 'not only the discovery past materials, but also the collection, sorting, retrieval, communication, and cultural reproduction of present stories'. The final presentation by Kang Oh Lee (member of the board of directors, Seoul Green Trust) was on detailed ways of making parks directly contribute to and promote the health and wellbeing of its citizens. He mentioned the development of forest recreation and forest healing programmes, the reorganisation of urban spatial structures into green spaces, as well as the need for urban policies better suited to domestic situations in Korea.
The third part, 'Practice' was given over to discussion. Ahn Mooeob (professor, Hallym University) suggested that 'Spatial planning for a healthy lifestyle, emphasising aspects such as physical activities, nutrition, and mindfulness should be covered by the urban neighbourhood unit plan'. Kim Yonggook (associate research fellow, Architecture & Urban Research Institute) noted that the 'Post-pandemic era of COVID-19 will provide an opportunity to rank parks first in public policy'. Kwon Ohhyun (principal, PaTI) and Choi Jiwoon (doctoral student, Dongguk University) introduced possible methods for gathering and handling data for the green map, and Roh Su-dong (Director of Different City) pointed out the importance of communication with the local residents throughout any development process.
A recording of the symposium is available on the YouTube channel of the Seoul Green Trust.