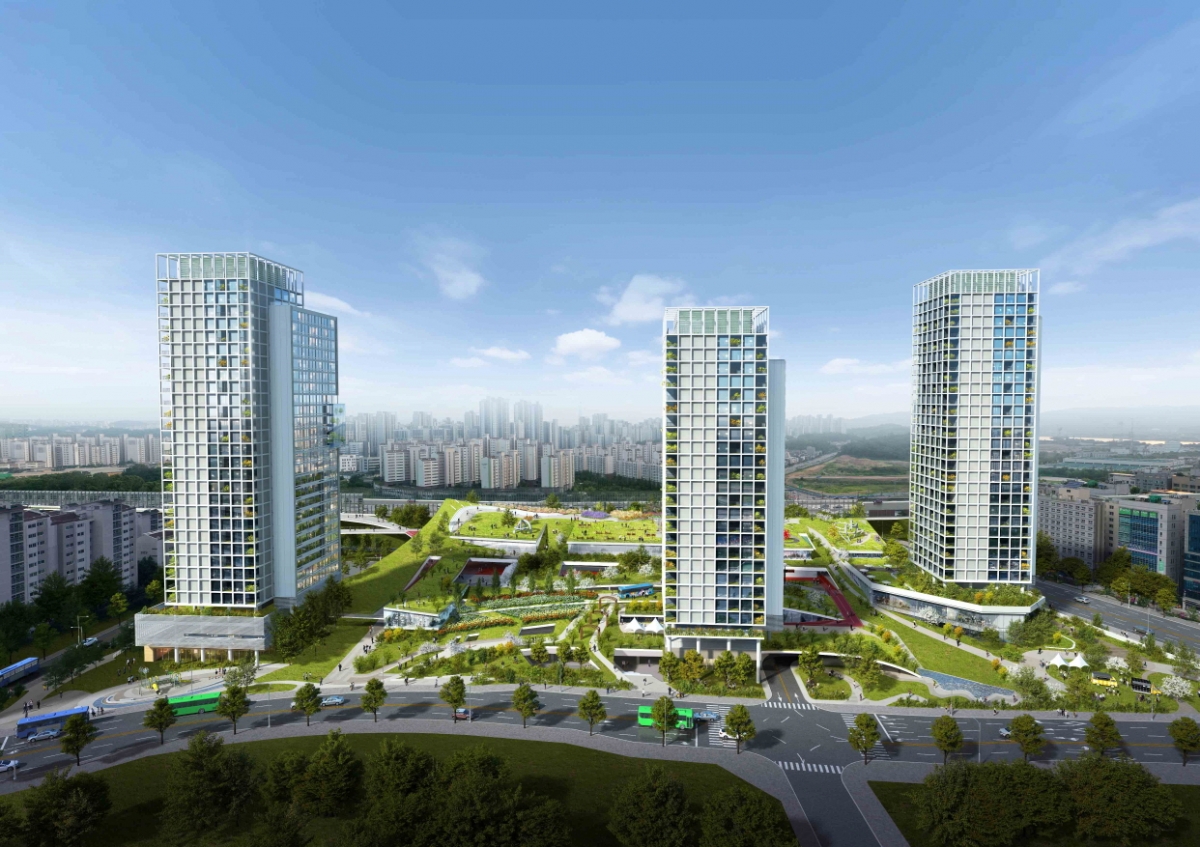 Samoo Architects & Engineers+SAMAN+Samoo Electrical Consultant, Compact θ / ​Image courtesy of SMG​​
On July 25, Seoul Metropolitan Government (SMG) announced the winner of its Gangil, Seoul Compact City International Design Competition. The winning design is 'Compact θ' by Samoo Architects & Engineers, SAMAN, and Samoo Electrical Consultancy.
This design competition will transform the public bus depot located in Gangil-dong, Gangdong-gu, into a mixed-use complex comprising a park, a public housing block named the 'happy housing project', social overhead capital, and a bus garage. This is an extension of the 'Compact City Project' launched by the Seoul Metropolitan Government in 2018, to avail itself of disused spaces throughout the city in order to create a combination of new infrastructure and residential spaces. The Seoul Government has already undertaken similar initiatives in other locations, including the Sinnae Bukbu Expressway, the Yeonhui Traffic Island, Jeungsan Draining Pumping Station, and the Jangji Public Garage.
Compact θ will turn 25,000m2, or over 70% of the designated site, into a park. Beginning with the nearby residential areas to the east, the land will rise steadily as it reaches the westward highway, to connect these two areas with a natural progression to the surrounding neighbourhood and block out much of the noise from the surrounding urban highways.
A 24-story building will stand tall at the plot's centre, flanked by two buildings of 29 stories on either side. The lower levels in these buildings will prioritise social overhead capital infrastructure including sporting facilities, playgrounds for children, a library, facilities for the elderly, and an entrepreneurship support centre, with public housing on the upper levels. These homes will total 945 units for young adults and newly-wed couples, and range in size from 20m2 to 59m2 in ten different prototypes to serve the resident's varying lifestyle needs. The lower levels of the park will be composed of a bus depot, a bus stop, and office spaces, all of which will be powered by renewable energy and furnished with the latest ventilation systems.
When its housing construction plans and working designs are approved, Compact θ will begin construction in 2021 to be completed by 2024.