The Architectural Institute of Korea (AIK) held the second architecture conference at the Architecture Center in Seocho-gu, Seoul, on preventing the spread of the COVID-19 on Mar. 31. Following the 1st round-table conference on Mar. 24, the event was held in order to set up specific measures and guidelines applicable to educational facilities.
Giving a presentation in the first section, Shin Dongchun (professor, Yonsei University) outlined the situation at home and abroad based on COVID-19's reproductive number and speed of transmission. He explained that the new infectious disease can spread in asymptomatic or mild cases, and the reproductive number, which means the number of secondary infections generated from one infected individual, is higher than for MERS or SARS. In the following presentation, Lee Youngyu (head of Indoor Air Quality Research Center, Korea Institute of Civil Engineering and Building Technology) introduced measures to suppress virus in school classrooms by securing ventilation requirement. He said, 'the dense population of students per unit area may cause poor indoor air quality, and infected individuals may rapidly pass on the virus', and he argued that it is necessary to specify microorganisms as object of control in School Health Act. Regarding this issue, he insisted that the institute should provide people with proper means of ventilation suited to the characteristics of buildings and effective countermeasures to prevent the spread of the virus.
A comprehensive discussion followed the presentations. Kim Seongho (director, Architecture Policy Division, Ministry of Land, Infrastructure and Transport [MLIT]) and Yoon Kap-Chun (deputy director, Ministry of Education) who participated through a video conference system and Park Jincheol (president, The Society of Air-conditioning and Refrigerating Engineers of Korea), Kang BooSeong (deputy chairman, Architectural Policy Committee, Architectural Institute of Korea), Lee Myungsik (president, Architecture Design Institute of Korea), Kim Wooyoung (president, Korean Institute of Educational Facilities), and Cho Junyoung (vice-chairman, Academic Committee, Korea Institute of Healthcare Architecture) who attended the conference, exchanged their opinions. Kim Seongho said, 'If architectural institutes present standards for structure and facilities, MLIT may discuss practical methods for a construction site'. Yoon Kap-Chun noted that 'MIE is preparing a draft enforcement ordinance and regulations based on the Education Facilities Act enacted last year'. Spatial density and programme operation were also mentioned as important factors. Cho Junyoung proposed the establishment of a principle of user density in schools and to apply it to classrooms, corridors, toilets, and cafeterias, and Kim Wooyoung pointed out the situation that doesn't provide a personalised spatial system. He requested technology to build various programmes and proper environments that could be actively used, and features for spatial environments, such as proper temperature maintenance and brightness, that could be customised because individuals have their own standards for comfort. At the end, Shin Dongchun emphasised that now it requires collaboration between associations and institutions, saying that we should come up with solutions from a multi-disciplinary point of view within 5 to 6 years before the emergence of a new virus.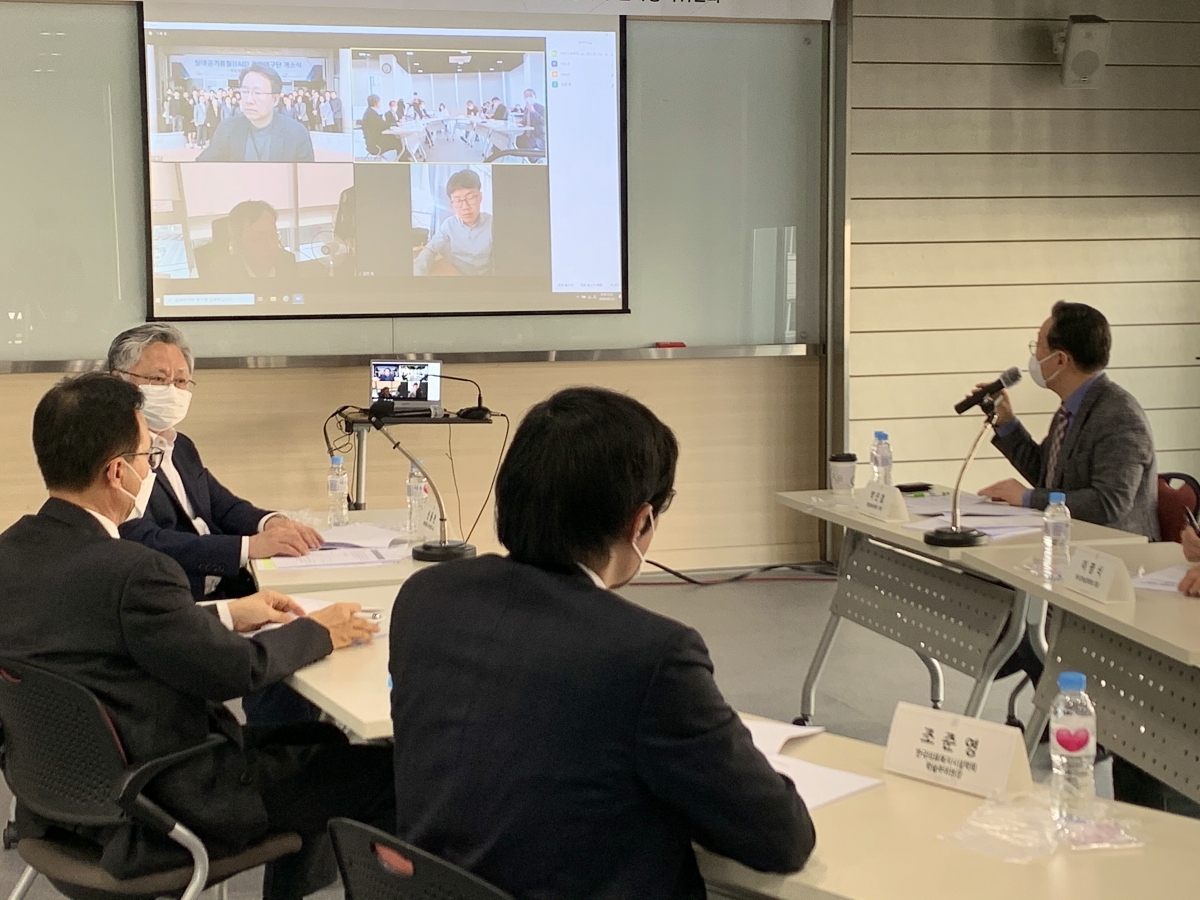 Views of architecture conference on preventing the spread of the COVID-19 ⓒKim Yeram