The second forum entitled 'The Topography of Contemporary Chinese Architecture' organised by SPACE was held on May 26. As a continuation of the previous forum (the first in the series), Jung In-ha (professor, Hanyang University) led a lecture and the audience was invited to participate via Zoom as part of a video-conference platform.
As perhaps revealed by the lecture title, 'After 1995: Architects out of Collectivism', the year 1995 was a critical moment in Chinese contemporary architecture. This was the turning point when China was transitioning from a state economy to market economy, and with this the opening of the markets responded with a sharp increase in the number of foreign architectural companies venturing into the Chinese scene. Architecture such as the CCTV Headquarters (2008) and the Beijing National Stadium (2008), which are now considered landmarks in tradition of the megacity, were designed by such companies, and this stimulated local architects to transform their design approaches and to generate new methods to compete with innovative architectural designs. Moreover, 1995 was the year in which the architects' system was installed. While most Chinese architecture projects previously had to go through large-scale, state-run architectural design research centres, with the adoption of the American architect registration system in Sep. 1995 it became possible for independent architects to enter the scene. Such changes to the system created synergy with the 'New Wave' that had appeared throughout the cultural scene and created a means by which experimental architecture could be realised in China. The architects in the spotlight at that time were Chang Yungho (principal, Atelier FCJZ), Wang Shu (principal, Amateur Architecture Studio), and Tang Hua (principal, Tanghua Architect & Associates). These individuals conducted various architectural experiments by establishing design strategies together with urban development companies and soon gained international reputations as they received global recognition through international exhibitions and media coverage.
Following this, Jung In-ha categorised the features of Chinese contemporary architects under keywords such as criticality, tradition, revitalisation, urbanity, and digital technology. According to Jung, architects with critical views began to emerge as an urban disorder and an architectural culture of mass production by foreign architects began to expand. With these architects at the centre, a project that explores the essence of architecture was then initiated, and this led to the construction of a Pavilion for Shanghai Expo (2010). This also led to an increase in the number of architects who focused on reinterpreting traditional architecture. By pursuing craftmanship in traditional architectural construction methods, Wang Shu designed Ningbo History Museum, and Liu Jiakun (principal, Jiakun Architects) combined and reflected the elements of Chinese landscape paintings in the Luyeyuan Stone Sculpture Art Museum. Unlike these architects who viewed outsider architectural culture negatively, there were also those who readily accepted foreign influence. Liu Xiaodu (co-principal, URBANUS Architecture & Design Inc.) sought to raise the quality of public architecture by applying design to plazas and artificial lands, while Ma Yansong (principal, MAD Architects) showcased architecture that would emphasise form via parametric design.
For giving an informative overview of Chinese architecture that was only previously engaged as individual separate works, the two-lecture forum received much positive feedback from its participants.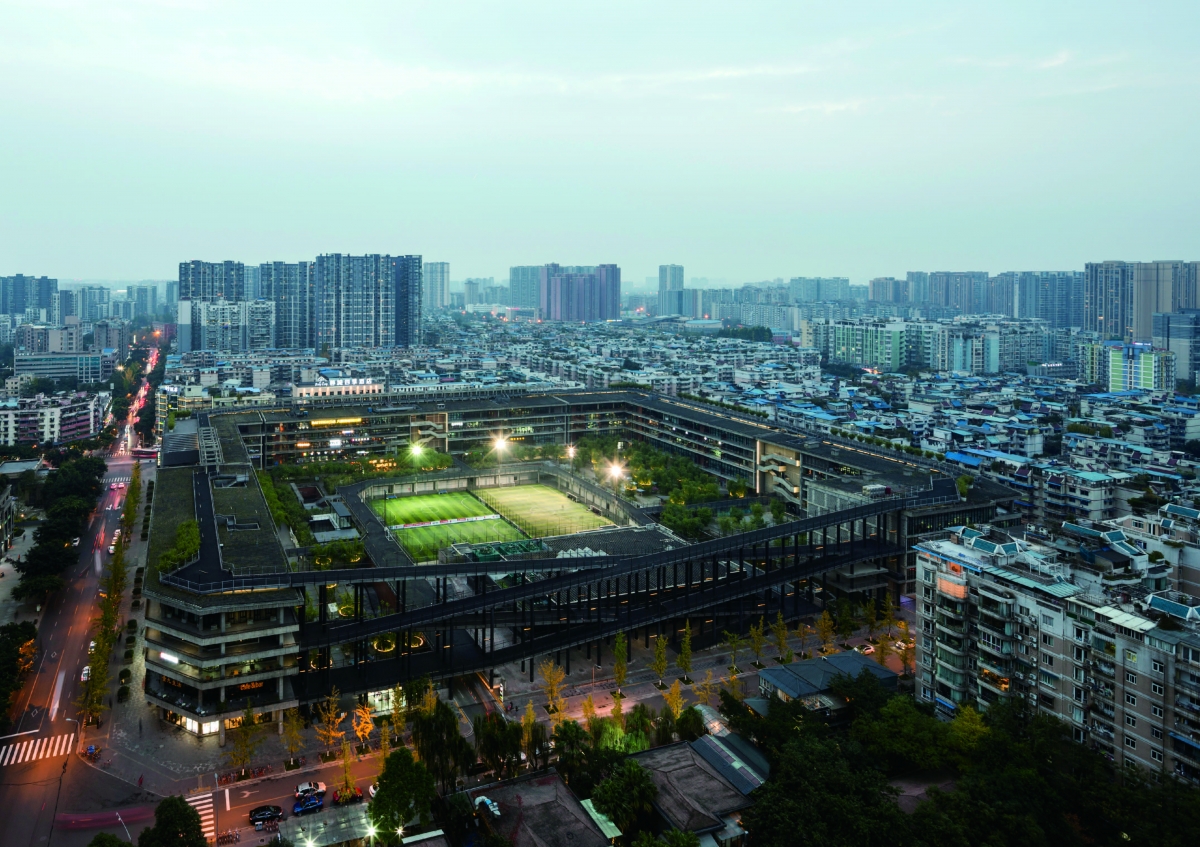 Jiakun Architects, West Village​ⓒChin Hyosook​​