There is a newly-coined word 'JiOkGo'. It is a word that combines Banjiha (a semi-basement), Oktabbang (a rooftop house), and Gosiwon (accommodation for students studying for their exams). This reveals something of the reality of youth housing. Although a housing welfare policy is in place to improve the housing problem for young people, the fact remains that the supply is simply inadequate to fill the demand. Then, how can this problem be solved? How many new buildings can be built to solve this problem?
There is a group that proposes the reversal of the idea and to use the existing space. The co-living House start-up GUERRILLAZ suggests that we turn obsolete accommodation into residential spaces for young people. The new residential model Guerrilla House of GUERRILLAZ was introduced at Artspace Boan 1942, Tongui-dong, Seoul from Apr. 15 to May 2, at the exhibition 'Doo! Guerrillas'.
On the first floor of the gallery, several panels were placed throughout the hall., forming a kind of project proposal. Looking at the content, 'Eight out of ten small accommodations are in danger of closing within five years'; 'The size of a room meets the minimum standard of 14㎡ per person and already has a private bathroom, so its conversion into residential space is suitable'. The interesting part is the emphasis on price, investment costs, and profits: 'The initial investment cost is low because it is possible to acquire or rent a closed commercial building at a low cost and to use the existing structure'. It delivered messages like recruiting future investors. There have been many exhibitions on the theme of housing, but it is rare that they point out precisely what is required related to real estate for the young population.
A prototype is displayed on the second floor. Artspace Boan 1942, where the exhibition was held was once an inn, so the relationship between the content and the space of the show are intimately connected. A single room type and a laundry room are placed between old and worn wooden posts. The single-room type is a single-person residential space and consists of inbuilt system furniture, which aims to use small spaces efficiently, the Guerrillas note. In the laundry room just opposite, there are washing machines, kitchen appliances, sinks, and a few chairs. It was planned to be a shared laundry room and community space for the residents. Other spaces were shown using drawings and renders . Moreover, a double room type in which two people share a space but divide the area around the wardrobe, a warehouse for storing items and luggage that are not frequently used, and a toilet and shower room that maximize use of space were introduced.
The project presented in this exhibition won the Seoul Mayor's Award at the Entrepreneurship Ideas Competition. The Guerrillas will showcase 'Guerilla House' this year by attracting investment. <by Choi Eunhwa>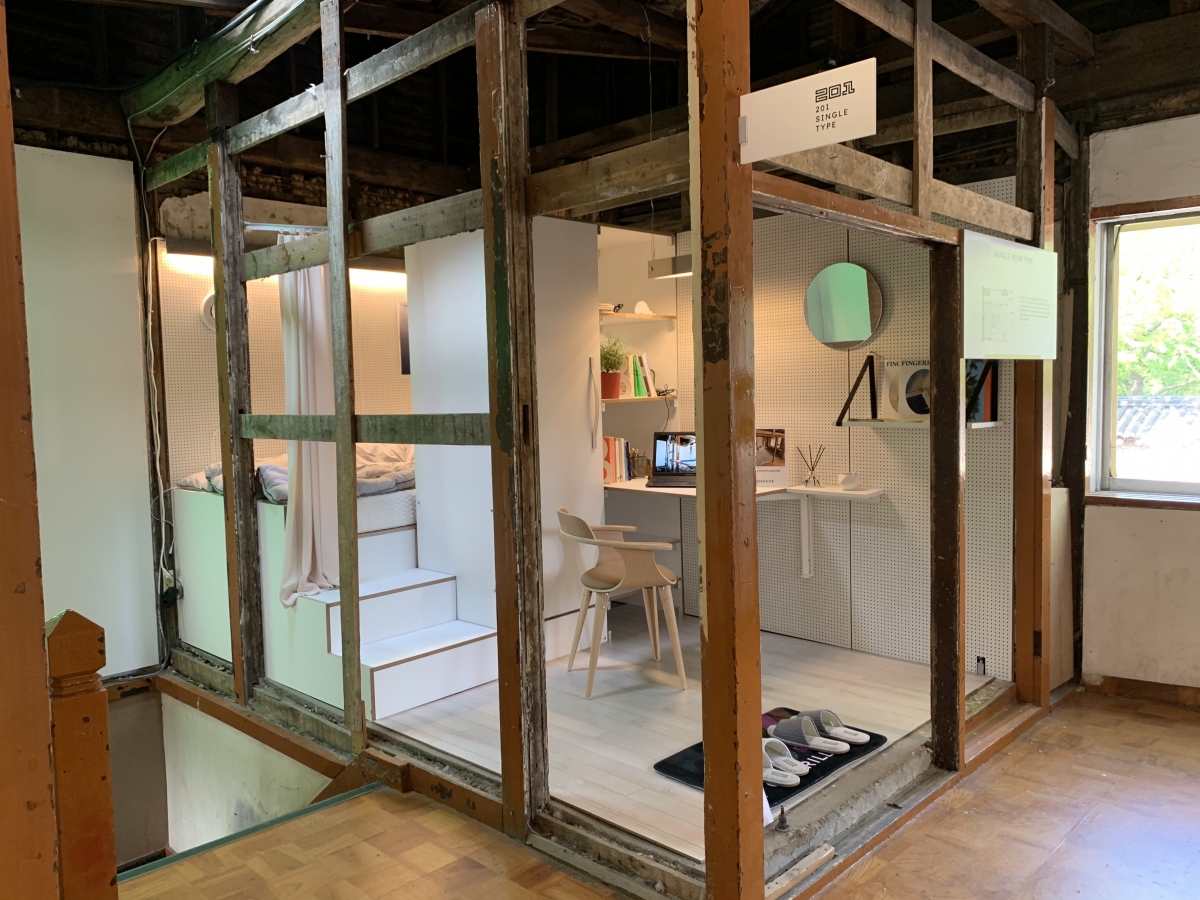 Exhibition views of 'DO! GUERRILLAZ' ⓒChoi Eunhwa​